Published: April 17, 2018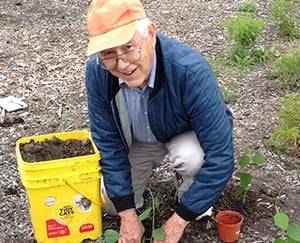 Much of the dedication that Kendal men and women applied to their professional and personal pursuits in years past is now focused on volunteering their time to help others, both near and far.
Kendal's values include fostering "a culture of generosity," and volunteering has been in place and active since Kendal opened in 1993. Its Volunteer Clearing House helps match residents and staff with internal, local and national volunteer opportunities, though many men and women move into Kendal with a favorite volunteer project already in place.
Every year resident and staff volunteer hours are compiled, and the number of hours continues to grow. In 2107, they volunteered a total of 62,416 hours.
"Of course, we also provide many services for each other in many uncounted ways. Our own lives are also enriched—studies show volunteering prolongs one's life and often gives purpose," says resident Anne Elder, who coordinated the compilation.
As we celebrate National Volunteer Week, April 15-21, we meet a handful of Kendal men and women who wear the hat of volunteer, just a sampling of the dozens of residents who do so.
Carol Bojanowski & the Stephens Care Center at Kendal
In 2005 Carol Bojanowski retired as a geriatric clinical nurse specialist and started volunteering at the Stephens Care Center. She joined the Kendal board in 2008, and last summer moved into Kendal.
Now that Carol lives at Kendal, she can be more flexible with her volunteer activities and respond to needs as they arise in the care center. For instance, a resident may need physical assistance going to the News & Views monthly gathering, help sorting through mail and other paperwork or want to have lunch in the Langston. She helps out with the wheelchair brigade, called into action when a number of residents in wheelchairs need assistance attending an event.
"Sometimes I just walk around and talk to residents," she says, averaging about three hours a week volunteering.
A few weeks ago, a resident that Carol often visits had to go to the Allen Memorial Hospital ER. The resident had a staff member call Carol and ask if she could accommodate her. "I was with her for four and a half hours," Carol says.
Carol has added a new volunteer project—assisting residents living in the newly opened Jameson House, a memory support neighborhood. The 12-bedroom house is for men and women with mild to moderate cognitive changes.
Joe Palmieri & AARP Tax-Aide in Lorain County
Joe Palmieri, a retired physics professor, always did his own taxes, so when he moved to Kendal, he decided to become a volunteer with AARP Tax-Aide program as part of his active retirement. Now in its 50th year, the volunteer-run program provides free tax preparation for anyone, regardless of age or income, though it targets low and middle-income taxpayers and older adults.
Joe now oversees the AARP program in Lorain County, which has 75 volunteers located at 11 sites. He coordinates the training required of all volunteers, who must pass three tests annually to qualify.
Joe also does tax returns at the Lorain County Office on Aging in Elyria a couple of days a week. All tax work must be done on site and returns are typically completed while taxpayers wait and filed electronically.
"We'll do about 4,000 returns in Lorain County. People are very appreciative, and many come back every year," he says.
He's not concerned how the 2018 tax changes will affect the program. "The computer will make all the adjustments," he says.
Don and Joyce Parker & the Fine Arts Camp in Wayne County, Ohio
Last summer artists Don and Joyce Parker spent a week volunteering at the Fine Arts Camp operated by Church of the Brethren. Like many campers, the Parkers had so much fun they're returning this summer.
"We told them we could manage it as long as we could get a daily nap," Joyce says.
The campers are in grades 6 through 12. Don shows them techniques of watercolor. They painted out in the fields last summer, but Don plans some changes this year.
Joyce does pottery and sculpture. The camp has a kiln, donated by Joyce several years ago.
"The kiln is still in good shape," Don says. "The campers loved the pottery."
Along with spending a week at camp, the Parkers made several pre-camp visits to plan and prepare the art activities, in all about 280 volunteer hours total for the two of them.
Jim and Anne Helm & Lady Doak College, in Madurai, India
In 1997, when Jim Helm was on sabbatical from Oberlin College, he and Anne went to India for two months as part of Oberlin Shansi.
"Shansi promotes mutual understanding and communication between Asians and Americans by bringing together students, faculty, and communities from Oberlin College and Shansi partner universities and non-governmental organizations (NGOs) in China, India, Indonesia, and Japan," according to the 110-year-old cultural exchange organization.
The couple enjoyed it so much that they have returned 13 times in the past 20 years. Their most recent trip to Lady Doak College, a non-denominational Christian college in Madurai, India, was for six weeks this winter, 280 volunteer hours in all.
"Now we spend most of our time in the archives—collecting, organizing, digitizing and preserving the history of the college, which celebrates its 70th anniversary in July," says Jim, a retired classics professor.
Jim and Anne give lectures—students speak English, though slightly different than ours. "We speak slowly and clearly and use a lot of power points," he says.
Over the years, the Helms have helped the college in a variety of ways:
fundraising (about $300,000 to date) for scholarships, research support and general operating expenses
working with the Alumnae Association, including compiling an alumnae database and publishing a newsletter
collecting books for the library and helping to develop a children's library
The couple has developed many friendships with people at the college and in India, which means they often eat in homes rather than the faculty mess hall.
"We enjoy it and we get a lot out of it," says Jim, adding, "It's like a second home."
Volunteering is Good for the Volunteer Too
As Jim and the other volunteers are quick to add—volunteering makes them feel good too, both physically and mentally.
Research backs that up. The Corporation for National & Community Service says there is a strong, positive relationship between volunteering and health.
"Those who volunteer have lower mortality rates, greater functional ability, and lower rates of depression later in life than those who do not volunteer," the federal agency reports.
"Comparisons of the health benefits of volunteering for different age groups have also shown that older volunteers are the most likely to receive greater benefits from volunteering, whether because they are more likely to face higher incidence of illness or because volunteering provides them with physical and social activity and a sense of purpose at a time when their social roles are changing."
Think about your own volunteering activities, whether years ago or currently, and the benefits that came your way as a result of those activities. Did you develop new friendships? Learn new skills? Acquire a deeper understanding of people from different cultures, ethnic groups and economic backgrounds? Become more compassionate and grateful?
Tell us about your experiences as a volunteer, and how it benefited both the organization and people it serves as well as yourself.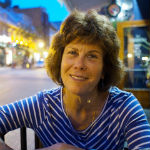 In the past, Molly Kavanaugh frequently wrote about Kendal at Oberlin for the Cleveland Plain Dealer, where she was a reporter for 16 years. Now we are happy to have her writing for the Kendal at Oberlin Community.