Published: June 17, 2019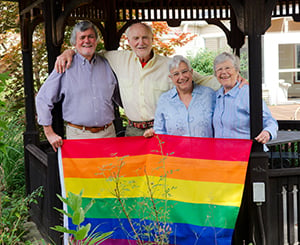 From its start, Kendal at Oberlin has been a welcoming community for older adults of all races, cultures and sexual orientations. But last year, as the life plan community celebrated its 25th anniversary, a group of gay, lesbian and transgender residents decided to form a group to support each other and educate the larger community.
The first formal activity of the LGBTA+ (Lesbian, Gay, Bisexual, Transgender and Allies) Interest Group was a week of public activities during June, National Pride Month. The weeklong celebration was a success and now the group is preparing for this year's celebration, June 22-June 29.
Activities include reflections on the 50th anniversary of the Stonewall uprising in New York City, a discussion about aging issues facing LGBT men and women and "coming of age" movies.
But first let's review the group's past year, starting with a memorable panel discussion about being gay, lesbian and transgender. Last June eight residents shared stories of an earlier life that involved inner conflict and fear, of finding and forming relationships to help them become their true selves, and now of living in a supportive community like Kendal.
Related: Benefits of Mindfulness for Healthy Aging>>
A Community Comes Together
"The panel was probably one of the best things I've ever heard in my 10 years at Kendal," says Priscilla Steinberg, one of the "allies" involved with LGBTA+, which now has about three dozen active members.
Heiser Auditorium was packed, and even though the program ran over no one left early. There were applause, silence and tears. Residents asked thoughtful questions, and respectful conversations continued over dinner.
"I got extremely positive feedback. People were really moved by the program," says Ann Francis, who is co-chairing this year's events with Dwight Call.
Decorations at various events included rainbow flags, a universal symbol of gay pride. The group also offered small rainbow heart stickers to be worn on nametags - today most residents and a number of staff members display one on their nametags.
At the annual opportunity fair featuring Kendal committees, the LGBTA+ set up a table. Residents shared stories about grandchildren and other relatives who are gay and the challenges they face and asked how they can help.
"The best thing to say is 'I love you just the way you are,'" resident Nancy Lombardi told them.
The LGBTA+'s first gathering with allies meeting was in April and 26 people attended. A couple of weeks later the group had another meeting of 10 people to plan Pride Week. Three staff members have also expressed interest in joining the group.
Related: Myths About Sexuality and Aging>>
Kendal's Pride Week is June 22-29 2019
All events are free and open to the public.
The LGBTA+ Pride Story includes Reflections on the 50th anniversary of the Stonewall uprising in New York City, showing of the 1989 documentary "Common Threads: Stories from the Quilt" (an Academy Award-winning film humanizing the AIDS crisis, a critical time in LGBT history), "Walt Whitman 1989," a song with music by Chris DeBlasio, who died of AIDS at the age of 34, and sung by resident Allen Huszti.
Tuesday, June 25 at 4 p.m. in Heiser Auditorium
LGBT Elder Scene Today includes a video "Safe & Visible: Creating a Care Facility Welcoming to LGBT Seniors" and a talk about elder care by Mary Beth Bartholomew, program activities coordinator for SAGE at the LGBT Community Center of Greater Cleveland.
Thursday, June 27 at 4 p.m. in Heiser Auditorium
The weeklong celebration is bookended with two "upbeat" movies, both 7:15 p.m. in Heiser Auditorium:
"The Sum of Us" (1994, Australian comedy-drama with subtitles) A widowed father and his son have to deal with complex issues and relationships as the father is searching for "Miss Right" and his son (played by Russell Crowe), who is in his 20's and gay, is searching for "Mr. Right." Saturday, June 22
"Desert Hearts" (1985) A sweet and sincere coming-out-story set in Reno in 1959, this ground-breaking film looks at the LGBT experience in a way no other film had before. Even today, this affirming movie feels revolutionary and much-needed. Saturday, June 29
Related: Boomer Celebs and Other Prominent Figures Talk Sexuality>>
Unable to attend, but want to learn more about aging issues facing LGBT older adults? You can watch the 30-minute video "Safe & Visible: Creating a Care Facility Welcoming to LGBT Seniors" on YouTube. Explains the presenter LifeElderCare:
"Because they grew up and came of age in a time when their rights and safety were not protected and discrimination was even sanctioned by society and the government; LGBT older people on average are more likely to live in poverty and have deferred healthcare issues, and less likely to have an established support system. Many remain traumatized by the oppression they experienced over several decades. And so, despite some facilities and healthcare settings being inherently welcoming, LGBT seniors will likely remain hidden and feel some level of anxiety unless they see and hear overt signs indicating that they are safe. Care Facilities especially are still often seen as a place of likely discrimination or abuse. In fact, a recent report shows that only 22% of LGBT people feel that an LGBT older adult can be open with the staff of a nursing home, assisted living facility, or other long–term care facility about their sexual orientation and/or gender identity."
A few best practices for people who work with older adults include: never assume every senior is heterosexual; if an older adult shares information about his/her sexual orientation ask "how do you want to be identified?" and create programs and policies that include families of choice, not just biological families.
The Group Looks to the Future
In the coming year, Kendal's LGBTA+ committee plans to focus more attention on how allies and supporters can get involved. The Human Rights Campaign Foundation, in partnership with Parents, Families and Friends of Lesbians and Gays (PFLAG) National, have released a comprehensive guide entitled "Coming Out as a Supporter" that will be available to residents.
The group, which plans to decorate the campus with rainbow flag toothpicks during Pride Week, would like to see a permanent rainbow flag or rainbow decal on the campus.
As Boomers begin to move to retirement communities like Kendal, new issues will surface. For instance, a growing number of people do not identify with either being called "he" or "she" and instead prefer gender-neutral pronouns like "they."
"I think it's good that people can identify as 'they' but I know that a lot of people don't necessarily understand," Dwight says.
While LGBT issues are the main focus of this interest group, members say they are committed to promoting a welcoming and inclusive environment for all people.
"We do support the wider diversity," Ann says.
Sexuality and Aging at Kendal at Oberlin
When it comes to sexuality and aging, misinformation is fairly common. Lots of things can get in the way of our understanding of sexuality as we age. To learn more about sexuality and aging, download our whitepaper, "The Truth About Sexuality and Aging."
The Truth About Sexuality and Aging
---
No matter our age, sexuality is a vital part of our identity and our overall health. That's why it's important to know the facts about sexuality and aging.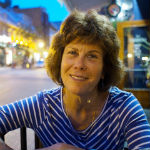 In the past, Molly Kavanaugh frequently wrote about Kendal at Oberlin for the Cleveland Plain Dealer, where she was a reporter for 16 years. Now we are happy to have her writing for the Kendal at Oberlin Community.