Published: December 21, 2022
Singing international Christmas carols, celebrating the longest night of the year, reading aloud beloved children's books and lighting the menorah candles. These and other holiday celebrations at Kendal at Oberlin are as diverse and creative as the men and women who live and work at Kendal.
Winter solstice sets the stage
The longest night occurs a few days before Christmas – this year it's Dec. 21.
The community's first official Winter Solstice took place Dec. 21, 1995 (three years after Kendal opened) and has continued every year on a date near the actual solstice (including virtual during the pandemic.)
According to History of Kendal at Oberlin; "The focus of subsequent performances has varied over the years, from replicas of English performances and nostalgic looks at the music of the 1930s through the 1960s to multicultural collages of music and stories from many different parts of the world – all with costumes and dance."
This year's theme was "Tis the Season to be Jolly" and was celebrated on Dec. 15. Performers included the Kendal Singers, the Kendal Strings, the Stephens Care Center Bell Choir, recorder group Toot Sweet, bell ringers Bel Canto, along with numerous skits and sing-alongs.
And the gathering was certainly jolly – this was the first in-person gathering in Heiser Auditorium since 2019.
The Chanukah celebration began on sundown Dec. 18. and continues for eight days. Resident Priscilla Steinberg recited the opening blessing in both English and Hebrew and will conclude the holiday with a closing blessing on Dec. 26, both broadcast on a Kendal TV channel.
"Hanukkah is more of a children's type holiday but we're all happy to celebrate it," Priscilla explained. In years past (pre-pandemic) Kendal residents celebrated the holiday with children from the Kendal Early Learning Center. A resident would tell the story about Hanukkah and everyone would enjoy tea and cookies.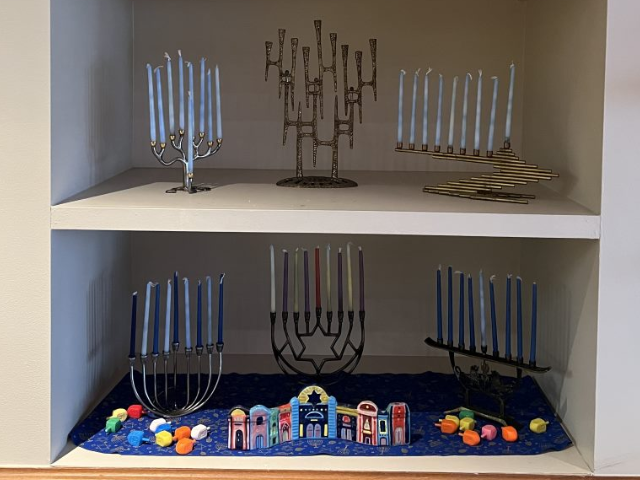 "Some years we would play the dreidel game at the tables and the kids would have pennies or chocolate to play with. Parents were also invited to come and join if they wanted to. It was always a great time," says Jeni Hoover, KELC director.
Speaking of children, the Kendal preschoolers celebrate the holidays in a few different ways.
"We invite the parents to come into the classroom and share any traditions or special ways they celebrate, we read books – they love "The Polar Express" – and we try to send home Christmas books with them as well each year," Jeni says.
Music, holiday-themed outings and silliness
Kendal is home to many musicians and music lovers, so no surprise the Kendal calendar is full of holiday music.
New this year was an international Christmas carol sing-along, led by pianist Betsy Baumbach. "I wanted to introduce people to new carols so I avoided ones everyone knows," she said. The audience sang songs in the carol's native language, which included Italian, German, Spanish and Swedish.
"Everyone said 'let's do this next year' so yes it will be an annual event," Betsy said.
Music therapist Jara Dell began a tradition during the pandemic that was so much fun she has continued to do it.
Jara explained: "We did the first videos in 2020 as a way of spreading some holiday cheer, especially for our Kendal at Oberlin residents who had been in preventative quarantines for quite a while. It was a way for our staff to give back and say 'hang in there'. It was such a hit, we shared it outside of Kendal and we did another video, 'We Wish You a Merry Christmas,' in 2021, and again this year, with 'The 12 Days of Christmas.' Kendal staff have enjoyed taking part, and this year we even had a Kendal Early Learning Center participant with her mother."
Almost every year since Kendal opened a group of percussion students from the Oberlin Conservatory of Music have visited Kendal for its annual Marimba Christmas Concert. Under the direction of Michael Rosen, Professor of Percussion, and his percussion students perform seasonal songs in the Heiser Lounge, using marimbas, xylophones, drums, lyres, rattles, and various other instruments.
This year residents enjoyed watching the recorded program from 2020.
As for silliness, employees are invited (but never required) to wear their favorite holiday accessories such as ties and socks on one day, holiday headgear on another (think reindeer antlers) and finally their favorite ugliest holiday sweater.
Many residents head out on their own to enjoy holiday outings with family and friends. Two organized outings are the annual Handel's Messiah singalong at Oberlin College's Finney Chapel and a bus tour of holiday lights in Oberlin and surrounding area.
Learn More About Kendal at Oberlin – A Vibrant Community for Older Adults
---
Are you making plans for your future? Kendal at Oberlin offers an active lifestyle with opportunities for lifelong learning, art and culture.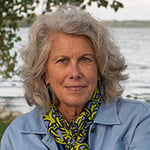 In the past, Molly Kavanaugh frequently wrote about Kendal at Oberlin for the Cleveland Plain Dealer, where she was a reporter for 16 years. Now we are happy to have her writing for the Kendal at Oberlin Community.
About Kendal at Oberlin: Kendal is a nonprofit life plan community serving older adults in northeast Ohio. Located about one mile from Oberlin College and Conservatory, and about a 40 minute drive from downtown Cleveland, Kendal offers a vibrant resident-led lifestyle with access to music, art and lifelong learning.