Published: June 22, 2017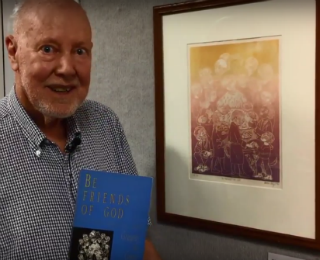 Before moving to Kendal, Sue and Joe Colucci lived in a rustic cottage in Michigan, and the décor was unsuited for fragile, elegant art work. But one day at an art show, the couple was drawn to a glass sculpture bowl, both fragile and elegant. "And affordable," Sue says.

Still, they resisted the purchase. Later, Joe returned and bought it for Sue as a Christmas present.
Sue and Joe Colucci
"We found a safe place for it on the lower shelf of a glass-topped coffee table," Sue says.
Colucci's glass bowl is one of more than 80 items currently on display in "Kendal Collects," a biennial exhibit in the community's three galleries. The original artwork includes paintings, photographs, wood carvings, pottery, weavings and more, all collected and owned by Kendal residents.
Artwork created by Kendal residents is showcased in "Kendal Creates," an exhibit which alternates with "Kendal Collects."
__________________________
What else can you see as part of "Kendal Collects"?
__________________________
"I am really impressed with the art here," says Sue, referring to both shows.
Sue also contributed a woven wall hanging of a butterfly, purchased during a trip to Ecuador.
"After our children left for college, I became a travel agent and finally got the chance to investigate many of the locations that I had always dreamed of seeing," she explains.
When the couple moved to Kendal two years ago, she figured her days of buying artwork were over. But not so. "I'm always moving things around to get more space," she says.
Kendal Artist and Collector Sheila Eckstein
Other residents have moved things around to display their purchase of a watercolor by resident Sheila Eckstein, whose retrospective exhibit just concluded at Kendal.
"I respond deeply to the sensations produced by the natural world around me," she says. "My feelings are greatly affected by what I see when I look out of the window or walk in the woods or sit and paint in a garden. I want to capture on paper the mood of the subject or the essence of a moment. These are private paintings of my environment."
Sheila also contributed a piece for "Kendal Collects" – "View from the Studio" woodcut by Sidney Hurwitz.
Sheila is a graduate of Wellesley College and, as a member of the college's Friends of Art, received the woodcut in 1967. "I didn't have to pay for it, it just showed up," she says. "I just love it. The black and white and strong reds are very unlike my work."
Sheila also has praise for "Kendal Collects." "We have a variety of residents who are well-traveled. This show is such a revelation of things they have and love, and you find out certain things about your fellow residents."
John Leinenweber and Helen Siegl
For instance, John Leinenweber is the author of several spiritual books. John submitted a print by Austrian-born Helen Siegl, who created the work for the cover of John's Be Friends of God.
John and Helen met through Mount Saviour Monastery in upstate New York, a religious community of the Benedictine order where John was a monk and Helen frequently visited. Later, John moved to the Monastery of Christ in the Desert in Abiquiu, New Mexico, and then a hermitage in Connecticut.
What brought John to Kendal three years ago? "The New Yorker," he says, referring to a small Kendal ad that frequently appears in the weekly magazine.
Mary Lee Orr and Henry Moore
One of the most well-known artists in "Kendal Collects" is British sculptor Henry Moore. Mary Lee Orr spent her junior year in London and became friends with a man later involved with the estate of Moore, who died in 1986.
In addition to sculptures, Moore also created tapestries, textiles and drawings, and Mary Lee was able to purchase the "Family Group 1984" lithograph.
"I was overjoyed," says Mary Lee, who moved to Kendal late last year.
Although this year's "Kendal Collects" show has ended, you still have the opportunity to view many of the works via video on our YouTube channel. In summer 2018, the work of Kendal artists will be on display for "Kendal Creates," which alternates with "Kendal Collects."

To learn more about Kendal at Oberlin, call 800-548-9469 or 440-775-0094, or contact us here.