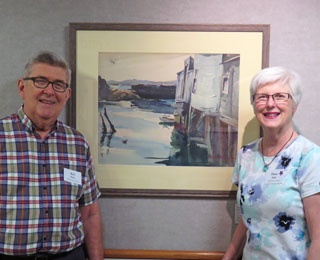 Many of my childhood family photographs include a glimpse of a painting of Mount Adams, a picturesque hilltop community in downtown Cincinnati. My aunt painted the vivid oil, and it hung in our living room, so when we gathered for snapshots around the Christmas tree or other family gatherings, the painting was captured, too.
Now the oil hangs above my fireplace, a constant reminder of fond childhood memories and my parents who created them. I imagine the homes of many people my age are filled with such cherished mementos.
Yet another reason "Kendal Collects," a biennial exhibit at Kendal at Oberlin, is so special. The show is an occasion for residents to display original art from their collections in Kendal's three galleries. Many of the 60 residents who participated in this year's show chose artwork that originally belonged to their parents.
"Small World" for Two Residents
Scott Orcutt and Polly Dyck grew up a couple blocks from each other in the Virginia mountain town of Blacksburg. Their fathers both worked at nearby Virginia Poly Tech, and their mothers were friends and often exchanged recipes. Now, Scott Orcutt and Polly Dyck Carroll live at Kendal.
For "Kendal Collects," Scott chose a wooden plate with a ceramic fixture center. Polly's father, a hobbyist woodworker, made the plate and gave it to Scott's father as a gift.
"It was displayed in our living room in Blacksburg, and now, it is hanging in my living room," Scott says.
When Scott and Polly reconnected at Kendal, Scott told her about his cherished heirloom. Replied Polly, "Oh, you have one, too."
Scared in Syracuse
Bob Follet chose two watercolors that belonged to his parents, one of which brings back frightful memories. "I had an active imagination," he jokes, explaining that the wooden posts jutting out of a harbor scene looked like legs to him.
Marjorie S. Garfield, an art and interior design teacher at Syracuse University, painted the harbor scene and gave it to Bob's mother, who taught harp at the university. "I was scared of it when I was growing up, but now, it hangs in my bedroom," he says.
The other watercolor of fall-colored woods was given to his parents for their wedding in 1940. Justus "Doc" Mueller was a parasitologist and a prolific painter. When Bob's parents died, the painting went to a half-sister. When she downsized, Bob got the painting.
"Two years ago, Diane and I moved to Kendal, and the watercolor made the cut. It's hanging in our hallway," he says.
Since "Kendal Collects" was already underway when the couple moved in, they were unable to participate. "We were very impressed and kept it in the back of our minds," Bob says.
The Follets have already selected artwork for the show in 2019 – a watercolor Diane saved up her allowance for when she was 12 and a still life made by Bob's sister.
Spotlight on Local Artists
Robert Taylor, chair of Kendal's Galleries, has been participating in "Kendal Collects" ever since he and his husband, Ted Nowick, moved to Kendal in 2003.
This year, he selected artwork from two local artists.
Audra Skuodas is a versatile and prolific Oberlin artist, producing thousands of paintings, collages, drawings and artist's books.
"I seek to reveal moments when invisible phenomena make themselves visible. Each painting, drawing, or book builds on my previous work, addressing questions of sensitization or de-sensitization in visual form," she explains in her artist statement.
Robert choose Audra's collage, entitled "Broken Melodies", for the show.
Robert's other selection is a digital print by Cleveland papermaker Aimee Lee, who describes her work:
"I make paper from abundant native and invasive species, which involves harvesting plants, stripping and cooking, processing into pulp, forming sheets, and drying. With this paper, I make thread, sculpture, books, drawings, prints, garments, and installations. I add color and texture with natural dyes and finishes, and joomchi methods of massaging and fusing paper."
Aimee made a series of ducks and takes photographs of them by oceans and other bodies of water. Robert's print, "Back to the Ocean," is a photograph of a duck in Maine, where Robert and Ted lived before moving to Kendal.
Robert and his team must work quickly to put up the "Kendal Collects" display. Residents drop off items on a Monday, and by the end of Tuesday, the show is up. And there are always surprises. "It gives you a window into the lives of people you might not know otherwise," he says.
Although this year's "Kendal Collects" show has ended, you still have the opportunity to view many of the works via video on our YouTube channel. In summer 2018, the work of Kendal artists will be on display for "Kendal Creates," which alternates with "Kendal Collects."

To learn more about Kendal at Oberlin, call 800-548-9469 or 440-775-0094, or contact us here.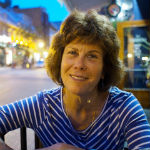 Molly Kavanaugh frequently wrote about Kendal at Oberlin for the Cleveland Plain Dealer, where she was a reporter for 16 years.