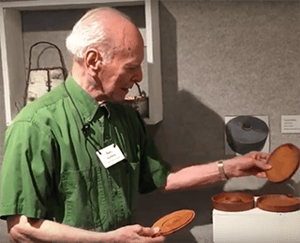 Sheila Eckstein has sketched and painted her way through Oberlin and the Southwest states. Two very different landscapes for sure, but using watercolors and mixed media sketches she finds colors and patterns to illuminate their special features.
"I don't like the weather in Ohio, but I love painting its cloudy, misty scenes," she says.
Sheila, co-curator of "Kendal Creates," has three pieces of artwork in this summer's exhibit. The biennial show alternates with "Kendal Collects" and is on display in Kendal's three galleries through Aug. 20.
In all, 40 Kendal residents contributed original artwork for "Kendal Creates." Meet three of them.
Sheila Eckstein
Sheila has lived at Kendal since 2002 and is a regular in "Kendal Creates." One of the hardest tasks for Sheila is selecting just two or three pieces of artwork for the show, as she has been painting and sketching for 45 years. Last spring, Kendal featured a retrospective of Sheila's work in one of the galleries.
Sheila holds an A.B. from Wellesley College in History of Art and an M.A. from Harvard in Fine Arts. After she moved to the Cleveland area in 1958 with her husband Bernard, painting became her principal activity and she exhibited extensively in invitational, juried and one-person shows.
Nature has been her primary inspiration.
"I respond deeply to the sensations produced by the natural world around me," she explains. "My feelings are greatly affected by what I see when I look out of the window or walk in the woods or sit and paint in a garden. I want to capture on paper the mood of the subject or the essence of a moment. These are private paintings of my environment."
Two of the small sketches in "Kendal Creates" feature Kendal locations, a garden and a community gathering space. Sheila's larger piece is a watercolor of Utah's Navajo Mountain at sunrise. To capture the scene, she sketched the sunrise, then returned home to paint it.
"I was intrigued by this view in southeast Utah," she says about the landscape colors and patterns. She also has painted many scenes from her travels to New Mexico, Arizona and the Grand Canyon.
Sam Goldberg
Unlike Sheila, Sam Goldberg arrived at the artist table later in life.
Sam is a retired Oberlin College mathematics professor. He moved to Kendal with his wife Marcia in 2004 and became intrigued by the lathe sitting unused in the woodshop. A lathe is a machine that shapes wood, and Sam wanted to learn how to use it.
"You can't learn from a book, so I became an apprentice," he says.
For more than a year, he spent two hours a week working side by side with a woodworker in nearby South Amherst.
"Slowly but surely I learned," he says.
He made bowls and boxes of all sizes, using maple, cherry and other kiln dried wood he found online at Got Wood. Now he had a new dilemma — what to do with the completed wooden objects?
He contacted Liz Burgess, owner of Ginko Gallery, and she agreed to sell his woodwork in her shop.
For "Kendal Creates," he submitted two pieces — a four-piece jewelry box (that belongs to his wife) and a round, solid ball of maple.
"Whoever dreamed I'd be identified as an artist," he laughs.
Jean Slonneger
Meet the Wahl family — Guy, Kicky Boots and pet Wolfie — a creation of Jean Slonneger that is hanging on a Kendal gallery wall this summer. The fiber art dolls are made of fabric, felt, buttons, beads, even cat whiskers and dryer lint.
"I discovered art dolls about 20 years ago. It uses all the things I love most to do — sewing, painting, sculpting and working with lovely fabrics, yarns, faces and characters. It's the perfect undertaking for me," she says.
To learn the craft, she studied with a couple of prominent art doll artists. She creates about one doll a year, some which are commissioned, others given as gifts.
"My oldest grandchild, who just graduated from high school, got my first doll and he hated it from the start. But all four grandchildren ended up teething on that doll," she says.
Jean moved to Kendal four years ago and this is her first time participating in "Kendal Creates."
"Kendal Creates" is on display in all three art galleries at Kendal at Oberlin from May 22 through August 20, 2018. To learn more about Kendal at Oberlin, call 800-548-9469 or 440-775-0094, or contact us here.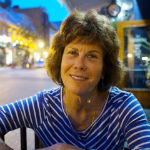 In the past, Molly Kavanaugh frequently wrote about Kendal at Oberlin for the Cleveland Plain Dealer, where she was a reporter for 16 years. Now we are happy to have her writing for the Kendal at Oberlin Community.