Artistic expression abounds at Kendal at Oberlin.
The life plan community has three distinct art galleries always filled with eclectic exhibits (including the current Kendal Collects exhibit). Hallways and other public areas are decorated with 600 pieces donated by residents, an art studio for residents to paint and pursue other artistic endeavors, and a calendar packed with art lectures and classes.
Volunteer activities are abundant too.
Kendal's Volunteer Clearing House Committee started tracking volunteer hours in 2000 and estimates that the total financial value (based on Independent Sector's evaluation of a volunteer hour, which for 2018 was $24.05 in Ohio) is approximately $17 million. The annual volunteer numbers are staggering, with 2017's all-time high of 64,000 volunteer hours.
Many of those hours are from residents who volunteer their time in the arts, both at Kendal and in the Oberlin area. Let's introduce you to some of the residents and their activities, starting with an upcoming event of interest to the general public.
Related: You're Needed: The Powerful Benefits of Volunteering>>
Fine Arts Sale Coming Up
The walls, tables, cases and other public spaces are decorated with all sorts of paintings, ceramics, photographs, fiber pieces and other artwork that reflect the residents' interests, experiences and travels. But the storage bins are full too, which is why Kendal is holding a Fine Arts Sale on Friday, June 7 open to the public.
"The deaccession committee asks 'does this artwork give us joy. If not, could it give someone else joy,'" said Mary Behm, member of the Art Committee.
About five dozen pieces will be sold, with many items priced as low as a couple of dollars. Some of the artwork is faded or damaged not suitable for public space or just needs a new home. "We're not saying it's awful art," Mary said.
Items for sale include a Japanese scroll, spinning whorls, a ceramic pot, watercolors, photographs and other items. The sale is also a good place to pick up inexpensive frames.
The artwork will be priced and on display Thursday afternoon, June 6, in the Heiser Lounge. The sale on Friday runs from 7:30 a.m. to 3 p.m., cash or check only. The Art Committee will use the proceeds for framing and other materials to maintain the ever-changing collection.
"It's a wonderful position to be in, that we have received so much art that we can afford to be picky," Mary said. "We want to make the art displays at Kendal an attractive experience for those who live here as well as for those who walk through."
Kendal's Art Committee Big & Busy
With about two dozen members, the Art Committee is one of Kendal's larger committees because of all its tasks. Members:
fill the three art galleries year-round with quality work from artists, including installing the artwork and organizing artist receptions;
work with the Oberlin High School art teacher to plan a couple of art shows highlighting art from high school students;
provide a venue for the Oberlin Senior Center to display their work;
hang all the donated artwork in the corridors, apartment building, care center, dining rooms and other public spaces;
and purchase art supplies and coordinate framing and other repairs.
"Kendal is providing through its volunteers a venue for artists in the area to become better known," says Grover Zinn, chair of the Art Committee.
Like many committee members, Grover is an art enthusiast but not an artist.
"I always used art in my teaching so it was natural for me to do something with the art committee," says Grover, Oberlin College emeritus professor of religion.
Former chair Nina Love credits her late husband's love of fine art and their access to world-class museums while living in the D.C. area for her involvement in the art committee.
"The art is one of the things that bring people here to live," she says.
Kendal's art studio is a second home of sorts for Don and Joyce Parker. Don is a watercolor painter and Joyce a potter and watercolor painter who also dabbles in acrylic paint, paper mache and fabric. Both volunteer their time to teach classes and workshops for other residents, both beginner and advanced artists.
"I feel like now is my time to pass it on," Joyce says. "Encouraging creativity and new learning in visual arts is something I enjoy doing."
Arts organizations in Oberlin are certainly aware of the artistic richness at Kendal, which is why when the Firelands Association for the Visual Arts (FAVA) needed help hanging shows, they turned to Kendal residents.
Other Artistic Outreach Activities
Mary Behm and her husband Fred have always been interested in the arts, especially the visual arts. Fred's company was a business supporter of FAVA for a number of years and Mary joined the FAVA board.
"I've been president, vice president, secretary and chair of the membership and development committees at various times through my over 20 years of board service. It's a wonderful organization which brings art to people in a very accessible way through free exhibits and many reasonable-cost classes," she says.
Resident Jean Heller has also served on the FAVA board and recruited Kendal residents to volunteer at FAVA's biennial quilt show.
Jean has also volunteered at the Allen Memorial Art Museum. One of her assignments was manning Allen's front desk. "People are really impressed with how wonderful the museum is for being small," Jean says.
Resident Mary Louise VanDyke founded the museum's volunteer guild, which fosters reciprocity between the museum and the community. In 2016 Mary Louise and her husband Don, both class of 1947 Oberlin College alumni, received the college's Alumni and Community Volunteers Award for Distinguished Service to the Community.
Along with the museum, Mary Louise was honored for founding and directing the Oberlin Festival Children's Choir. Don was cited for his many activities with the Oberlin Rotary Club and United Church of Christ.
Related: Kendal Residents Still Actively Engaged in their Careers>>
Volunteering + Creativity = Double Health Benefits
Being creative is good for your overall well-being, and some of those benefits surely rub off on people who are engaged in artistic endeavors such as art promoters, lovers and volunteers.
Writing for Medical News Today, Maria Cohut lists three benefits of creativity:
Improved mental health, including a decrease in negative emotions;
Boast to memorization, learning and problem-solving;
Reduced chronic pain and improved immune system.
"A lot of research in the medical field has actually suggested that art — and, more specifically, being creative — is, in fact, quite useful for our mental and physical well-being," she writes.
Whether it's at a museum, library or food pantry, volunteering has health benefits too, according to the Mayo Clinic that lists 6;
Leads to lower rates of depression, especially for people 65 and older;
Gives a sense of purpose and teaches valuable skills;
Helps stay mentally and physically active;
May reduce stress levels;
May help you live longer; (An analysis of data from the Longitudinal Study of Aging found that individuals who volunteer have lower mortality rates than those who do not, even when controlling for age, gender and physical health.)
Helps you meet others and develop new relationships.
Living Life with Purpose by Giving Back
Finding ways to give back to others is number two on our list of "5 Ways of Living Life with Purpose." After retiring from your professional career, it can be fulfilling to donate your time and talents to the greater community.
Learn more about giving back and the four other ways to live life with purpose by downloading our free guide.
Free Guide: 5 Ways of Living Life with Purpose
---
Studies show that people who feel they live a purposeful life tend to be healthier in body, mind and spirit. Learn how to live life with purpose by downloading our free guide.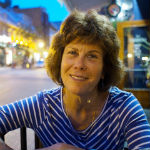 In the past, Molly Kavanaugh frequently wrote about Kendal at Oberlin for the Cleveland Plain Dealer, where she was a reporter for 16 years. Now we are happy to have her writing for the Kendal at Oberlin Community.