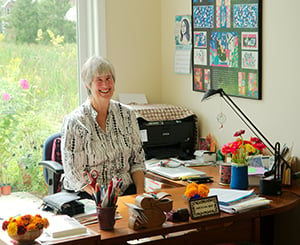 As Baby Boomers reach "official" retirement age (66 for most of them), many are taking a pass.
Working after retirement is a financial necessity for many older adults. Staying employed, even part-time, is also a way to postpone diving into investment funds or Social Security benefits.
Working can also be a good way to stay socially engaged and healthy, as long as the job is not too physically demanding.
Plus, older workers have something employers want and need.
"As baby boomers retire, their institutional knowledge is walking out the door," says Susan Weinstock, AARP's vice president of financial resiliency programming. "Older workers are a great value to employers."
An AARP survey of 3,900 people 45 and older found that 13 percent of those who were retired were either still working or looking for work.
The Pew Charitable Trusts conducted focus groups and a national survey of private sector employees in 2016 to examine how Americans envision their retirement years. Among the findings:
While some respondents wanted to work past age 65, the majority felt they would be forced to do so out of financial necessity;

Nearly two-thirds of workers surveyed said they were likely to work past 65;

Many said they would work as long as possible and were not sure when—or if—they would retire.
This "working while retired" trend means many continuing care retirement communities are now home to residents who are still working.
Meet two Kendal residents who continue to pursue careers by working out of home offices and traveling.
"A dream come true"
Living in a retirement community while continuing a consulting career has turned out to be a perfect fit for 66-year-old Tina Graf.
As an organizational development and change consultant, Tina travels all over the world. Living at Kendal means no worries when she heads out the door for overnight trips (15 over the course of her first year at Kendal). Not so, when she lived in a house in an Atlanta suburb.
When Tina's not traveling, the amenities at Kendal make for easeful living. Yoga and other fitness programs are just a short walk away, healthy meals are readily available, and conversations and get-togethers are a natural part of each day. Traffic jams are a thing of the past.
"This place is great for me," she says.
Tina arrived at Kendal in November 2017 with lots of local knowledge. She is a 1974 Oberlin College graduate, her mother lived at Kendal for 10 years, until her death in 2004, and her niece graduated from Oberlin in 2012.
Around the time Tina moved to Kendal, a new professional opportunity opened up for her. The U.S. Agency for International Development contracted with her to help its employees in various missions around the world. So far, she's been to Guinea and just returned from Kazakhstan in Central Asia.
"I am a passionate traveler, so this is like a dream come true. And having fresh money means I'm not drawing from my savings, which is such a relief in these uncertain times," she enthuses.
She's also an avid lifelong learner. "Kazakhstan is the ninth largest country in the world. Before I went to Guinea, I worked on refreshing my French. I'm steeped in learning and spend a lot of time doing my research for each upcoming destination. Sometimes I feel as if I'm back in college," she says.
With the help of her sister and brother-in-law, Tina converted space in her cottage into an office. Her desk is next to sliding glass doors, which overlook a garden and pond.
Being so busy means less socializing and saying no to committee offers, but residents at Kendal understand.
"Many people think I'm always gone and recognize how busy I am. Others are fascinated by what I do and are eager to hear all about my trips," she says.
Tina might "retire" in about three years and is already compiling a list of things she wants to do when that time arrives: take courses at Oberlin College, attend more concerts and Apollo Theatre movies, spend more time in Cleveland, sing in a choir, start a plot in the community garden and get involved in other volunteer work around Kendal.
As Tina likes to say about her move to Kendal — "I have landed well."
"We knew we needed a community"
A year ago Larry Lannom moved to Kendal ready to begin a new chapter with his wife Linda while continuing a 30-year professional relationship. He remains vice president of the Corporation for National Research Initiatives, but now works part-time. He still travels overseas to service European clients, but now relies on emails, Skype and the like instead of a daily commute to the company's Reston, Virginia office.
"That's one of the immediate benefits — no more sitting in traffic," says Larry, who turned the second bedroom into an office.
Other perks of working part-time at a life plan community include leisurely breakfasts, sometimes prepared by Kendal Dining staff and shared with other Kendal residents, attending LifeLong Learning classes held on the Kendal campus and short drives to downtown Oberlin for lunch and movies.
Larry recently shared his expertise in network information services with the Kendal community in a lecture entitled "Cyber Conflict and Geopolitics."
"We're trying to learn how to retire," Larry says.
The couple decided to move to a continuing care retirement community sooner than later — he's 71 and Linda is 68 — for a number of reasons. Larry was diagnosed with leukemia and while he is doing well, thanks to a clinical trial at the National Institutes of Health, they wanted to move while he was healthy. Their parents and other family members have lived at CCRCs and so they were familiar with the benefits, especially since they have no children.
"We knew we needed a community," he says.
Unlike Tina, the Lannoms have no Oberlin or even Ohio connection, so that's been a bit of an adjustment. In Bethesda, Maryland, they were near a plethora of arts, culture and ethnic cuisine offerings, the nation's capital, multiple international airports and long-time friends.
"We picked Kendal over other CCRCs because the people here are more interesting," he says.
Larry originally planned to retire this spring, but that has been moved back to the end of 2019, maybe longer depending on the outcome of grant applications.
While Kendal has many activities of interest to Larry, such as the wood shop and table tennis, he doesn't really know what he will pursue when he does retire.
For now, he's happy working. "It gives structure to my day," he says.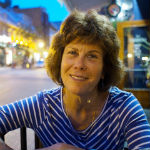 In the past, Molly Kavanaugh frequently wrote about Kendal at Oberlin for the Cleveland Plain Dealer, where she was a reporter for 16 years. Now we are happy to have her writing for the Kendal at Oberlin Community.