Published: May 23, 2017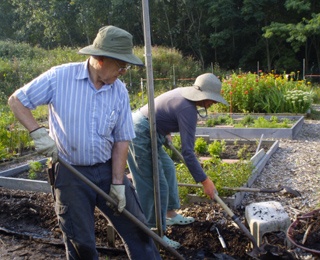 Come spring, Joyce Parker turns her attention to two 10 x 10 plots of land located in Kendal's community garden. She plants lupine, baby's breath and other flowers for arrangements, spinach and lettuce for meals, and decorates the beds with driftwood and garden plaques, such as "Hope Never Dies in a Gardener's Heart."
Like many residents, Joyce says the community garden helps her stay connected to nature. "It's a good chance to get outside, it's quiet and enjoyable to fiddle with the soil and experiment. It's quite a wonderful opportunity for people who like to garden," Joyce says.
The community garden, currently comprised of 34 plots, has been part of Kendal since its first summer in 1994. While many residents are satisfied to cultivate smaller gardens around their cottages, the community garden gives other residents an opportunity to dig deeper.
A Tour of the Garden
Melissa Reed, chair of the Horticulture Committee and a master gardener, likes to point out all the amenities of the Kendal community garden, which is located at the southern edge of campus by the tennis courts.
A fence to keep out deer and other varmints.
Three water hookups with hoses.
Bins full of wood chips and leaf compost.
Recycled coffee grounds to acidify the clay soil.
Wheelbarrows, shovels, trowels and assorted tools stored in a shed.
Pots, cages, stakes and miscellaneous supplies.
Resident participation ebbs and flows. Currently, about a dozen residents maintain one or more plots. To cover the cost of fence maintenance, gardeners pay $10 annually for a plot.
Gardeners Reap Benefits
When some people move to a retirement community, they are excited to replace years of gardening with new activities, kind of like "been there, done that." For others, the physical exertion of standing and bending for long periods may be too demanding.
But men and women who continue to garden can reap many physical and mental benefits.
According to the Michigan State University Extension:
"The Centers for Disease Control and Prevention (CDC), moderate-intensity level activity for 2.5 hours each week can reduce the risk for obesity, high blood pressure, type 2 diabetes, osteoporosis, heart disease, stroke, depression, colon cancer and premature death. The CDC considers gardening a moderate-intensity level activity, which can help you to achieve that 2.5 hour goal each week. Additionally, those that choose gardening as their moderate-intensity exercise are more likely to exercise 40-50 minutes longer on average than those that choose activities like walking or biking."
Bill Schreiner, who maintains Kendal's Courtyard Garden, would agree. "I don't use the pool or exercise equipment. I get plenty of exercise out here; it's how I keep in shape," the 92-year-old says.
Gardening can also help reduce stress. One study compared the cortisol levels and self-reported moods of people who read indoors for 30 minutes with those who gardened outdoors for 30 minutes. "Gardening and reading each led to decreases in cortisol during the recovery period, but decreases were significantly stronger in the gardening group," according to an article in the Journal of Health Psychology.
To ease discomfort in the garden, some older adults make modifications, such as replacing old tools with lightweight ones and avoiding exposure to midday sun. Or they solicit assistance, which in a community like Kendal is usually easy to find.
Sharing the Kendal Community Garden's Bounty with Others
Beekeeping and gardening gave Frank Mitch a pleasant break from the rigors of his job as an engineer at Goodrich. When he and his wife, Amy, moved to Kendal in 2015, he gave up beekeeping but was glad he could continue gardening.
"It's pretty handy," he says about the community garden.
Last summer, Frank grew an abundant crop of tomatoes in his plot, but this year, he's planting sweet corn. In his free time, he helps with weeding the invasive garlic mustard plant, which grows outside the garden. This summer, though, he has his hands full.
Frank is first vice president of The Gardeners of America/Men's Garden Clubs of America, which is holding its national convention in Cleveland this summer. Next year, he becomes president. Frank is also busy designing websites for three garden organizations.
Resident Joy Walworth maintains two plots with a variety of herbs. She shares her love of gardening with Kendal's Dining Services.
Locally grown produce is a staple during meal times, especially during the summer. Learn more about the vibrant lifestyle at Kendal at Oberlin by contacting us for a brochure, tour or more information.