Published: October 5, 2023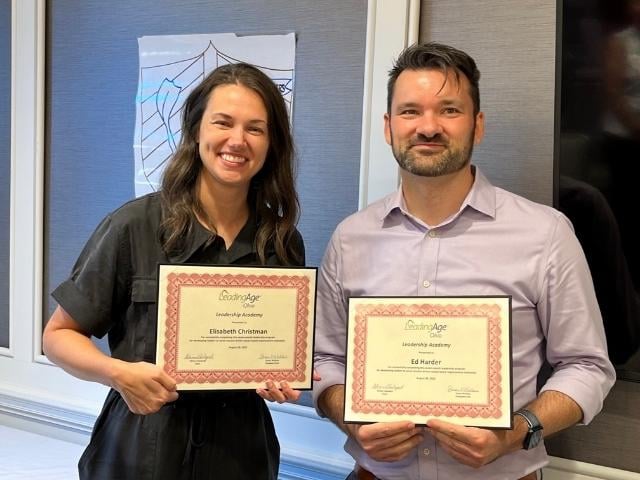 For nearly 30 years Kendal at Oberlin residents and staff have been creating community in ways big and small. As the community prepares to celebrate its 30th birthday this fall, we'll explore how the 110-acre campus, home to hundreds of residents over the years, creates unity at its community.
Today, we take a look at how Kendal builds leaders among its workforce.
Kendal's Ann O'Malley was a member of LeadingAge's inaugural Leadership Academy in 2007, and she and a handful other participants were so impressed with the program that they decided to replicate it on a state level.
Since then about two dozen Kendal staffers have participated in LeadingAge Ohio's Leadership Academy, as well as leadership programs offered by Kendal Corporation, Friends Services Alliance and Lorain County.
"In order to really be an effective organization you need to have people with different characteristics and strengths. These leadership programs help people discover their authentic leadership," says Ann, Chief Financial Officer at Kendal and a coach for LeadingAge Ohio's Leadership Academy.
Leadership development at Kendal
Kendal department heads, always on the lookout for employees who can benefit from leadership training, submit names of prospective candidates to CEO Barbara Thomas and Toni Merleno, Human Resources Director. Like many companies, Kendal pays for the leadership training but candidates have to be able and willing to dedicate the necessary time and attention to attend meetings, read materials and the like.
Recent LeadingAge Ohio graduate Ed Harder, Transportation Coordinator, says the effort was well spent.
"I have worked at Kendal for six years and in social services for 16 years. Within that time I have never experienced a more thorough and well done program as the leadership academy. I am very grateful for the experience and the transformative challenge that experience ignited," he says.
Ed's "action learning project," required by all graduates, is working with his supervisor, Rey Carrion, Director of Facility Services, to install charging stations for electric vehicles at Kendal.
Another recent graduate, Elisabeth Christman, Sales and Marketing Assistant Director (pictured with Ed Harder above), is working on a community resource guide for new Kendal residents. "This guide would work to inform new residents about resources (business and organizations) in the greater Oberlin and Lorain County area. We might take for granted that we know where our current dry cleaner, resale shop, drug store is located. We might also take for granted that we know the cashier, pharmacist, or manager. When one moves to a new home and community, these once easy tasks might be daunting when navigating a new town or new store. A community resource guide could help alleviate that stress and make a new home feel more welcome and safe."
How leadership programs build leaders
The emphasis of leadership programs that Kendal staffers attend is usually focused on aging services, particularly housing and health care, aging trends and effective advocacy on behalf of older adults. Meeting others in one's field, especially the "heavy hitters," and visiting other older adult communities can be eye-opening, Ann says.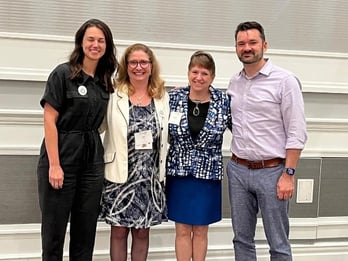 "It's a huge benefit," she says.
Group discussions and book readings help individuals drill down and discover their weaknesses and strengths. "Many of us know what areas we need help with, but sometimes we need help discovering what were good at," Ann says.
Next up for Ann (pictured from left to right, Elisabeth Christman, Ann O'Malley, Barbara Thomas, and Ed Harder) is helping LeadingAge Ohio develop a Leadership Academy Alumni Network similar to the national one so graduates can continue to grow as leaders.
Ed's got a new project too. "While attending the leadership academy, I became inspired to go back to school. Several of the activities required knowledge I did not have. I did my best to learn from the people around me, but I began to seriously think about my current position and capabilities. I am very proud of my career in social services, however, I believe I am capable of more. I enrolled in a Master's in Public Administration program at Kent State University and am working hard to attain the knowledge needed for senior leadership roles. "
Learn More About Kendal at Oberlin – A Vibrant Community for Older Adults
---
Are you making plans for your future? Kendal at Oberlin offers an active lifestyle with opportunities for lifelong learning, art and culture.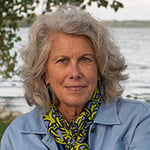 In the past, Molly Kavanaugh frequently wrote about Kendal at Oberlin for the Cleveland Plain Dealer, where she was a reporter for 16 years. Now we are happy to have her writing for the Kendal at Oberlin Community.
About Kendal at Oberlin: Kendal is a nonprofit life plan community serving older adults in northeast Ohio. Located about one mile from Oberlin College and Conservatory, and about a 40 minute drive from downtown Cleveland, Kendal offers a vibrant resident-led lifestyle with access to music, art and lifelong learning.