Published: July 1, 2021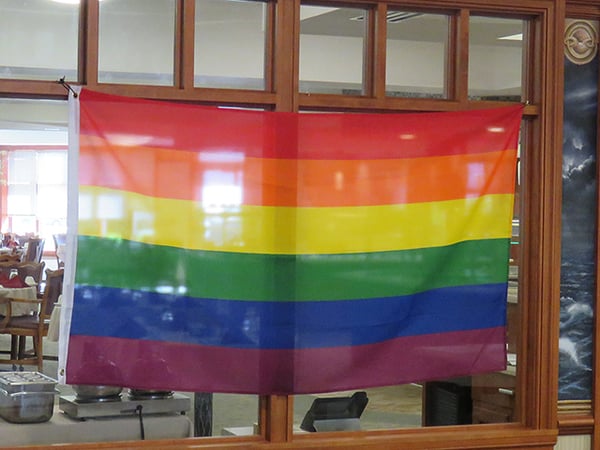 Conversations about gay rights have been going on at Kendal at Oberlin for years, but in recent times the conversations during Pride Month have been more deliberate as both gay and straight residents come together to talk, learn and support each other.
A watershed event was held at Kendal in June 2018. To commemorate Kendal's 25th anniversary, residents presented a panel discussion dubbed "25 and Proud."
Eight men and women shared stories of an earlier life that involved inner conflict and fear, of finding and forming relationships to help them become their true selves, and now of living in a supportive community like Kendal.
The program ended with a standing ovation and an announcement of a new Kendal Interest Group – the Lesbian, Gay, Bisexual, Transgender Allies.
As members of LGBTA+ began to plan this year's Pride Month activities, they reflected on the current times.
"This year we're emerging from months of quarantine and newly getting acquainted. There have been enormous shifts in society at large, too, as issues of gender, sexual identity, pronouns, binary and non-binary are part of cultural discourse. We asked ourselves: What Pride Month and Pride Week observances would be meaningful?" organizers explained to residents.
The result? In-person conversation circles for candid dialogue.
Straight People Care About Gay Issues
About five dozen residents gathered in small groups on June 25 to talk about gay issues in general, and at Kendal at Oberlin. Ardith Hayes, who moved to Kendal 10 years ago with her wife, Ruth Ann Clark, was a circle co-facilitator.
She told the group that she and Ruth Ann moved to Kendal because it is a welcoming community and was heartened to hear straight residents say the same thing.
"It matters for straight people too," Ardith said.
Some participants said there is a misperception that Kendal is a gay community, but it is more accurate to call Kendal an "open community."
Jerry Berner told his small group that LGBTA+ has done a wonderful job educating the community at large about issues related to gays, especially older adults.
"It's not a question I wonder about with new residents," says Jerry, who has lived at Kendal for 18 years.
Barbara Pierce participated in the circle because her son is gay and she wanted to lend her to support to the Kendal group.
"I was blown away by how good the conversation was," she said.
Tom Konkoly, who also co-facilitated a group, said one resident talked of quietly struggling with potential legal issues related to his grandson's announcement that he is gay. Tom told the group that when he was young the "marching band gave him a cover," but today sexual identify issues are more out in the open.
But there is still lots of work to be done. Tom's partner died two weeks before the U.S. Supreme Court legalized same sex marriages.
The LGBT World Beyond Kendal
Residents said that Kendal can be kind of bubble when it comes to issues like gay rights. Ann Francis, who serves as one of the contacts for LGBTA+, shared some disturbing statistics from SAGE: Advocacy and Services for LGBT Elders.
LGBT elders are:
More likely to face poverty and homelessness, and to have poor physical and mental health;
More likely to be caregivers in isolation, which can exacerbate stress and lead to caregiver burnout;
More likely to experience adverse treatment when seeking senior housing;
More likely to report feeling a lack of companionship and being socially isolated.
Suicide risk is also a concern, said Nancy Lombardi, explaining that "better off dead than being gay" is not just voiced by some young gays but also older adults too.
"We need to stay abreast of the news and stay alert," Ardith said.
Beyond Circles and Pride Month
Kendal at Oberlin Residents Association gave LGBTA+ money to add books to the library's LGBTA+ collection. Residents also contributed books (some which they wrote) and gay-related articles from Kendal's literary magazine Eureka! were compiled. The books were on special display in June and will remain part of the library's permanent collection.
Sponsoring gay-related events such as LGBT-themed movies year round not just in June is also being discussed. Joyce Benjamin, a transgender woman, suggested the community plan an event on Oct. 11, which is National Coming Out Day.
And year-round residents and staff are encouraged to wear name tags affixed with a rainbow heart as well as continue to have meaningful conversations.
Together, Staying Safe and Well
---
A community like Kendal at Oberlin can be a safe harbor in challenging times. Learn how residents and staff have worked together to make our community the safest place to be.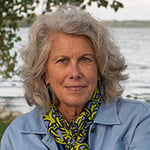 In the past, Molly Kavanaugh frequently wrote about Kendal at Oberlin for the Cleveland Plain Dealer, where she was a reporter for 16 years. Now we are happy to have her writing for the Kendal at Oberlin Community.
About Kendal at Oberlin: Kendal is a nonprofit life plan community serving older adults in northeast Ohio. Located about one mile from Oberlin College and Conservatory, and about a 40 minute drive from downtown Cleveland, Kendal offers a vibrant resident-led lifestyle with access to music, art and lifelong learning.