Published: May 4, 2022
May is a time to celebrate Older Americans Month, which this year highlights how older adults can "Age My Way." May is also when we celebrate National Bike Month, which is a good reminder that many adults are growing older with physical fitness top and center.
Smart move, as exercise has lots of health benefits:
Reduces stress and anxiety;
Improves sleep;
Controls blood pressure;
Prevents falls and fractures;
Maintains a healthy weight
According to the National Institute on Aging, "Studies show that 'taking it easy' is risky. Often, inactivity is more to blame than age when older people lose the ability to do things on their own. Lack of physical activity also can lead to more visits to the doctor, more hospitalizations, and more use of medicines for a variety of illnesses."
When it comes to exercise beneficial for older adults, take your pick – walking, yoga, tai chi, swimming and, of course, biking.
The Buckeye State welcomes bikers
Many older adults consider bicycling to be a staple of their lives and cannot envision a time when they would stop riding a bicycle, according to a 50+ national cycling survey, supported in part by AARP.
Overall, the number of cyclists/bike riders in the U.S. has increased over the past three years from around 43 million to 47.5 million in 2017.
Ohio is a great place to live if you're a bicyclist.
"Ohio is a true treasure trove of trails, which wind through state and national parks, along the lakeshores and waterways, and through the biggest cities in the Buckeye State. Though the state has the fifth-most rail-trails and more than 1,000 miles of completed rail-trail, Ohio has no plans of slowing down; currently, there are multiple trail networks in development and 45 known rail-trail projects underway," according to Rails-to-Trails Conservancy.
The scenic 326-mile trail links the Ohio River to Lake Erie, and there lots of other shorter trails. The Conservancy put together a list of Ohio's top 10 trails. Here are 5 of them:
The Western Reserve Greenway in Ashtabula and Trumbull counties;
Holmes County Trail;
Hockhocking Adena Trails in Athens County;
Great Miami River Trail in four southwestern counties;
Alum Creek Greenway Trail in Franklin County.
The AARP survey found that older adults bicycle more often when they have someone to bicycle with, which is why clubs such as Silver Wheels Cycling Club are popular with bikers.
The age of Silver Wheels club members ranges from the teens well into the eighties, with an average age in the mid-50's. The club sponsors dozens of rides of various lengths and difficulty in three counties – Lorain, Erie and Cuyahoga. Its most popular ride is the Dog Days Wine Tour, which this year is July 9.
Whether you cycle alone or in a group be sure to check out the club's guide of "safe cycling practices."
Kendal residents like their wheels
No surprise Kendal is home to dozens of bikers with wheels of all shapes – from recumbent to trikes and vintage and fast 2-wheelers. Residents like to bike downtown and to Oberlin College, or hop on the paved North Coast Inland Trail that crosses Main Street.
For May, Kendal has put together a busy calendar for its biking enthusiasts. Events include:
A bike safety talk by the Oberlin Police Department;
A biking tour of historic Oberlin;
A DIY bike maintenance workshop;
A "Try a Trike" gathering
An intergenerational bike parade with Kendal Early Learning Center children and their families
Celebrate Older Americans
Ohio a good place to be for older adults too. Nearly one-quarter of Ohio's population are residents age 60 or older. Do you know an older Ohioan who should be recognized for how they have chosen to "age their way"? During Older Americans Month, the state is accepting nominations of outstanding older adults for its Ohio Senior Citizens Hall of Fame.
Learn More About Kendal at Oberlin – A Vibrant Community for Older Adults
---
Are you making plans for your future? Kendal at Oberlin offers an active lifestyle with opportunities for lifelong learning, art and culture.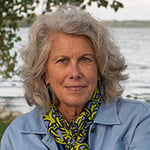 In the past, Molly Kavanaugh frequently wrote about Kendal at Oberlin for the Cleveland Plain Dealer, where she was a reporter for 16 years. Now we are happy to have her writing for the Kendal at Oberlin Community.
Kendal at Oberlin is a nonprofit life plan community serving older adults in northeast Ohio. Located about one mile from Oberlin College and Conservatory and about 40 minutes from downtown Cleveland, Kendal offers a vibrant resident-led lifestyle with access to music, art and lifelong learning. Stay connected to our community! Subscribe to the Kendal Connection.