Published: February 28, 2019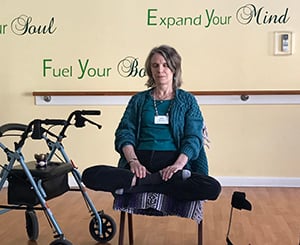 When Judi Bachrach's husband died, she lost both a soulmate of nearly 50 years and a caregiver who helped her with the challenges of multiple sclerosis.
Judi was living in Woodstock, New York, and needed to find help managing her disease. Moving to Ohio was not on her radar until her daughter, a professor at Oberlin College, told her about a "fantastic" continuing care retirement community a mile from campus.
Last summer the newly widowed New Yorker arrived at Kendal to begin a new life that would include a key part of her old one - a daily meditation practice.
"I've been meditating off and on for years. It's something I cannot not do. It's like breathing. I'm handling my MS pretty well, but without meditation, it would be much more difficult," says Judi, 67.
A few months after arriving at Kendal, Judi started a weekly hourlong meditation group at Kendal for residents and staff. Now Judi leads the group three times a week.
On a recent Tuesday afternoon, Judi and seven others gathered in the glass-enclosed Relaxation Room. Sitting on chairs in a circle with eyes closed, Judi rang bells to begin the session. She occasionally spoke but most of the hour was spent in silence. She concluded the session with a chant and the ringing of bells.
"Meditation is a natural fit for a retirement and aging community. This is a time in our lives when we are letting go of our former identities and exploring 'who am I if I'm not who I was?'" she says.
Benefits of Meditation
According to the global meditative community of Shambhala, "Meditation is a way to make the mind more stable and clearer, a way to slow down and see how our mind works."
Jon Kabat-Zinn, the founder of the Mindfulness-Based Stress Reduction program, says "mindfulness is an awareness that arises through paying attention, on purpose, in the present moment, non-judgmentally. It's about knowing what is on your mind."
Mindful meditation is simply meditating on the moment.
In her most recent book Standing at the Edge, Buddhist teacher Joan Halifax shared these two stories about meditation.
"I have a colleague who teaches elementary school in a low-income neighborhood. She begins her classes with meditation. Her students are at the top of their age group in math, and she attributes that to how they start their day. I am close to a politician from the Rust Belt who never seems to turn away from his constituents' needs. I hear he always has a smile on his face, even as he deals with the complexities of Washington. He is a long-term meditation practitioner."
In a study conducted at Carnegie Mellon University, 35 unemployed men and women seeking work and experiencing stress were recruited. Blood was drawn, and brain scans were given. Half the group was taught formal mindful meditation and the rest, relaxation training.
"At the end of three days, the participants all told the researchers that they felt refreshed and better able to withstand the stress of unemployment. Yet follow-up brain scans showed differences in only those who underwent mindfulness meditation. There was more activity, or communication, among the portions of their brains that process stress-related reactions and other areas related to focus and calm. Four months later, those who had practiced mindfulness showed much lower levels in their blood of a marker of unhealthy inflammation than the relaxation group, even though few were still meditating," wrote New York Times reporter Gretchen Reynolds.
Reynolds wrote about another study involving yoga, meditation and chanting, this one focused on middle age and older adults concerned about their memory. For 12 weeks, half of the volunteers attended a class involving mental exercises, and the other half participated in yoga, meditation and chanting. Mental performance improved for all of them.
"But only those who had practiced yoga and meditation showed improvements in their moods — they scored lower on an assessment of potential depression than those in the brain-training group — and they performed much better on a test of visuospatial memory, a type of remembering that is important for balance, depth perception and the ability to recognize objects and navigate the world," Reynolds wrote.
The chanting used in the study involves a sitting meditation while singing the sounds of "Saa Taa Naa Maa." The Alzheimer's Research & Prevention Foundation, which partially funded the study, says the meditative chanting exercise can increase attention, concentration and focus and improve short-term memory and mood.
Mindfulness and meditation have additional benefits for older adults. Studies indicate it increases connectedness (decreases loneliness), relieves stress, and improves mood, health, and longevity. Many senior living communities have implemented meditation and practices that utilize mindfulness, such as yoga and tai chi, so residents may attain these benefits.
Mindful Practices at Kendal
Kendal was founded on Quaker values such as peace, simplicity, equality and integrity. Mindful practices at Kendal include consensus-building, careful listening and periods of quiet. Most meetings begin, and sometimes end, with a couple minutes of silence. Unlike many retirement communities, a public address system is not used to communicate with residents and staff.
Kendal's Wellness staff incorporate opportunities for meditation and mindfulness in many of their classes. For instance, yoga class ends with a 15-minute meditation and water Tai Chi ends with silent supported water floating.
Explains Wellness Coordinator Jill Tvaroha:
"Tai Chi postures have soothing names, such as 'gathering' and 'accepting with grace.' I give brief prompts but try to talk as little as possible so students can focus on letting their body follow their breath. Students count silently, which is a good way to quiet the mind.
We do exercises for 45 minutes and then float in silence for 15 minutes, using noodles to keep us afloat. For many of us including myself, sitting still to meditate can be challenging. I find that it's much easier, after spending 45 minutes moving slowly and intentionally, to still my body and my mind."
Judi's meditation class has attracted newbie and veteran meditators. Carla VanDale discovered yoga and meditation about 25 years ago. She turned to both often after her cancer diagnosis. "The first time I was introduced to meditation I knew I had been yearning for this all my life," Carla says.
Want to Start a Meditation Practice?
If you are interested in learning about meditation, you are not alone. Stress, smartphone addiction and the need to quiet our mind are just a few of the reasons so many people, young and old, are exploring the benefits of a meditation practice.
That means lots of resources are on the market. Here is just a sampling:
Books
Real Happiness: The Power of Meditation (A 28-day Program), by Sharon Salzberg
Making Space: Creating a Home Meditation Practice, by Thich Nhat Hanh
Wherever You Go There You Are, by Jon Kabat-Zinn
How to Meditate: A Practical Guide to Making Friends with Your Mind, by Pema Chodron
Apps
Headspace
Insight Timer
10% Happier
(Here's Healthline's list of the best meditation apps of 2018)
Podcasts
10% Happier with Dan Harris
Metta Hour with Sharon Salzberg
Tara Brach
Retreat Centers
Kripalu Center for Yoga & Health
Take Control of Your Emotional Wellness and Find Happiness!
---
Roughly 40 percent of a person's happiness is determined by intentional behavior. Learn how to take control of your happiness again with our 'Emotional Wellness' guide.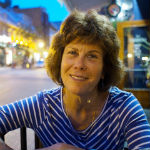 In the past, Molly Kavanaugh frequently wrote about Kendal at Oberlin for the Cleveland Plain Dealer, where she was a reporter for 16 years. Now we are happy to have her writing for the Kendal at Oberlin Community.