Published: February 8, 2019
A few years ago, 99-year-old Doreetha Daniels received her associate's degree in social sciences. Her goal was simple – she wanted to better herself.
Talk about lifelong learning.
"Few of us will pursue college degrees as nonagenarians, or even as mid-career professionals (though recent statistics indicate that increasing numbers of people are pursuing college degrees at advanced ages)," writes John Coleman in the Harvard Business Review.
"As we age, though, learning isn't simply about earning degrees or attending storied institutions. Books, online courses, MOOCs (a free online course), professional development programs, podcasts, and other resources have never been more abundant or accessible, making it easier than ever to make a habit of lifelong learning. Every day, each of us is offered the opportunity to pursue intellectual development in ways that are tailored to our learning style," Coleman added.
We've all heard that learning is good for our health - mentally, physically and emotionally. Studies have found that lifelong learning can reduce stress, improve memory, prevent isolation and enhance one's overall well-being.
Residents at Kendal at Oberlin know about these and other benefits of lifelong learning. In 1993, the community was founded on continuous learning and other Quaker values. Today, 25 years later, residents continue to embrace learning new skills and crafts, acquiring knowledge from books and experiences, and much more.
Kendal is home to dozens of lifelong learners. Get to know three of them here.
Kendal Lifelong Learner: Bob Randel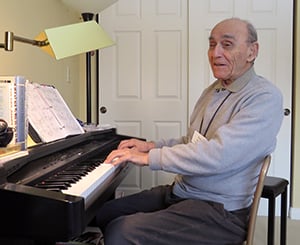 Like many other young men starting college in the early 1940s, Bob interrupted his college education for three years of military service. Once back in college, courtesy of the G.I. Bill, he was eager to complete his education, get a job and support his family. Fast forward to 2008, when Bob and his wife Helen moved to Kendal.
"I had really neglected 'learning' in college, so when I came to Kendal, I attended every class at Oberlin College that I could," he says.
At no charge, he audited courses in psychology, European and U.S. history, the development of modern China and subsequent Marxism, economics — a total of 15 courses. "I took notes and read many of the readings, but I can't say I could have passed the examinations. However, I learned a lot," he says.
Now, at 95, Bob is too busy for college classes. He takes piano lessons and practices two hours daily.
"Only my wife Helen had played our piano. After she died, in 2016, I decided I'd better get rid of it or use it," he says.
He takes lessons at Oberlin College's Community Music School, in a program taught by conservatory staff for people of all ages who want to learn music. Maybe in a few years he will be ready to play for Kendal residents.
"Now, I get pleasure in sitting down at the piano, knowing I'm more skillful today than I was a year ago," he says.
Bob also plays tennis, a sport he started playing at 65 when he retired as a manager from General Motors. During those years he and Helen traveled, often visiting their son in Florida, daughter in San Francisco and son in Connecticut.
Throughout his post-65 years, Bob had served extensively in community service organizations, including charity, recreation, religious and residential groups.
And these days, he still has a special yen for Las Vegas, a city he and his wife visited many times. He played the craps tables almost exclusively - had read about and studied the game to find a way to beat the house.
Spotlight on Kendal Resident Mary Van Nortwick
Mary is co-president of the League of Women Voters® of Ohio, so when she and husband Tom moved to Kendal in 2017, she was looking for an activity that would be a contrast to her political work.
She joined the floral creations committee, which is charged with making flower arrangements for three or more public areas using fresh and dried flowers. Residents work with a partner and the pair rotates every 10 days.
Pairing different flowers together, like large purple dahlias and tiny white margaritas, and arranging them in vases is both challenging and enjoyable, she says.
"We learn from each other, it's really fun. It's like creating anything – it's beautiful, gives me pleasure and helps me relax. And being on a committee you make new friends," she says.
This spring, Mary is stepping down from her League position and is already thinking about other activities she might enjoy. One idea she and Tom have proposed to the Lifelong Learning committee is to teach a joint course at Kendal on ancient and modern women – Mary taught 20th century English literature at the University of Akron and Tom was a classics professor at Oberlin.
"We've never taught together, so this is going to be an exciting experience, and certainly something we wouldn't have done if we hadn't come to Kendal," she says.
You may also enjoy: A look at aging and self-reflection >>
Sam Goldberg and Woodworking Wonders
Sam Goldberg is a retired Oberlin College mathematics professor. He moved to Kendal with his wife Marcia in 2004 and became intrigued by the lathe sitting unused in the woodshop. A lathe is a machine that shapes wood, and Sam wanted to learn how to use it.
"You can't learn from a book, so I became an apprentice," he says.
For more than a year, he spent two hours a week working side by side with a woodworker in nearby South Amherst.
"Slowly but surely I learned," he says.
He made bowls and boxes of all sizes, using maple, cherry and other kiln-dried wood he found online at Got Wood. Now he had a new dilemma — what to do with the completed wooden objects?
He contacted Liz Burgess, owner of the nearby Ginko Gallery, who agreed to sell his woodwork in her shop.
Last year for "Kendal Creates," a biennial show, he submitted two pieces — a four-piece jewelry box that belongs to his wife and a round, solid ball of maple.
"Whoever dreamed I'd be identified as an artist," he laughs.
Lifelong Learning Opportunities Abound at Kendal
Kendal is located a mile from the internationally-acclaimed Oberlin College, its Conservatory of Music and the Allen Memorial Art Museum. These institutions offer an extensive selection of concerts, lectures, classes, films, sports events, drama, and dance and art shows.
Like Bob, many Kendal residents enjoy auditing Oberlin College classes – all that's needed is permission from the professor - and taking advantage of hundreds of events, many free, held at the college each year. The Conservatory of Music alone offers more than 500 performances throughout the academic year.
Nearby, you'll also find the Lorain County Community College Lifelong Learning Center, which offers classes on a variety of topics.
On campus, flip through The Kendalight monthly newsletter and find dozens of learning opportunities. They include health and current event lectures, art classes, book clubs, fitness classes, and hands-on dance and musical gatherings. Have an interest and can't find a class or group that addresses it? Residents are encouraged to form new groups and committees.
Volunteering is another way Kendal residents and staff reach out and learn. On an annual basis, they devote more than 60,000 hours of service to more than 80 nonprofit organizations in and around Lorain County.
Get Your Free Guide to the ABCs of Lifelong Learning
If we've piqued your curiosity on ways to keep learning long after retirement, our free "ABCs of Lifelong Learning" guide can help you get started. Download the guide today and start pursuing the kind of education you've always wanted.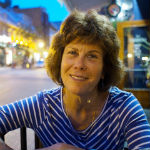 In the past, Molly Kavanaugh frequently wrote about Kendal at Oberlin for the Cleveland Plain Dealer, where she was a reporter for 16 years. Now we are happy to have her writing for the Kendal at Oberlin Community.