Published: April 6, 2023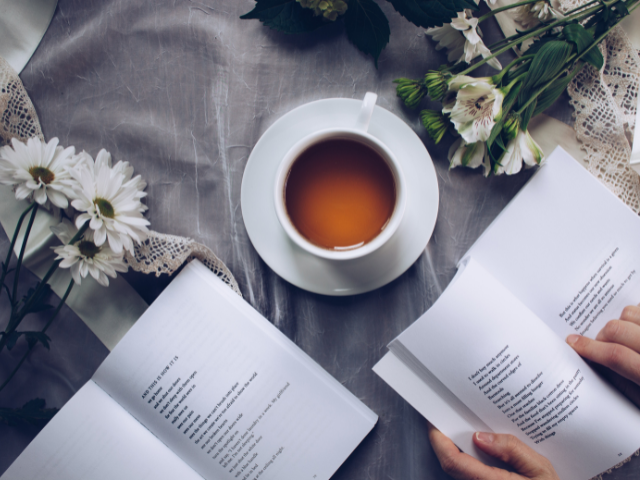 Some of us were lucky enough to stumble onto poetry at a young age through nursery rhymes and Shakespeare, or the mesmerizing lyrics of poets such as Langston Hughes and e e cummings or during a college poetry class (T.S. Eliot, W. B. Yeats) or on nature walks (Robert Frost, Mary Oliver), or falling in love and heartbreak (the Brownings, Edna St. Vincent Millay), music (Bob Dylan, Joni Mitchell), humor (Billy Collins, Ogden Nash) and on and on the list goes…As we enter April, National Poetry Month, here are 3 ways for you to discover poetry or rediscover the magic of this muse.
Read a bunch of poetry. "The experts we talked to say their poetry curriculum in schools was mostly centered around the classical canon — your Shakespeares and your Frosts. But everyone stressed that the world of poetry is a lot bigger than that (not to mention less white, less male, less old). So if poems about walking in the woods when it's snowing aren't your jam, then keep looking — there's something out there for you," writes Andrew Limbong for NPR's Life Kit.
Pick up an anthology, such as Garrison Keillor's "Good Poems" or a book from the annual "The Best American Poetry" series (it's been around since 1988) or sign up for Poem-a-Day from poets.org.
Poetry is an oral art. Sure there's YouTube, but attending a live poetry reading is special so check events calendars of nearby colleges and libraries. Another option is "Poetry Speaks" a book with three CDs of great poets reading their work. Find a quiet place and read some poems aloud, or gather kindred friends and have your own poetry reading.
Memorize a poem. Much like scripture or a favorite quote, having a poem at the ready no matter your situation can be comforting and empowering.
"Understanding a good poem is hard — all the more reason to memorize it. Ask students to write a paper on Wordsworth, and once they turn it in, they consign the text to oblivion. But if they memorize his lament, years from now — perhaps while they are cleaning up their child's chocolate-smeared face after birthday cake — they may suddenly grasp his nostalgia for 'Delight and liberty, the simple creed/Of Childhood' and the bittersweet truth that 'Our noisy years seem moments in the being/Of the eternal Silence,'" writes college professor Molly Worthen in a New York Times essay.
Kendal poets and poetry lovers
No surprise, Kendal is home to many poets and poetry lovers.
Anne Palmer explains how the pandemic led her to writing poetry: "One of the attractions of Kendal for me was the opportunity to join the town-gown Musical Union chorus after decades of no choral singing. I signed up in 2020. Hello Covid, hello virtual choir! Singing in a group that neither I nor the director could hear was so unusual an experience that I wrote a couple of poems about it even though I don't consider myself a poet. More writing followed as I continued on my journey back to choral singing. In June 2022, I wrote another poem about singing after 10 of us Kendal residents joined a group of Oberlin alums in rehearsing and performing the Mozart Requiem."
Mozart Requiem Afterward

Rehearsals done, performance over,

adrenalin dissipated. Tears ready

to flow at the loss of intensity,

joy, and togetherness.

But the music hasn't stopped.

Fragments of beauty and emotion

flow through my head, out of order

without the score in hand.

I sing the fragments anyway.

Rhythms, harmonies, and powerful Latin

words message fear, longing, hope

for light after darkness. For requiem.

words message fear, longing, hope

for light after darkness. For requiem.
Judi Bachrach likes to write haikus – three lines of five, seven, five syllables.
"This container pushes me to find what I really want to say. You can't use the perfect word you thought of because it has one syllable too many. You need to adapt by rearranging another noun, or adjective, or change the verb tense to complete a thought. For me, it's like playing jazz in seventeen syllables. I keep my haikus in a collection that I have titled: PRAISE FOR: so this is Praise for Music.
Heart strings vibrating

Bypass province of the mind

Sweeping the love-path
For Jerry Knapczyk, writing poems are inspired by hiking in the wilderness. "This poem uses lichen to exemplify the beauty of all creatures/creation," he says.
Lichen

Cinnabar-red patches, roe-orange

streaks, mustard-yellow dabs, whorled

and feathered greens: chartreuse,

apple, olive, spring: camouflage

stretched on talus, ledge and scree.

Filigree and lace cling to cleavage,

contour, fold; glowing in morning's mist;

teasing a passer's gaze; the lingering

touch where intimacy is found.

There is no meaning here, only

the tender light-splashed texture

of life gripping rock, only its essence

pulsing from creation's core,

only an ineffable freshness

flooding from the heart of being.
Joyce Lemonedes love of poetry "began in my early childhood with listening to my grandmother sing ballads. After devouring poetry in high school English classes, I majored in English in college and then became a high school English teacher. Ultimately, I earned advanced degrees and specialized in British poetry. Teaching writing and literature, especially poetry, in high school and college became a fulfilling profession until my retirement. My love of poetry has only intensified with age. Now, discussing poetry with Kendal residents is an ever enriching source of pleasure. While I find it impossible to choose one favorite poet, I am still discovering new poets and new poems to love."
Mary Van Nortwick's love of poetry began as a child too, at the age of 7, but under very different circumstances, she explains:
"My mother had volunteered me for a pageant arranged by Ukrainian refugees who had arrived in Canada after World War Two, and I was asked to recite a poem on a stage decorated as a graveyard. I can remember only the first two lines of that poem: wandering among the fake gravestones, I called out "Mother, where are you? Mother, where are you?" (Mamo, deh ty? Mamo, deh ty?). By the time I had finished my recitation, many in the audience were in tears. I really couldn't articulate at that time why they were crying, but I certainly grasped that it had a lot to do with my recitation: they were crying for their own losses of both relatives and nation. As I grew older, I too found poems that reflected back to me whatever emotion I needed to express. Today, as war in Ukraine rages on, there are people even now reciting the words of Ukraine's most revered poets, counting on their words to bring them some badly needed comfort and solace. The ability of a poem to distill human emotions to their very essence is, I believe, what makes poetry so powerful."
Anne Martin often turns to poetry written by Walt Whitman. "Whitman wrote about people (the carpenter, the slave, the President, families); love, life, and death; time, technology, and nature; and the interconnectedness of all things," Anne says. "My favorite poem, 'There Was a Child Went Forth,' blends many of those elements. I return to my volume of "Whitman: Poetry and Prose" often, open a page at random, and marvel at Whitman's language and perceptions."
Check Out Our New Gardening Guide:
---
Gardening is a great activity at all ages. Get helpful tips here!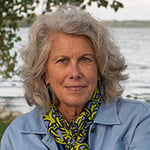 In the past, Molly Kavanaugh frequently wrote about Kendal at Oberlin for the Cleveland Plain Dealer, where she was a reporter for 16 years. Now we are happy to have her writing for the Kendal at Oberlin Community.
About Kendal at Oberlin: Kendal is a nonprofit life plan community serving older adults in northeast Ohio. Located about one mile from Oberlin College and Conservatory, and about a 40 minute drive from downtown Cleveland, Kendal offers a vibrant resident-led lifestyle with access to music, art and lifelong learning.