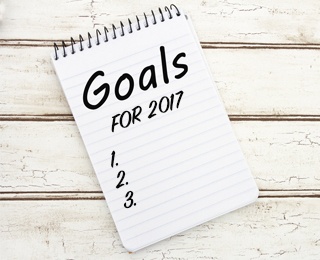 Boomers often view a new year through curious, yet reminiscing eyes.
Many of us have experienced the death of a parent or dear friend and begin to ponder our own health and mortality. As we sign up for Social Security and Medicare, we dive deeper into planning our retirement. Our house, which holds so many memories, no longer is a good fit for the person we are becoming.
Write Your Book
More than beginning a new chapter, we feel like our unfolding life is an unwritten book.
As spiritual writer Joan Chittister writes in The Gift of Years:
"It is time for us to let go of both our fantasies of eternal youth and our fears of getting older, and to find the beauty of what it means to age well. It is time to understand that the last phase of life is not non-life, it is a new stage of life. These older years – reasonably active, mentally alert, experienced and curious, socially important and spiritually significant – are meant to be good years."
As we begin the 2017 new year and contemplate our New Year's resolutions, here are tips to help you write your book.
First Chapter: Get Physically Fit
A healthy body and mind are key ingredients to an overall sense of well-being. A flexible body allows us to move freely, giving us countless opportunities for daily social interaction, learning and travel.
So let's get moving.
"As an older adult, regular physical activity is one of the most important things you can do for your health. It can prevent many of the health problems that seem to come with age. It also helps your muscles grow stronger so you can keep doing your day-to-day activities without becoming dependent on others," according to the Centers for Disease Control and Prevention.
For those 65 years of age or older and in good health, the CDC recommends:
Or
Or
Try not to approach exercise with dread. Pick activities you enjoy, such as biking or walking. If you want a more social experience, enlist a friend to join you or sign up for a group yoga or water aerobic class. Health clubs and many continuing care retirement communities offer a wide range of gym equipment. Make your workouts more interesting by bringing along something to read or listen to.
A personal trainer or physical therapist can help design a custom program for you.
Second Chapter: Eat Nutritiously
Make sure your fitness program includes a healthy diet. Maybe this is the year to cut back on soft drinks, sugar and red meat, and add more fruits, vegetables and grains to your diet.
The National Council on Aging recommends these 6 tips for picking healthy food as you get older:
Follow the USDA's MyPlate, which shows how the five good groups should stack up on your plate;
Eat a variety of foods to get the necessary nutrients (lean protein, fruits and vegetables, whole grains and low-fat dairy);
Read labels, and focus on foods found on the perimeter of the grocery store, which tend to be healthier;
Follow recommended daily servings for your age group;
Stay hydrated, drinking small amounts of fluids throughout the day (water, coffee and tea are best choices);
Stretch your food budget by checking to see if you are eligible for the Supplemental Nutrition Assistance Program.
Third Chapter: Become Emotionally Fit
A quiet, anxiety-free mind allows us to relax, sleep soundly and enjoy life's simple pleasures.
Ways to reduce anxiety and improve overall emotional health include yoga, tai chi and meditation.
"Put most simply, meditation is a way to train the mind. Most of the time, our minds are wandering — we're thinking about the future, dwelling on the past, worrying, fantasizing, fretting or daydreaming. Meditation brings us back to the present moment, and gives us the tools we need to be less stressed, calmer and kinder to ourselves and others," writes New York Times reporter David Gelles, who has put together a basic How to Meditate guide.
Writing in a journal, listening to soothing music and plugging in an aromatherapy diffuser can also help calm the mind.
Fourth Chapter: Plan for Your Future
As we start to plan for the coming years when we are longer in the workforce, we start to get our house in order, both figuratively and literally.
There are lots of resources for retirement planning, and if you are a boomer, you know firsthand. You've probably already been offered a "free" lunch or dinner at a local restaurant once a month, although the free part requires sitting through a retirement presentation. Presentations, minus the meal, are also available at libraries and community colleges.
Depending on how complicated your finances are, along with your knowledge and interest, you might want to enlist the help of a financial advisor.
Financial expert Jean Chatzky advises people in their 60s to look at the pie in four parts:
What do you owe and own?
What do you make and save?
How do you invest?
What do you spend?
Of course, #4 will change after retirement. Money spent on work-related costs, such as transportation and a work wardrobe, will disappear, replaced by medical and travel expenses.
Fifth Chapter: Get Your House in Order
As you plan your retirement, consider the ensuing lifestyle changes. Where and how do you want to live?
Work may no longer be a priority, but family and friends are sure to continue to be important. And the big family house, well, time to think about the ideal housing arrangement for your 70s and beyond.
Housing Options to Consider:
Condo, Continuing Care Retirement Community or apartment?
A pedestrian- and bike-friendly community or one with accessible public transportation?
Near family and friends or in your ideal climate?
Regardless of your choice, your new home is more than likely going to be smaller than your current one, which means downsizing.
Start downsizing now, so when you move in a couple of years or longer, the physical and emotional stress is reduced. (If not, add to your budget a monthly storage unit fee until you get settled.)
Marie Kondo, author of The Life-Changing Magic of Tidying Up and Spark Joy, recommends:
Declutter by category (all books, clothes, etc.) not by room;
Begin with items of lower sentimental value, saving photographs and mementos for last;
Keep your goal in mind, in this case, a smaller home suited to your new lifestyle;
Focus on what you want to keep (does it spark joy?), not on what you want to get rid of.
Spark more joy by giving treasured, but no longer needed, belongings to family and friends who will continue to cherish them.
Sixth Chapter: Make a Bucket List
A movie featuring terminal cancer patients Morgan Freeman and Jack Nicholson popularized the term a decade ago, but people have been keeping a list of things they want to do before they "kick the bucket" for eons.
Your bucket list can include big dreams – go on an African safari – as well as small outings – visit Cleveland's Little Italy. Keep a written list, and every year, complete some and continue to add more. Think fun, adventure, unique and memorable.
Now that you've got an outline, make this the year you begin to write your book.
What we put into our mouth also affects our mind, so when you start the day, go for a bowl of oatmeal rather than a donut.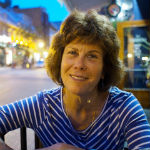 Molly Kavanaugh frequently wrote about Kendal at Oberlin for the Cleveland Plain Dealer, where she was a reporter for 16 years.