Published: October 27, 2021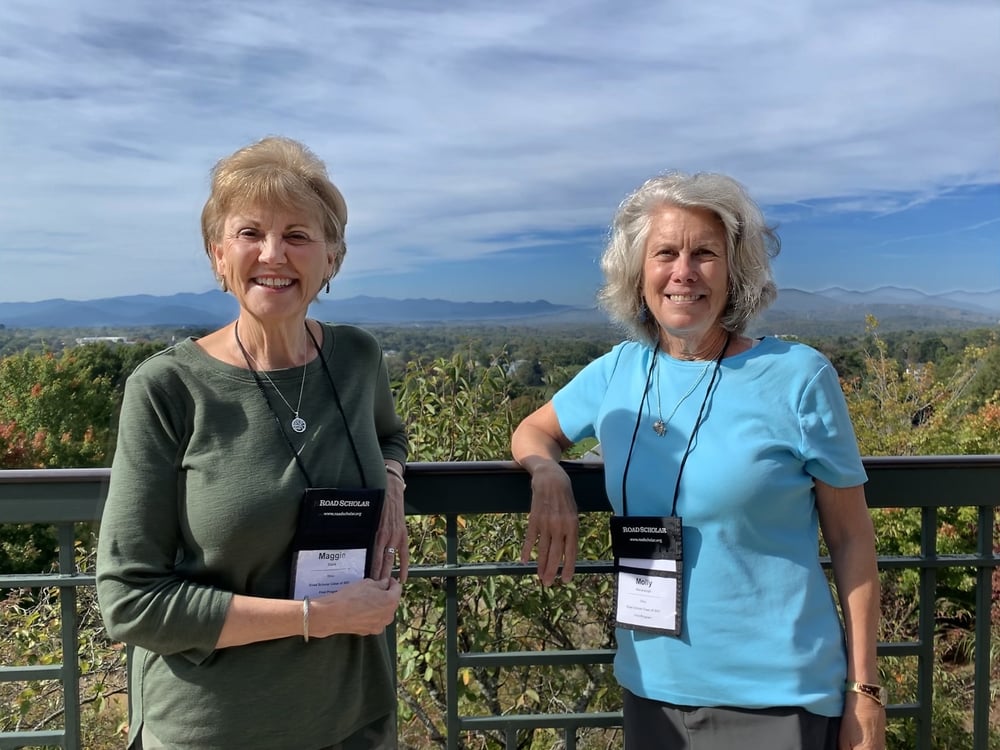 During Maggie Stark's 27-year tenure working at Kendal at Oberlin she heard countless residents rave about their travel experiences with Elderhostel, now called Road Scholar. "When you retire you have to sign up for a trip," they often told Maggie. So when she retired this spring as Kendal's Admissions & Marketing Director, a Road Scholar trip was at the top of her bucket list.
A six-day tour of Asheville, North Carolina under her belt, Maggie now knows why older adults are such big fans of the not-for-profit travel organization. "As always, Kendal residents did not steer me wrong and their high praises of Road Scholar was spot on," she said.
I traveled with Maggie and it was also my first Road Scholar trip (a third of our group were "newbies"). While the all-inclusive travel company is popular with lifelong learners over the age of 50, younger adults are welcome, and children too for their intergenerational trips.
The organization began in 1975 as Elderhostel and rebranded itself in 2010 to appeal to older adults who might be turned off by being called "elders" and staying in "hostels."
Today, Road Scholar offers "5,500 learning adventures, serving more than 100,000 participants annually. Our programs combine travel and education to provide experiential learning opportunities featuring an extraordinary range of topics, formats and locations, in every state in the U.S., 150 countries and aboard ships on rivers and oceans worldwide."
Keep it simple and close to home
Maggie and I decided to take baby steps for our first trip. Asheville is a half-day drive from Cincinnati, where I live, and lodging was in one hotel for the entire trip. We wanted to visit a city new to both of us. Asheville is one of about 20 cities Road Scholar calls "signature" because of its vibrancy. We know a bit about the city, including the Biltmore and F.S. and Zelda Fitzgerald connections, but were surprised to learn that Asheville has the second highest number of working artists – Santa Fe is first – and boasts a large selection of Art Deco buildings.
Even before we left home, we were impressed with how well Road Scholar kept us informed about travel details, including COVID updates (all participants must be fully vaccinated and indoor face masks are recommended, and required in locations, such as Asheville, that mandate masks.)
Our nearly two dozen scholars ranged in age from 62 to 86 and included couples, friends and solo travelers, and mostly women, which is typical, our program leader said. (Road Scholar also offers women-only trips.)
Our oldest traveler, from San Diego, said she has lost count of how many trips she's taken with Road Scholar. She started when the company was Elderhostel, and misses those cheaper trips because lodging was often in college dorms. "People complained they wanted private baths and that upped the price," she said.
Our trolley tour guide was also a Road Scholar program leader and he had just returned from the Albuquerque balloon festival. "I met a person who was on his 80th program," he told us.
"I can beat that," said our program leader, "I had a person who has taken 133 trips."
Road Scholar offers a range of physically active trips – ours was a 2 on a scale of 4 – and often Maggie and I wished our tour included more walking than sitting. That said, touring Asheville in a trolley and driving the Blue Ridge Highway on a bus meant we got to see a lot in a short time. Plus the trip included a good amount of free time for us to walk – and dine on our own.
Another advantage in traveling with Road Scholar (and probably other group tour companies) is the "bang for your buck." We stayed in an upscale downtown hotel that would have cost $200+ a night and spent a day at the Biltmore Estate that would have been equally expensive without a group discount.
A few of our experienced solo travelers said the "single supplement" charge was cheaper with Road Scholar than other travel companies. (A few adventurous solo travelers said they often opted to room with a stranger and had good experiences.) Plus tipping is "not discouraged but not required" our program leader said.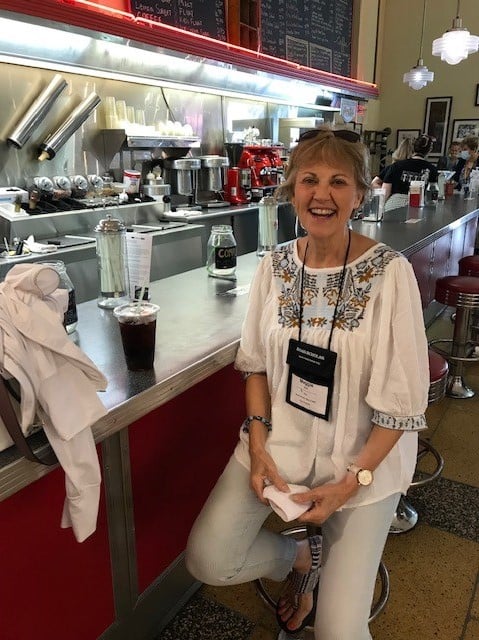 We'll be back someday
On our evaluations we had only minor complaints. We would have liked more of a variety for breakfast (including grits) and smaller lunch and dinner portions. We had an excellent program leader who said she will keep us informed of future trips she leads, which is a practice suggested by veteran Road Scholars. And of course, we love to receive Road Scholar's periodic oversized catalogues.
As new retirees, Maggie and I have lots on our bucket list, including trips we want to take with family members. We're glad we tested the water with Road Scholar and definitely plan to revisit future offerings, especially outdoor adventures that are more physically active while we are in good health.
Now it's our turn to spread the word – and you don't have to wait to retire.
Free Guide: Planning Your Next Adventure: Must-Sees and Travel Tips
---
In this guide you'll get 5 close-to-home getaways, 6 college towns you never thought to visit, 10 must-see National Parks, 6 road trips, booking tips and more!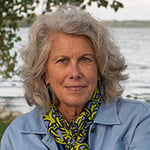 In the past, Molly Kavanaugh frequently wrote about Kendal at Oberlin for the Cleveland Plain Dealer, where she was a reporter for 16 years. Now we are happy to have her writing for the Kendal at Oberlin Community.
About Kendal at Oberlin: Kendal is a nonprofit life plan community serving older adults in northeast Ohio. Located about one mile from Oberlin College and Conservatory, and about a 40 minute drive from downtown Cleveland, Kendal offers a vibrant resident-led lifestyle with access to music, art and lifelong learning.