Published: September 18, 2019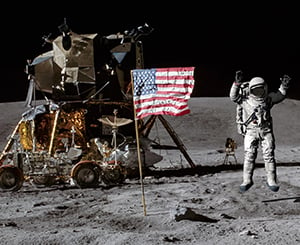 One way to better understand our country's future is to learn more about our past, and the state of Ohio is full of historic guideposts.
Driving around the Buckeye state during the colorful fall foliage is a perfect time to explore, so let's get started.
Sites to Experience Ohio's Space Heritage
Many of us vividly remember that late summer night in 1969 huddled around the TV set with family and friends, munching on something cheesy (balls, fondue, "Easy Cheese" in a can) and drinking Tang, Barq's root beer or Fresca.
During the 50th anniversary of the Apollo 11 landing on the moon, head to Wapakoneta, birthplace of astronaut Neil Armstrong and now the home of the Armstrong Air & Space Museum.
"The museum features many one-of-a-kind artifacts including the Gemini VIII spacecraft, Neil Armstrong's Gemini and Apollo spacesuits, and an Apollo 11 moon rock. Fifteen-year-old Neil Armstrong learned to fly at Port Koneta, a long-gone Wapakoneta airfield, in the Aeronca Champion on display in our Early Space Gallery," according to the website.
As part of the anniversary celebration, stargazing events have been held throughout the summer with the last one scheduled for Sept. 28 (weather permitting). Expert gazers and telescopes are provided, and the 8 p.m. event is free and family-friendly.
While we're in a starry state, why not also check out the John & Annie Glenn Museum in New Concord?
Astronaut and U.S. Senator John Glenn's boyhood home has been moved back to Main Street in New Concord, Ohio and restored as it was when he lived there until his enlistment in World War II.
"A boy could not have had a more idyllic early childhood than I did," he wrote. He met his future wife when they were both toddlers.
Glenn became the first American to orbit the Earth, and this year the home was officially listed on the National Register of Historic Places. The museum is closed November through April except for the Christmas Open House on Dec. 2 from 5:30 to 8 p.m.
Explore Northeast Ohio's parks and natural areas >>


A Parade of Presidential Places: Seven Spots to Visit
Also on our minds (and in the media) these days is the 2020 presidential election, and our state's Electoral College votes aren't the only things that are noteworthy.
"Ohio has been referred to as the 'Mother of Presidents.' Seven U.S. presidents were born in Ohio: Ulysses Grant, Rutherford Hayes, James Garfield, Benjamin Harrison, William McKinley, William Howard Taft and Warren G. Harding. And an eighth, William Henry Harrison, was born in Virginia but lived most of his adult life in Ohio," says Michael Monks with Cincinnati Public Radio.
Seven of the presidents have a historic site in Ohio:
As for William Henry Harrison's grandson, President Benjamin Harrison, a historical marker is located in North Bend at the site where his house once stood. The presidential site is in Indianapolis where he spent most of his life.
Plan Now for Winter Fun
Cooler months are approaching, but that doesn't mean you can't continue to enjoy all that Ohio has to offer.
Oberlin, Ohio, is a vibrant town all its own in the northeast corner of the state, and it's near attractions like the Lake Erie shore, Cuyahoga Valley National Park, the city of Cleveland, and more.
Download our free guide to planning a day - or week-long - trip to Oberlin and begin crafting your winter getaway today.
Planning Your Trip to Oberlin, Ohio:
What to Do This Winter
---
Explore Oberlin's hidden gems and get free travel itineraries to plan the perfect trip this winter with our free guide.


In the past, Molly Kavanaugh frequently wrote about Kendal at Oberlin for the Cleveland Plain Dealer, where she was a reporter for 16 years. Now we are happy to have her writing for the Kendal at Oberlin Community.