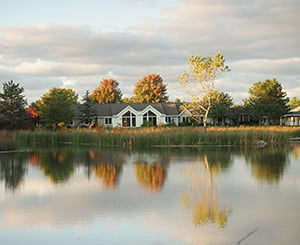 Finding someone you want to spend the rest of your life with takes time. The two of you may start out as friends then discover a spark, begin dating casually and then more seriously until you decide to make a lifelong commitment.
This is similar to moving to a life plan community. Older men and women typically spend several years from start to finish before selecting a continuing care retirement community. They spend time researching prospective communities, including multiple visits to the campus to tour homes, meet residents and staff and attend community activities.
"Dating" Begins with the Priority List
"This is the first step in the admissions process and is recommended for anyone giving serious consideration to entering our community," explains Terry Kovach, assistant marketing director.
Joining the Priority List is easy and obligation-free. (It does not guarantee admission to Kendal.) A person fills out a 2-page informational application, accompanied by a $1,000 deposit and a processing fee ($200 for an individual, $300 for a couple). The deposit can be refunded at any time or applied to the entry fee upon admission.
Two questions are asked on the application to help the marketing staff plan for prospective residents: What is the approximate year you might want to move to Kendal and what type of residence(s) interest you. Kendal homes range from studio apartments to 2-bedroom plus den cottages. There are 223 homes on the campus.
The benefits of being a priority list member include:
Fifty-percent off monthly membership in the Fitness Center, which includes a pool and exercise areas;
Access to Kendal dining rooms, which serve nutritious and affordable meals;
Access to guest room rental, when available;
Annual Priority List luncheon at Kendal;
Annual financial updates, such as fee updates and disclosure statements;
Quarterly Reed newsletter and the monthly resident newsletter The Kendalight.
"I remember getting The Kendalight and thinking if I was there I could do this or that activity," recalls Suzanne McDougal, who moved to Kendal from Alexandria, Virginia two years ago. (By the way, one of Suzanne's volunteer activities is associate editor of The Kendalight. )
Oberlin residents Mary and Tom Van Nortwick were on the Priority List for 10 years before they made the move.
"You really look at Kendal in a different way once you join the Priority List," Mary says. "You start to think what it would feel like to live there, and your friends at Kendal start selling it to you."
The Priority List began several years before Kendal opened in 1993 and continues to be a good planning tool for prospective residents. "It's a wonderful way to get to know Kendal," Terry says.
Getting Serious? Apply for Ready List
If you decide you are interested in joining the Kendal community, the next step is applying for the Ready List. This process includes the completion of three forms: personal health history (including authorization to obtain medical records); financial statements; and self-awareness questionnaire.
The admissions staff will schedule an on-site visit so you can review in detail the services Kendal offers and meet residents and staff. When the visit is complete, the Admissions Committee will review your application for approval.
Once on the Ready List, you will receive calls when cottages and/or apartments that you desire become available. Your length of time on the list will depend on the types and sizes of accommodations you selected. You can be on the Ready List for more than one type of residence. If you are offered a space and decline, you will not lose your position on the list.
Eventually, you decide to sign a contract and make a commitment to move to Kendal.
Why People Get Cold Feet
Some men and women interested in joining Kendal may be reluctant to apply for the Priority List because they are uncertain if they can afford to live there.
Kendal now offers a simple and quick online financial tool that can help determine if the community might be a good financial fit.
No personal information is required to use Kendal's financial calculator called MoneyGauge, and there is no need to root through files for detailed financial information.
The seven financial questions are general. For instance, what is your approximate retirement savings within a range of $50,000?
Plus, the results are delivered in just a couple of minutes. Potential residents receive a preliminary look at what kind of housing, if any, they can afford. The tool is a guide, not a guarantee of financial approval.
Kendal also offers the option of a confidential Preliminary Financial Analysis.
"We would ask you to tell us what size accommodation you are considering, when you might move, and then provide some information about your income and assets. From there, we can calculate a year-by-year projection of financial status if you were living at Kendal. The projection includes conservative estimates of asset growth, as well as inflation factors on expenses," explains Maggie Stark, Kendal's marketing director.
Plan Well to Live Well
---
Your first step to joining the Kendal at Oberlin senior living community is to become a member of our Priority List. Learn about the many benefits of joining inside our free Priority List Guide.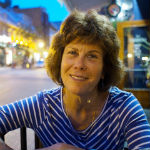 In the past, Molly Kavanaugh frequently wrote about Kendal at Oberlin for the Cleveland Plain Dealer, where she was a reporter for 16 years. Now we are happy to have her writing for the Kendal at Oberlin Community.