Published: June 20, 2023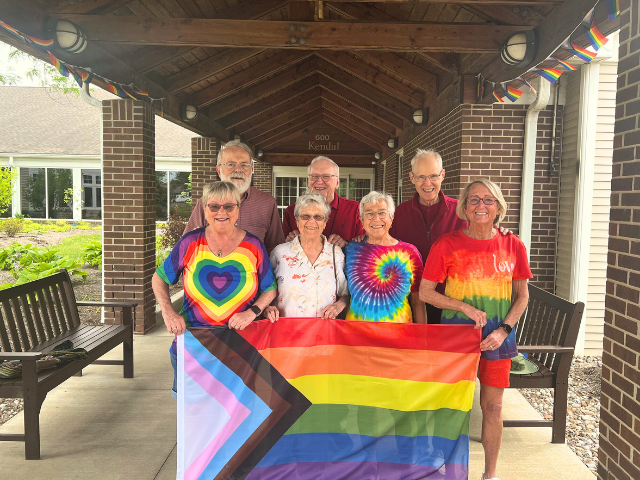 Pride Month at Kendal at Oberlin began in early June with the life plan community receiving a national designation for being welcoming and equitable toward LGBTQ+ residents, visitors and employees and continues throughout the month with workshops, discussions, movies and celebrations, both on and off campus. But the monthlong celebration has a somber thread running through it, say Jesse Carlock and Ann Francis, co-chairs of Kendal's LGBTQ+ & Allies Interest Group.
"We're very concerned about the bills in Ohio targeting LGBTQ+ people, the attacks are the worse that they've ever been," Jesse says.
Adds Ann, "We are concerned for the safety of openly LGBTQ+ people. The more these laws come to pass the more harm will come to us, young and old."
For instance, House Bill 68, Ohio's ban on gender affirming care for minors, is currently moving through the legislature. According to Equality Ohio, legislation such as HB 68 often falsely labels gender affirming care as "experimental" when in fact the care is supported by all major medical associations.
"This is not experimental data or medicine – the World Professional Association for Transgender Health (WPATH) has existed since 1979 and affirming care has existed as early as 1919," Equality Ohio explains.
The national outlook for LGBTQ+ rights is also troubling, according to the Human Rights Campaign, which this month officially declared a "state of emergency" for LGBTQ+ people in the United States, "following an unprecedented and dangerous spike in anti-LGBTQ+ legislative assaults sweeping state houses this year."
Advocacy and Education at Kendal
On Thursday, June 22, Kendal resident Kerry Glaus will lead a discussion entitled "Gender and Sexual Identities in the 21st Century." Billed as a crash course in gender and sexual identities, the presentation will cover such terms as nonbinary, gender queer, transitioning and incel and why some people prefer they/them as pronouns.
The 4 p.m. presentation open to residents, staff and their guests and will be followed by dinner table conversations among Kendal residents and staff.
The following day, June 23, Kendal is partnering with LGBTQ+ Lorain County to offer a Safe Zone Workshop, where people can learn how to support loved ones who are LGBTQ+, be a strong ally in the fight for gender equality, and ask difficult questions in a supportive environment.
The 9 a.m. to 12 p.m. workshop, held in the Education Center, is open to the public.
On Saturday, June 24, Kendal residents and staff will be at Oberlin's Tappan Square for the Pride Festival, hosted by LGBTQ+ Lorain County. Kendal's "water station" table will include members of its LGBTQ+ & Allies Interest Group and staff from the Marketing Department. The festival, 12 p.m. to 4 p.m., will include drag king and queen performances, music, dancing, games, food trucks and free HIV/AIDS testing by the Lorain County Health Department.
Kendal's collaboration with LGBTQ+ Lorain County is one of several local organizations Kendal has reached out to as part of this year's Pride Month theme "Supporting Community Pride." Others include Oberlin College, Colors Plus Youth Center and Cleveland Pride, which was celebrated June 3.
The national designation that kicked off Kendal's Pride Month was the "LGBTQ+ Long-Term Care Equality High Performer" from the Human Rights Campaign Foundation and SAGE's Long-Term Care Equality Index (LEI).
The LEI is the nation's foremost benchmarking survey of residential long-term care and senior housing communities on policies and practices dedicated to the equitable treatment and inclusion of their LGBTQ+ residents, visitors and employees. This year, 200 senior housing communities across 34 states participated in the LEI. Kendal at Oberlin is the only senior housing provider in Lorain County to be recognized in the LEI program.
Though there is reason for LGBTQ+ rights advocates locally and nationally to be somber, there is also cause for celebration.
"We have to hang together and celebrate who we are and not be daunted by these attacks," Jesse says., adding Ann, "If we disappear, they've won."
Learn More About Kendal at Oberlin – A Vibrant Community for Older Adults
---
Are you making plans for your future? Kendal at Oberlin offers an active lifestyle with opportunities for lifelong learning, art and culture.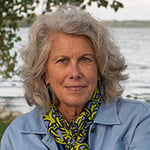 In the past, Molly Kavanaugh frequently wrote about Kendal at Oberlin for the Cleveland Plain Dealer, where she was a reporter for 16 years. Now we are happy to have her writing for the Kendal at Oberlin Community.
About Kendal at Oberlin: Kendal is a nonprofit life plan community serving older adults in northeast Ohio. Located about one mile from Oberlin College and Conservatory, and about a 40 minute drive from downtown Cleveland, Kendal offers a vibrant resident-led lifestyle with access to music, art and lifelong learning.