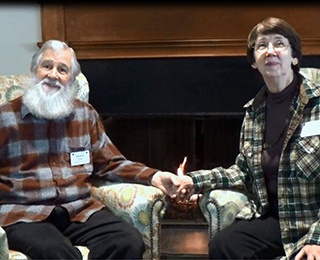 Music aficionados Judy and Dennis Cook didn't miss a beat when they moved to Kendal at Oberlin in 2013.
Judy, a folk singer, continues to tour the United Kingdom, performing Anglo-American songs in clubs, art centers, museums and universities with her roadie husband. This spring marks their 21st tour.
In June, the couple will head to Mystic Seaport in Connecticut for its annual Sea Music Festival. Dennis is in charge of sound for the main stage and Judy will perform.
In all, the couple spends about half of the year on the road for concerts and programs, the rest at Kendal, where they are involved in a host of activities, musical and otherwise.
The Road from Maryland to Oberlin
Judy is the fourth generation of women in her family to graduate from Oberlin College. Dennis went to the University of Maryland for his undergraduate degree in electrical engineering, but he and Judy had met as children and were dating during college. He proposed to Judy on Tappan Square in her final semester at Oberlin and they were married in 1971.
The couple also knew their way around Kendal. Judy's mother, Betty Stiles, was an early resident of the continuing care retirement community and lived there until her death in 2001.
As Judy and Dennis began thinking of moving out of their house in Laurel, Maryland and into "a place to call 'base' for the rest of our lives," their parents' advice echoed — don't wait too long to make the move.
They moved to Kendal in their mid-60s after visiting about a dozen retirement communities.
"What completely sold us on Kendal at Oberlin is they have the best people, both staff and residents," Dennis says.
"Because of my mother, we knew Kendal was a wonderful place and provided excellent care, but we didn't want to come here just because mom was here," Judy adds.
Picking Up the Beat at Kendal
Once at Kendal, Judy got involved with English Country Dancing. She rounded up a caller and live musicians, and now about a dozen residents attend, sometimes students too, every Sunday night.
Judy started a "Song Swap," and residents gather twice a month to sing and share favorite tunes. Occasionally the couple hosts a student song swap in their cottage.
A couple of Oberlin College students affiliated with WOBC (91.5 FM) interviewed the Cooks for a segment on "old people" and during the interview the Cooks expressed disappointment that the station did not have a folk music program.
Now it does. The Cooks, along with Doug McClennen, also a Kendal resident, host an hour-long folk music show called "Glad4Trad" every Wednesday at 3 p.m. "We spend about five to six hours putting each show together," Dennis says.
Dennis and Judy are also members of the college's folk club, which sponsors an annual spring festival.
Dennis' tech skills are also in demand at Kendal.
He is co-chair of the Audio-Visual Committee and vice-chair of the Website Committee. He developed a resident database so residents can easily find directories, the events calendar, even the location of trees in Kendal's John Bartram Arboretum and details of paintings and other artwork displayed throughout the campus.
He also designed and installed a new sound system for the three dining rooms, with the assistance of Judy and Kendal's electrician Jon Hall.
When the Cooks Get Older…
Once the couple's touring schedule slows down, they both look forward to auditing classes at Oberlin College and getting even more involved with Kendal activities.
"The residents here are intelligent, talented, kind — the kind of people you would want for your friends," Judy says.
"Kendal is a big team. People work together to make things happen," Dennis adds.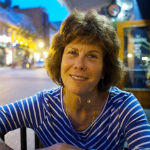 In the past, Molly Kavanaugh frequently wrote about Kendal at Oberlin for the Cleveland Plain Dealer, where she was a reporter for 16 years. Now we are happy to have her writing for the Kendal at Oberlin Community.