Published: February 29, 2020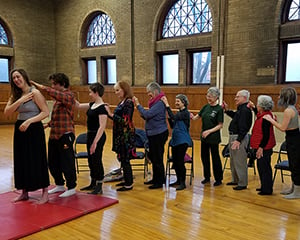 Jill Tvaroha, Kendal's Wellness coordinator, provides residents with exercises and other tools to improve balance, maintain proper posture and prevent injuries.
Across town Jennifer Shults, a chiropractor and Oberlin College instructor, covers the same ground with college students in a class entitled "Body Re-Education and Functional Anatomy"
So Jill and Jennifer, who are friends, decided to team up.
"We were doing similar exercises and sharing similar philosophies and thought - wouldn't it be fun to have residents go to the college class and have the students come to a Kendal class," Jill said.
The two sessions in December involved both movement and discussion, with participants ranging in age from late teens to 70+.
"I think the conversation was the most important part. The students had a lot of good questions and were surprised at some of the answers," Jill said. Residents shared stories of getting more agile and active as they aged, not less.
The two women hope to do the exchange again.
Common Interests of College Students and Kendal Residents
"Kendal at Oberlin is a dynamic place with intergenerational opportunities abounding. It's a natural way to interact and it happens every day," according to Kendal CEO Barbara Thomas.
Interactions between residents and college students are especially common at this Quaker-based community:
Kendal's North Pleasant Connection is a residency program that offers housing for up to four college students per semester, in exchange for hours served teaching, performing music, conducting research projects and other volunteer activities.
College students interested in music and art therapy work closely with the Stephens Care Center staff and residents.
Kendal residents mentor students at Oberlin College through many formal and informal programs.
Students from the Conservatory of Music form musical bonds and perform with Kendal residents.
In 2015 Kendal residents and Conservatory students collaborated on Strawberry Fields, a one-act opera focused on memory loss that was performed on both campuses. The project was the brainchild of Oberlin College Associate Professor of Opera Sally Stunkel, whose mother had been a resident at Kendal and was diagnosed with dementia before her death in 2013.
During the month-long practices, college students learned about memory loss and got a firsthand view of what it means to be an older adult, and residents gained an appreciation of the talents of younger adults.
"Strawberry Fields opera was the perfect venue for relationship building and sharing of talents," said Michele Tarsitano-Amato, director of Creative Arts Therapy. "This is what happens when you create a learning environment that is mutually respectful."
Residents Sign Up for College Classes
For a dozen years Oberlin College students in "Ars Moriendi: Death and the Art of Dying" were matched with residents to discuss life lessons and values. At the end of each course the students and residents gathered for a potluck.
"Everybody felt they grew as people. We could talk with kids about things they couldn't or didn't want to talk about with their parents," said Allen Huszti, one of the residents who participated in the program.
Every year a handful of Kendal residents enroll in courses offered by Oberlin College, which allows Oberlin residents 65 and older to sit in on a course at no cost.
"Some of the students completely ignored me, others were friendly. I experienced the full spectrum," said resident Robin Lauren, who has taken several classes at the college.
Kendal's intergenerational activities have twice been designated a "Program of Distinction" by Generations United for its exemplary programs that bring older adults together with children, teens and young adults.
As long-time resident John Elder explains, "It's true, we Kendal residents live with a lot of old people – very fascinatingly talented, experienced and wise old people – but we keep our curiosity, creativity and intellectual capacity alive thanks to the extraordinary intergenerational opportunities that Oberlin provides."
Visit Kendal at Oberlin
---
Learn more about retirement living in a vibrant college town. Music, art and lifelong learning are less than a mile away.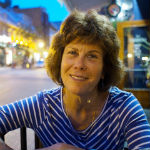 In the past, Molly Kavanaugh frequently wrote about Kendal at Oberlin for the Cleveland Plain Dealer, where she was a reporter for 16 years. Now we are happy to have her writing for the Kendal at Oberlin Community.