Romantic getaways are hardly a one-size-fits-all, and often our preferences change as we grow older.
Spending a week at an all-inclusive, adults-only resort on a tropical island might fit the bill when we were busy with children and careers, but now we are retired and have more leisure time to create our special getaway. Spending a couple weeks meandering along Italy's scenic Amalfi coast in a convertible or getting snowed in during Michigan's Upper Peninsula winter wonderland might be the ticket.
Speaking of cold, what about a Transatlantic Crossing aboard the icon Queen Mary 2 in the middle of the winter?
A Week at Sea with Someone Special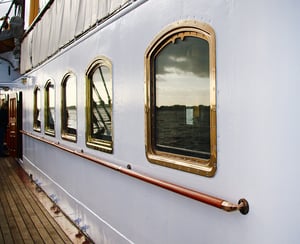 Cunard's Queen Mary 2 sails between New York City and Southampton, England (former Titanic port). Crowds are smaller in the off months, which can make for an even cozier crossing. (Prices are lower too.)
New York Times book critic Dwight Garner wrote about the January crossing he took with his wife.
"If travel makes you a bit reckless and sharpens your senses, being aboard the Queen Mary 2 in winter doubles this sense of intoxication. The churning ocean, splashing up the sides of the elegant dining room's windows, two feet from your bottle of white Burgundy and your tuna tartare, flips the switch on your survival instincts. You find yourself ravenous: eating a bit more; planning to stay out a bit later; dwelling a bit more upon sex," he writes.
You fill your days in any way you want, and you have lots of choices -lectures, dance classes, afternoon tea, musical performances, wine tastings, massages and facials at the Canyon Ranch Spa, reading in the library or on your private balcony, festive dinners and dancing.
And while Dwight is not retired, he amusingly added:
"A crossing on the Queen Mary 2 is the sort of thing people put on their bucket lists. More than a few passengers on our crossing seemed perilously close to kicking that bucket. The QM2's dance club pulled a frantic young crowd after midnight. But the average age on our crossing, I'd guess, was well over 60. There was an abundance of wheelchairs, walkers and canes, so many that if everyone had tossed theirs overboard at once they would have created an artificial reef," he wrote.
Lovely Getaways for Landlubbers
In a recent article, AARP listed its 9 romantic getaways. Here are 5 of them.
Borrego Springs, California. Located about two hours from San Diego, it's known for constellation gazing and winter wildflowers;

Fredericksburg, Texas. Named one of America's Most Romantic Small Towns by CNN, it features an adults-only Fredericksburg Herb Farm, dancing and fine dining;

Sedona, Arizona. "Spend the day marveling at the surreal sienna-colored sandstone formations, then cocoon in a cabin with a kitchen at a romantic spot such as the Butterfly Garden Inn. You can get couples' massages at places all over town," AARP notes.

Willamette Valley, Oregon. An hour west of Portland, the valley is a popular wine destination;

Stockbridge, Massachusetts. This is home to Norman Rockwell and the romantic 18th century Red Lion Inn.
Getaways Closer to Home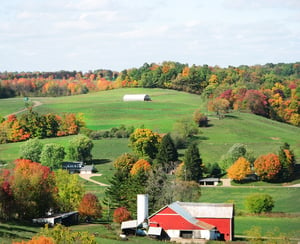 The Inn at Honey Creek is an adults-only resort located in the rolling hills of Amish country.
"Highlighted by 56 acres of breathtaking landscape, beautiful gardens, common areas with wood-burning fireplaces, several miles of walking trails, and an award-winning restaurant, The Inn is a one-of-a-kind retreat," the Inn advertises.
Lodging accommodations include a room in the inn, cottage or honeycomb – a room built into the earth and surrounded by stone.
The location is ideal for touring Holmes County and the many villages, shops, galleries and restaurants. Birding, biking, golfing and canoeing are also in easy reach.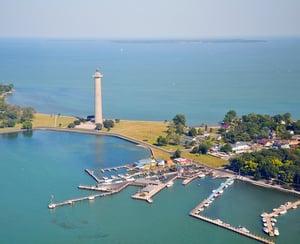 Explore the Lake Erie Islands in spring or fall before the tourists and boaters arrive. Off-season weekdays even better for solitude with your spouse or partner. Both South Bass and Kelleys islands offer lots of B&B's and cottages to stay in and restaurants, bars and shops to sample, plus biking, birding and walking trails.
Watching the sunset over Lake Erie as the waves lap the tranquil shoreline – well sometimes you don't have to travel far for a romantic getaway.
Have you been to Oberlin, Ohio? Plan a day trip or weekend getaway with our "Planning Your Trip to Oberlin, Ohio - What To Do This Winter" guide. Our free guide will provide you with a day trip itinerary, a week-long visit itinerary and places to see in and Oberlin.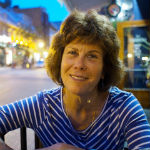 In the past, Molly Kavanaugh frequently wrote about Kendal at Oberlin for the Cleveland Plain Dealer, where she was a reporter for 16 years. Now we are happy to have her writing for the Kendal at Oberlin Community.