Published: September 29, 2020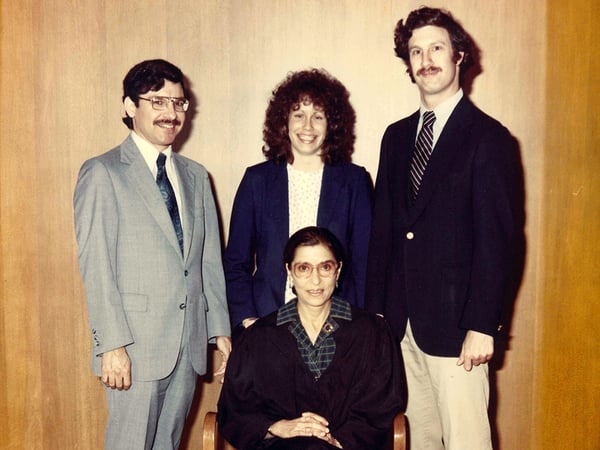 Photo provided by Jonathan Entin, pictured standing on the left.
During the summer of 1993, President Bill Clinton was preparing to announce his nomination for the U.S. Supreme Court and Cleveland law professor Jonathan Entin was getting calls from reporters.
Jonathan taught Constitutional Law and a Supreme Court Seminar at Case Western Reserve University, and reporters wanted to hear what he had to say about the potential candidates.
"People weren't talking about Ruth Bader Ginsburg but I would tell reporters, 'I might be biased but she is a pretty likely prospect if you go on the merits.' I was thrilled when she was nominated," says Jonathan about the woman for whom he had clerked a decade earlier and who had become a good friend.
Jonathan, now a CWRU professor emeritus, moved to Kendal at Oberlin this summer with his wife, Carol Conti-Entin. These past couple of weeks he's been back on the phone with reporters to share his memories of Supreme Court Justice Ginsburg, who died Sept. 18 at the age of 87.
"I would not be the person I am, I would not have had the career that I've had without having been part of Justice Ginsburg's judicial family," he said on WBUR's "Here & Now" broadcast. "I do not have words to say how important that has been to me."
How Jonathan Became Part of RBG's "Family"
​It was the summer after Jonathan's second year of law school at Northwestern University, and Justice Ginsburg invited him for an interview, even though she had not yet been confirmed as a Federal Appellate Judge on the D.C. Circuit.
"When I arrived at her New York home shortly after 9:30 a.m. on June 18, 1980, her son welcomed me by saying: 'I was going to ask why you want to clerk for an unconfirmed judge, but I can't do that. The Senate just confirmed her a few minutes ago.' So I was the first person she saw outside of her family after receiving that news. Our conversation was repeatedly interrupted as she took congratulatory phone calls. Eventually she made me the offer, which I happily accepted. She was a wonderful boss," he wrote in an article for CWRU.
After his one-year clerkship – "the best job I ever had" – Jonathan and Justice Ginsburg kept in touch and sometimes met for lunch when he was in D.C. One of his fondest memories is when then-Judge Ginsburg visited CWRU in 1988 with her husband Marty, a leading tax attorney.
"When I picked them up for dinner, they were ebullient. They had spent the afternoon at the Cleveland Museum of Art, which had a special exhibition of French art. It turned out that the show included the original of a painting that Marty knew about but hadn't seen. He had represented a previous owner in a tax dispute over its value and regaled us with the story of the hearing at which he had eviscerated the IRS appraiser who turned out to know almost nothing about art," Jonathan says.
And then there were the annual reunions in D.C. with former clerks and their spouses and children. "Justice Ginsburg was shy and soft-spoken; Marty was gregarious and outgoing. They were the perfect match," he says.
He last saw Justice Ginsburg in late 2016, when a group of lawyers from CWRU went to D.C. to be sworn in as members of the Supreme Court bar. "Justice Ginsburg graciously agreed to speak to us after the ceremony, talking about other female judges who had marked the path for her," he says.
Justice Ginsburg's Lasting Legacy
As a young lawyer Justice Ginsburg couldn't get a job with a law firm, despite her high academic honors at Harvard and Columbia. "None of those fancy firms would hire a woman," he says.
She eventually got a research job at Columbia that involved Swedish law. She taught herself how to speak Swedish and ended up writing three books and receiving an honorary degree from the King of Sweden.
In 1972, Justice Ginsburg co-founded and directed the Women's Rights Project at the American Civil Liberties Union and in 1973 she became ACLU's general counsel.
"Decades before she joined the court, Ginsburg's work as an attorney in the 1970s fundamentally changed the Supreme Court's approach to women's rights, and the modern skepticism about sex-based policies stems in no small way from her lawyering. Ginsburg's work helped to change the way we all think about women – and men, for that matter," he wrote in a recent reflection, adding "She would be a figure of enormous historic significance even if she hadn't been a Supreme Court justice."
Jonathan said Justice Ginsburg's death marks the end of an era when people who had a distinguished public career outside of the federal judiciary could end up on the Supreme Court.
"I'm sorry that we don't have her anymore for a lot of reasons. I'm disappointed for the court and for the country. There is not another Ruth Bader Ginsburg out there," Jonathan says.
Jonathan will share more reflections about Justice Ginsburg in a Zoom talk titled "Ruth Bader Ginsburg: A Law Clerk's Perspective," presented by Kendal at Oberlin on October 8, 2020 at 7:15 p.m. eastern time. You are invited to join the Zoom meeting.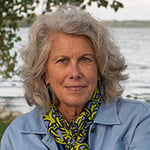 In the past, Molly Kavanaugh frequently wrote about Kendal at Oberlin for the Cleveland Plain Dealer, where she was a reporter for 16 years. Now we are happy to have her writing for the Kendal at Oberlin Community.