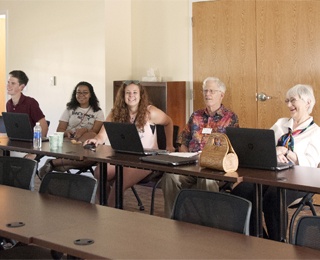 The numbers are impressive, and growing. Of online users 65 or older:
49 percent use social media in some way
48 percent use Facebook
16 percent use Pinterest
12 percent use LinkedIn
"So what?" the non-conformist in you may say.
Consider that following the crowd on social media might also combat loneliness, improve your health and enhance creativity.
Now are you interested?
What is Social Media?
The best way to define social media is to look at each word, according to about tech.
"The "social" part: refers to interacting with other people by sharing information with them and receiving information from them.
The "media" part: refers to an instrument of communication, like the internet (while TV, radio and newspapers are examples of more traditional forms of media).
Okay, so from these two separate terms, we can pull a basic definition together: Social media are web-based communication tools that enable people to interact with each other by both sharing and consuming information."
A few characteristics of social media sites include a user account, and the ability to have friends and followers and create a profile.
There are dozens of social media sites, but Facebook, with more than 1 billion daily users, is by far the most popular. Twitter is a real-time, 140-character message and LinkedIn is geared for professionals. People share videos on YouTube and visual content on Pinterest.
Why is This Good for Your Health?
Social media helps people stay connected to family and friends no matter how far away they live, find support and hobby groups, and reconnect with former neighbors, classmates, even boyfriends and girlfriends.
Grandparents love it because, even when they are unable to reach their grandchildren on the phone, they can follow their activities through constant updates and photographs. There's even an "I Love My Grandchildren" page on Facebook, liked by more than 275,000 people.
The benefits of being connected to loved ones are enormous. Social interaction combats depression and loneliness and can reduce stress, but it can also play a role in our physical health.
The University of Rochester Medical Center says social interaction can improve the physical well being of older adults by:
Potentially reducing the risk for cardiovascular problems, some cancers, osteoporosis, and rheumatoid arthritis;
Potentially reducing the risk for Alzheimer's disease;
Lowering blood pressure.
A Memory Tool
A study from the University of Arizona found that social media might be an excellent tool when it comes to exercising your brain.
Researchers studied 3 groups of older adults, ranging in age from 68 to 91. One group learned how to use Facebook, a second group used an online diary site that was private and the third group did nothing. All participants completed a series of questionnaires before and after the study.
The men and women who learned how to use Facebook performed 25 percent better on memory tests than the other two groups, who showed no significant change.
"There is evidence to suggest that staying more cognitively engaged – learning new skills, not just becoming a couch potato when you retire but staying active – leads to better cognitive performing. It's kind of this 'use it or lose it' hypothesis," said researcher Jennifer Wohltmann.
"There's also a large body of literature showing that people who are more socially engaged, are less lonely, have more social support and are more socially integrated are also doing better cognitively in older age."
A Chance to be Creative
Social media gives you the opportunity to share photographs, videos and other visuals, write poignant and funny stories and compose other forms of personal expression.
In other words, you get to be creative, which has lots of benefits, according to Barbara Bagan, professor and author in the field of creative arts.
"Such activities offer a wide range of benefits, including the following:
helping individuals relax;
providing a sense of control;
reducing depression and anxiety;
assisting in socialization;
encouraging playfulness and a sense of humor;
improving cognition;
offering sensory stimulation;
fostering a stronger sense of identity;
increasing self-esteem;
nurturing spirituality; and
reducing boredom.
Additionally, expressive art exercises constitute innovative interventions to promote self-expression and improve communication with others," Bagan writes.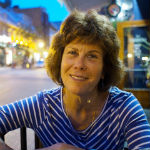 Molly Kavanaugh frequently wrote about Kendal at Oberlin for the Cleveland Plain Dealer, where she was a reporter for 16 years.