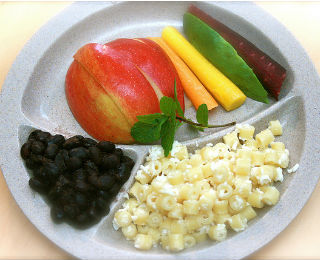 In order to remain healthy as you age, it's important to eat a variety foods so your body gets the vitamins and nutrients it needs. The Academy of Nutrition and Dietetics says that a healthy eating plan for adults 50+ emphasizes fruits, vegetables, whole grains, and low-fat or fat-free dairy. Poultry, meat, fish, beans, and nuts are also included.
That being said, simply eating the correct foods isn't all you need to do to remain healthy; it is also imperative that you eat the right amount of those foods. By doing so, you can more easily maintain a balanced diet and prevent over- or under-eating.
Learning About Portion Control
Nutrition scientists at Tufts University unveiled MyPlate for Older Adults in 2011, which is a nutritional tool created for older adults that shows exact portions and examples of foods that you should have on your plate.
These include:
Brightly colored vegetables

Deeply colored fruit

Whole, enriched, and fortified grains and cereals

Low- and non-fat dairy products

Dried beans, nuts, fish, poultry, lean meats, and eggs

Liquid vegetable oils, soft spreads low in saturated fat, and spices to replace salt. (Try to avoid trans fats!)

Fluids, especially water
In addition to that, MyPlate for Older Adults promotes exercise routines, which are very important for remaining healthy as you age. It also reminds us that there are a variety of ways for regular physical activity, such as daily errands and household chores.
Where does snacking come in?
Americans are now snacking more than ever. In fact, Purdue University found that we now get 25 percent of our daily calories from snacks! Over the last 40 years, the snack consumption of an average American has increased to almost 600 calories per day—equivalent to one full meal! However, snacking can play a pivotal role in a healthy diet.
Everyday Health has stated that small, healthy snacks between meals can be beneficial for blood sugar, fight weight gain, and provide needed boosts of energy as well. It's best to limit snacks to 100-200 calories. Stock your pantry and fridge with fresh fruits/vegetables, hummus, pita chips, yogurt and other wholesome snack options today!