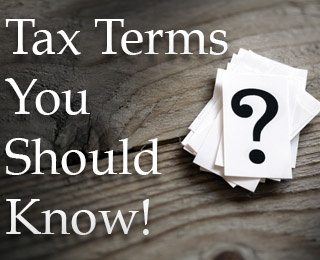 A tax refund is money owed to the taxpayer.
IRS stands for Internal Revenue Service, the federal agency that collects taxes.
April 15 is the deadline to file federal taxes, usually. This year, it's April 18 because of when "tax day" falls.Those are easy tax terms that most non-taxpaying teenagers can probably define. (Speaking of easy, IRS Form 1040EZ is the simplest of the three tax forms you can use to file your federal income taxes.)
___________________________
___________________________
But there are dozen more tax and financial terms you might want to know, even if you have a professional prepare your taxes. As you collect and sort through your annual financial records and IRS tax forms, make the job less stressful by understanding some important acronyms and terms.
Basic Tax Terms
AGI or adjusted gross income "is all the income you receive over the course of the year, including wages, interest, dividends and capital gains, minus things such as contributions to a qualified IRA, some business expenses, moving costs and alimony payments. AGI is the first step in calculating your final federal income tax bill," explains Bankrate, which includes AGI as one of 10 key tax terms taxpayers should know.
You may be glad your AGI is high because it means your earnings are up, but when it comes to paying taxes, you want to see it as low as legally possible. That's why you need to know about deductions – standard or itemized.
A standard deduction is a fixed dollar amount you can deduct from your AGI to reduce your taxable income. The deduction is determined by your filing status (filing options are single, head of household, married filing jointly, married filing separately and qualifying widow[er] with dependent child) and is adjusted annually for inflation.
For tax year 2016, the standard deduction for taxpayers younger than 65 is:
| | |
| --- | --- |
| Filing Status | Standard Deduction |
| Single | $6,300 |
| Married Filing Jointly | $12,600 |
| Married Filing Separately | $6,300 |
| Head of Household | $9,300 |
| Qualifying Widow(er) | $12,600 |
Taxpayers who are 65 or older, or who are blind, receive larger standard deduction amounts.
You generally itemize deductions if they add up to more than the standard deduction.
Itemized deductions include medical expenses, other taxes (state, local and property), mortgage interest, charitable contributions, casualty and theft losses, unreimbursed employee expenses and miscellaneous deductions, such as gambling losses.
More than 100 Tax Terms to Peruse
Kiplinger's has put together a tax term glossary with more than 100 terms. Here are 8 you might want to know:
Capital gain is the profit from the sale of assets, including stocks, mutual-fund shares and real estate. Gains from the sale of assets owned for 12 months or less are "short-term capital gains" and are taxed just like salary. For most assets owned more than 12 months, profits are considered "long-term capital gains" and are taxed at preferential rates.
Charitable mileage is the cost of using your car while doing charitable work, currently 14 cents per mile, plus parking and tolls.
FICA, or the Federal Insurance Contribution Act tax that pays for Social Security and Medicare is split 50/50 between employers and employees.
HSA, or Health Savings Account, allows taxpayers under age 65 to make tax-deductible contributions to a special account tied to a high-deductible health insurance policy.
Imported drugs from Canada or another foreign country cannot be included in your allowed medical deductions.
Job hunting costs such as employment agency fees and some travel expenses are deductible, along with some moving expenses for that new job.
Long Term Care Insurance premiums, with a maximum limit, can be deducted as a medical expense.
Real estate taxes or property taxes are deductible.
IRS Tax Terms
The IRS also has a list of terms, including Authorized IRS e-file Provider, which is a business authorized by the IRS to participate in the IRS e-file Program and Direct Deposit, which allows tax refunds to be deposited directly to the taxpayer's bank account.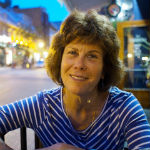 Molly Kavanaugh frequently wrote about Kendal at Oberlin for the Cleveland Plain Dealer, where she was a reporter for 16 years.