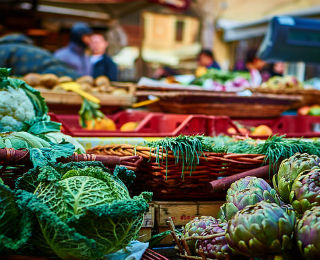 Vegetables are a great food choice because they are low in calories and nutritionally dense. Many of them are filled with powerful vitamins and minerals, and they are fiber-rich, making them an ideal lunch, dinner, and snack choice. But did you know that some veggies are better for you than others? In this blog we will detail some of the healthiest vegetables to consider for your diet.
According to Kendal at Oberlin Community Nutritionist, Sue Campbell, the top 10 veggies are:
Kale

Spinach

Collard greens

Turnip greens

Swiss chard

Pumpkin (canned)

Mustard greens

Sweet potato (with skin)

Radicchio

Broccoli
Kale
So much more than a simple garnish, this powerful vegetable is the number one superstar in the vegetable world by far, according to scoring results provided by the Nutrition Health Newsletter and compiled from the U.S. Department of Agriculture Nutrient Database. At only 20 calories per serving, kale is also rich in vitamins K and C, as well as lutein. It's also a good source of fiber.
To work in more servings of kale, consider using it to make healthy vegetable smoothies, toss it into your favorite pasta dish, or add it to your salads. Sauté it in olive oil with a little garlic or parmesan cheese to add a flavor and make an excellent, quick side dish. Some people even add kale to their burgers, while others roast it in the oven to make kale chips.
Pumpkin
Pumpkin is a vegetable that's rich in vitamins A, C, and E, which are all widely known to be powerful antioxidants. It is also an outstanding source of fiber for your diet, and weighs in at only 40 calories per serving. Pumpkin is easy to incorporate into many baked goods, like cakes, muffins, breads, and even brownies. These sweet treats can be made healthier by substituting pumpkin for some of the fat in your favorite recipe. It's also easy to use as a nutritional boost in soups, stews, and your favorite chili recipe.
Cabbage
There are many other delicious uses for cabbage, beyond your favorite cole slaw. It is a highly versatile vegetable that can not only be enjoyed raw, but can be incorporated into a wide range of delicious dishes, including:
Cabbage Steaks

Sauerkraut

Various Slaws

Boiled Cabbage

Cabbage Rolls

Cabbage Soup

Cabbage Salad
At only 20 calories, cabbage is an excellent source of vitamins K and C and a great source of fiber. Now is a great time to explore the cabbage ideas above as well as many variations on these themes.
Greens
Cooked or raw, greens like spinach, turnip greens, collard greens, and mustard greens provide a powerful nutritional punch for their 20 calorie servings (mustard greens are only 10 calories per serving). They offer easy preparation and all qualify as vegetable superstars.
A diet with a variety of colorful veggies will help you to maintain an active an lifestyle, feel more energized, and fuel you up to take on whatever plans you have for the day.
Here's a Great Recipe to Try!
Friends will keep coming back for more when you serve up this refreshingly sweet drink. This green smoothie recipe is a great way to introduce others to the world of kale! Serves 2
Ingredients
2 cups kale
2 cups coconut water
3 cups pineapple
¼ cup fresh mint leaves
Juice of 1 lime
Directions
1. Blend kale and coconut water until smooth.
2. Add remaining ingredients, and blend until smooth. Enjoy!
*Use frozen fruit to make smoothie cold.