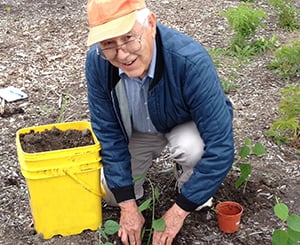 Ask your local church, food bank, arts organization or other favorite non-profit the value of their volunteers and you're likely to hear a variety of superlative words that express a similar sentiment: Volunteers are essential to its mission.
No surprise that older men and women play a major role in this vital economic engine. Freed from the rigors of earning a living and raising a family, many of them now have the time and ability to offer unpaid help to individuals and organizations in need. Plus, their years of experience at work and at home add up to knowledge and wisdom much appreciated at non-profits.
And volunteers benefit too.
May is Older Americans Month and this year's theme is "Connect, Create, Contribute," which seems like an ideal time to discuss the benefits of volunteering.
Blessings and Benefits of Being a Volunteer
At 83, Joan Chittister knows first-hand about the value of volunteering. As a member of the Benedictine Sisters of Erie, Pennsylvania, she has been a passionate advocate for human rights and women's issues and operates an outreach program for those in prison. She is a prolific writer, with more than 50 books.
In The Gift of Years: Growing Old Gracefully she writes:
"Generativity – the act of giving ourselves to the needs of the rest of the world – is the single most important function of old. In fact, most of the important dimensions of public life depend on the volunteer services of older people. They do the caretaking of other elderly, they supervise the children of young parents too busy now to do it all themselves. They prepare and deliver the 'Meals on Wheels' that enable so many older people to remain in their own homes. They prepare the civic posters and the elections ballots. They volunteer in libraries and museums and in hospital and parks."
Volunteers are a blessing to others, for sure, but being able to reach out to others is also a blessing of aging, she writes.
Volunteering has health benefits too, according to the Mayo Clinic that lists 6;
Leads to lower rates of depression, especially for people 65 and older;
Gives a sense of purpose and teaches valuable skills;
Helps stay mentally and physically active;
May reduce stress levels;
May help you live longer; (An analysis of data from the Longitudinal Study of Aging found that individuals who volunteer have lower mortality rates than those who do not, even when controlling for age, gender and physical health.)
Helps you meet others and develop new relationships.
Volunteering can also open the door to new intergenerational relationships. No grandchildren or none nearby? No problem, just ask your local community center, school or library about volunteer opportunities with children and teens. They may have a tutoring or mentoring program or need help starting one.
Or become a "baby cuddler," writes Kim Mueller in Next Avenue.
"Baby cuddlers are hospital volunteers extensively trained in Neonatal Intensive Care Units across the country. Some hospitals call them Rockers or Huggers. Cuddlers provide therapeutic talk and touch — they don't feed the babies, change their diapers or walk around with them, said Lynne Thomson, NICU nurse manager at Saint Luke's. They simply hold the infants and read, talk or sing to them when the families can't be at the hospital because of work, school or other childcare commitments."
A 77-year-old volunteer said his weekly visit to the hospital to volunteer as a patient advocate and cuddler gives him purpose and peace.
Volunteer Hours Add Up
The Independent Sector estimates that the 2019 national value of each volunteer hour is $25.43.
"Currently, about 63 million Americans volunteer about 8 billion hours of their time, talent, and effort to improve and strengthen their communities. With the new Value of Volunteer Time, these Americans are contributing approximately $203.4 billion to our nation through nonprofit organizations of all types."
In 2017, Kendal residents logged an all-time high in volunteer hours at 60,000 hours. Residents enjoy volunteering in Oberlin and throughout Lorain County. They also volunteer within the Kendal at Oberlin community by reading to preschoolers at the Kendal Early Learning Center, staffing the front desk at night and growing herbs for the kitchen.
5 Ways of Living Life with Purpose
---
Studies show that people who feel they live a purposeful life tend to be healthier in body, mind and spirit. Get this white paper now to see how you can live your life with purpose.