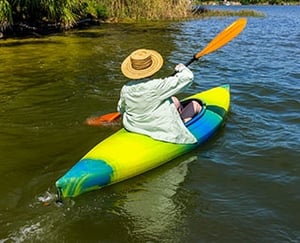 Ed and Anne Wardwell's marriage began in 1970, and so did their affection for canoeing.
For years they explored the Cuyahoga River and other waterways near their home in Shaker Heights. Now residents of Kendal at Oberlin, the couple heads south to Findley State Park in Wellington or north to their favorite spot, Old Woman Creek in Huron.
"We're not adventurers, we're just appreciators of wonderful scenic nature," Ed says.
For powerboaters and sailors, Lake Erie is their main playground. But Northeast Ohio canoeists and kayakers have lots of scenic waterways rated as Class I or II — easy boating and rapids — to explore.
Here are 3 top spots for canoeing and kayaking in Northeast Ohio. Happy trails to you!
Must-Try Canoeing and Kayaking Destinations in Northeast Ohio
Old Woman Creek

on the south-central shore of Lake Erie is an estuary, meaning a place where two different bodies of water meet and mix.


"The Old Woman Creek estuary consists of habitats including marsh, swamp and upland forests, scrub-shrub, creek, barrier beach and near-shore Lake Erie. The estuary attracts waterfowl and wading birds such as wood ducks, great blue and green herons, egrets, belted kingfishers and shorebirds. Several rare plants and animals, including the American bald eagle, thrive near the estuary," according to the Ohio Division of Wildlife and the National Estuarine Research Reserve that cooperatively manage the 573-acre reserve.

Hearing that description, one can understand why it's the Wardwells' best-loved go-to.

Canoeists need a permit (no charge), which is available at the Visitor Center, 2514 Cleveland Road East.

The reserve also offers guided on-water tours and has a limited number of canoes available. Call 419-433-4601 for more information.



The

Vermilion-Lorain Water Trail

is 27 miles long and takes paddlers along two rivers (Vermilion and Black), Lake Erie and three cities (Vermilion, Lorain and Elyria). There are eight access points, beginning at the shale cliffs of the Vermilion River Reservation in Vermilion and ending at the Bur Oak Picnic site at the Black River Reservation in Elyria.

Need a boat?

Great Lakes Kayaking

rents kayaks (also paddleboards and bikes) at its livery, 1355 Black River Parkway in Lorain.

West River Paddling Co.,

located at 655 W. River Road in Vermilion, rents canoes, kayaks and paddle boards. The company also offers lessons and guided trips.



Put-in-Bay is a long distance to paddle for many, but you can take your car and canoe on the Miller Ferry, then launch at the South Bass Island State Park. Even easier is to rent a kayak at

Kayak the Bay, Ltd.,

located just west of downtown at Oak Point State Park. The company also offers guided tours of Gibraltar Island and a one-hour sunset paddle.
Safety First When Canoeing and Kayaking
Regardless of the waterway, keep in mind these basic safety rules:
Always boat with another person;

Wear a lifejacket at all times;

Check the weather before you head out;

File a "float plan" with another person, with expected return time;

Bring plenty of drinking water, an extra change of clothes and cell phone (stowed in a waterproof bag).
The Wardwells and Puddle Duck
The couple's current canoe, purchased in 2001 from a Canadian manufacturer, weighs 45 pounds, about half the weight of their first canoe.
"It takes us about 20 minutes to get the canoe on the car rack, and then we're off," he says.
They enjoy seeing all the natural wonders along the trails, including birds, plants and the changing foliage, as they glide through the water on 14.5 foot "Puddle Duck."
"Anne is on the flower committee, so we are always hunting for driftwood," Ed says.
With nearly 50 years of canoeing, they've had only one mishap, which occurred at dock and left Ed wet and a camera and field glasses in ruins.
Sometimes the couple is joined by other Kendal residents, who own canoes or kayaks, and they head to Findley State Park or Old Woman Creek for a group outing. This summer, on the Fourth of July, a handful of the residents held a boat parade on one of Kendal's ponds.
Other Fun, Active Hobbies to Try
Visit unusual, educational, and exciting travel destinations with the help of Kendal at Oberlin's free eGuide. "Planning Your Next Adventure: Must-Sees and Travel Tips," will cover travel ideas, booking tips and more.
Free Guide: Planning Your Next Adventure: Must-Sees and Travel Tips
---
In this guide you'll get 5 close-to-home getaways, 6 college towns you never thought to visit, 10 must-see National Parks, 6 road trips, booking tips and more!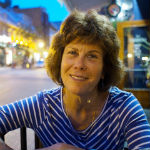 In the past, Molly Kavanaugh frequently wrote about Kendal at Oberlin for the Cleveland Plain Dealer, where she was a reporter for 16 years. Now we are happy to have her writing for the Kendal at Oberlin Community.