As you make plans for retirement, you are probably reviewing financial resources and lifestyle needs and wants, including adequate health insurance. Maybe you're looking at a map and pinpointing geographic areas for possible relocation or extended travel.
But as you budget and muse, are you considering transportation needs that might arise if you are unable to drive?
"When people make retirement plans, they make no transportation plans because they assume they're going to drive forever," said Katherine Freund, founder and president of the Independent Transportation Network, a nonprofit organization that provides rides for older adults, with 27 affiliates throughout the country. Nationally, for those over 65, 2 to 3 percent of what distance they travel is on public transportation, 8 percent on foot and the rest by car, Ms. Freund said.
What makes transportation planning so challenging is that there is no set age when someone retires from driving. Many older adults drive well into their 80s and 90s or until they die, while others stop driving much sooner because of poor vision, and other physical and mental difficulties. Others simply decide they just don't want to drive anymore.
But whatever the reason, with increased life expectancy the need to find alternative transportation is becoming more common. One study found that Americans are outliving their ability to drive safely — a woman, on average, by 10 years, a man by seven, according to the American Journal of Public Health.
Put a Plan in Place
Makes sense to have a transportation plan in place, especially as you begin to assess the pros and cons of moving to a new home.
A 2014 study by the National Association of Area Agencies on Aging (n4a) found that transportation was the top reason seniors called its Eldercare Locator.
"For older adults who can no longer drive and who live in suburban or rural communities without adequate public transit, a lack of transportation options can have a profound effect on overall quality of life," the n4a found. "Many callers express frustration because they can't do simple things like visit the doctor, buy food or socialize with peers because the options for getting from point A to point B are limited."
Questions to explore about your current residency or relocation areas under consideration include:
What public transit is available, and how accessible is it?
What about "dial-a-ride" programs for older adults, and what trips are covered? (medical? shopping? entertainment?)
Are family members nearby, and are they likely to be willing and available to help with transportation? (While friends are another good source for ride sharing, be sure to take their age into consideration when making a plan.)
Are sidewalks plentiful and in good shape for walking and biking?
Are taxicab services available, both traditional ones and ride-share services such as Uber and Lyft?
If you are considering a move to a Life Plan Community, ask about its current transportation services, and what might be on the drawing board. Most retirement communities offer some transportation for residents, but it might be limited to a geographic area and follow a set schedule. Personal trips might be available for an additional cost.
Face Your Fear
Many older adults and their families shy away from talking about driving concerns, either current ones or possible future scenarios. They pin their hopes on a physician's recommendation or a failed driver's test if that day arises, but those remedies are not foolproof.
Whether we are young or old, we know what driving a car means: independence.
Not driving can lead to isolation, and more.
A 2015 report by researchers at Columbia University and the AAA Foundation for Traffic Safety found that older adults who give up driving are nearly twice as likely to suffer depression as those who stay behind the wheel.
Still, for the driver's safety and the safety of others, it may be time to retire from driving.
So back to the plan.
Dr. Emmy Betz, an emergency medicine specialist who does research at the University of Colorado School of Medicine on the safety of older drivers urges families to plan ahead, talk about it years before it happens and map out transportation alternatives.
"Imagine if I told you to give me your keys," she says. "And you can no longer drive, starting right now. I mean, what would you do? It's totally unrealistic that we think that that's an OK thing to do to older people."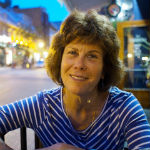 In the past, Molly Kavanaugh frequently wrote about Kendal at Oberlin for the Cleveland Plain Dealer, where she was a reporter for 16 years. Now we are happy to have her writing for the Kendal at Oberlin Community.