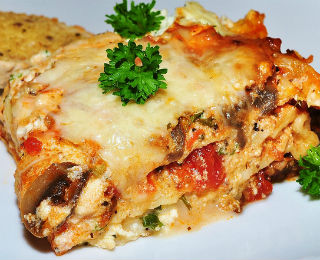 Written By: Molly Kavanaugh
Next month you are likely to hear more than the average chatter about the benefits of a vegetarian diet. But for more than a million older adults seeking a healthy lifestyle, Vegetarian Awareness Month is year-round.
More Older Adults are Choosing a Vegetarian diet
About 40 years ago Anne and Ed Wardwell decided to try a vegetarian diet, inspired by the bestseller Diet for a Small Planet and upset over the ethical treatment of farm animals. The couple was hooked, so nine years ago when they moved to Kendal at Oberlin having a daily vegetarian meal was a deal-breaker.
"We were told it would not be a problem and it hasn't been. We have a vegetarian entrée every night," Anne says.
Anne is one of approximately 7.3 million Americans (1.2 million who are over 55) who follow a vegetarian-based diet, according to a study published by Vegetarian Times. More than half of vegetarians say they follow such a diet to improve their overall health, followed by environmental concerns.
"The vegetarian sector is one of the fastest-growing categories in food publishing," says Elizabeth Turner, Vegetarian Times' editor-in-chief. "It's a dedicated group of consumers that is growing daily."
Vegan vs.Vegetarian
A smaller group of people, about 1 million, are vegan, meaning they only eat foods from plants – fruits, vegetables, legumes, grains, seeds and nuts.
Carla VanDale's journey to embracing a vegan diet took years. A long-time nurse and former psychotherapist, Carla VanDale and her husband, Bob, lived near Westminster College in Pennsylvania, where Bob was a professor.
Carla, who had a family history of heart issues, decided to stop eating meat in her early 50s for one compelling reason: "I decided, unlike my dad who died at 50 from a heart attack, I wanted to see my grandchildren," she says. "One sure-fire way to do that was to change my lifestyle."
Her lifestyle changes, which she continued to practice after moving to Kendal, proved effective for years. Her cholesterol lowered, and she felt energized. Then, about three and a half years ago, Carla's doctor noticed an increase in her LDL (or "bad") cholesterol. "My physician tried a number of things to bring my LDL cholesterol back to a normal level, but nothing seemed to work," she says.
About that time, Carla watched "The Last Heart Attack" by Dr. Sanjay Gupta, an hour-long documentary that investigates whether diet and the latest diagnostic tests are enough to prevent every heart attack. "In this film, they were talking about various ways of eating that physicians said absolutely, without a doubt, if you were to eat a vegan, low-fat, plant-based diet, you would not have a heart attack," Carla says. "That intrigued me; I had never heard anyone make that claim."
Carla and her husband traveled to the Cleveland Clinic to learn more about veganism from Caldwell Esselstyn, Jr., M.D., a renowned researcher, surgeon, and vegan lifestyle advocate. Dr. Esselstyn has helped many individuals venturing into animal-free eating over the years, including former president Bill Clinton.
Carla and Bob attended an all-day workshop where Dr. Esselstyn presented medical research touting the effectiveness of a low-fat vegan diet. His wife Ann, also a vegan, discussed the nuts and bolts of plant-based eating, including what products to buy, where to buy food, how to prepare food and more. "After that day, we committed to going the vegan direction and have done it ever since," Carla says.
Kendal Dining Services Offers Vegetarian and Vegan Options
The couple has gotten lots of support from Kendal. "The culinary staff has worked really hard to meet our needs," she says.
Hiring vegan cook Wayne Jacob has also been a great asset, she adds.
In fact, Wayne made such a delicious corn and shallot chowder when the Esselstyns came to Kendal for dinner that his vegan recipe was included in Ann and Jane Esselstyns' The Prevent and Reverse Heart Disease Cookbook.
A popular Kendal recipe for vegetarian residents who consume dairy products is Vegetable Lasagna. For a vegan version, be sure to use egg-free pasta, omit the cheese layer and add an extra layer of veggies.
Vegetable Lasagna Ingredients:
1 box lasagna noodles

1 lb. sliced mushrooms

3/4 c. chopped peppers

3/4 c. onions

3 cloves crushed garlic

2 t. olive oil

36 oz. pasta sauce

15 oz. ricotta cheese

1 t. dried basil

4 c. shredded mozzarella

2 eggs beaten

½ c. grated parmesan cheese
Directions:
Preheat oven to 350° F.

Combine vegetables and sauce. Simmer for 15 minutes.

Combine cheese mixture.

Layer lasagna in 9X13 pan in following order from bottom to top.

Sauce

Noodles UNCOOKED

Cheese

Sauce

Noodles

Cheese

Sauce

Cover with food film and foil.

Bake for 45 minutes.

LET REST FOR 20 MIN. BEFORE CUTTING.
Tips:
Use all the sauce. It will seem like a lot, but will be absorbed with the UNCOOKED pasta, resulting in a firmer product.

There will be pasta leftover.

Using the film/foil will result in moister product and film will not stick.

LET REST FOR 20 MIN. BEFORE CUTTING. IF YOU DON'T THE PRODUCT WILL 'RUN' AND FALL APART. IT WILL STAY HOT.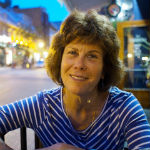 Written By: Molly Kavanaugh