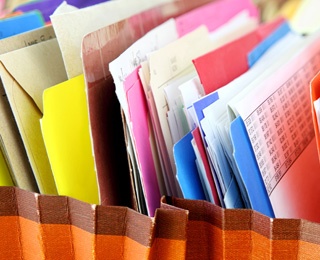 If left unchecked, your folders, file cabinets and boxes stuffed with "important papers" can easily take over valuable space. It's a common problem for all of us. Since we're not sure what papers to keep and for how long, we err on the side of caution and hold onto everything from utility bills to monthly bank statements.
Tax season is the perfect time to stop and set our records straight.
Saving Tax Documents
Let's start with the documents you need to keep for IRS purposes. Unfortunately, the number of years can vary, from 3 years to indefinitely, depending on the action, event or expense of the document.
The IRS says taxpayers should keep records until the period of limitations expires to amend a return for a credit or refund, or to be audited by the IRS. That period is typically 3 years after the return was filed.
However there are exceptions. For instance, keep records for 7 years if you file a claim for a loss from worthless securities or bad debt deduction, and keep records indefinitely if you file a fraudulent return.
IRS records include those related to:
Income (Forms W-2, 1099 and K-1, bank statements brokerage statements);
Expenses (sales slips, receipts, documents from qualified charities);
Home (closing statements, insurance records, home improvement receipts);
Investments (brokerage and mutual fund statements, Forms 1099 and 2439).
The IRS suggests you keep records in an orderly fashion, secure from theft and weather, but you are not required to keep hard copies. To save space, consider using document storage software to store records electronically.
As for keeping actual tax returns, previous files might come in handy when filing current returns. In some cases, old tax returns can be critical when selling an investment or proving that Social Security retirement benefits are incorrect.
"This lesson is especially important to teachers and school or college administrators," writes tax columnist Eva Rosenberg. "Although your district or union may have opted out of the Social Security system in favor of their own retirement system, you may have worked for other employers or operated your own business to build up Social Security benefits."
Other Important Documents
Financial guru Suze Orman has compiled a list of all those other important papers that clog our files, with a timetable for disposal. For instance:
ATM slips can be thrown out monthly after balancing your checkbook;
Utility bills can be discarded after a year, but keep for 3 years if you have a home office deduction;
Paid-off loans can be discarded after 7 years;
Birth and death certificates and marriage licenses should be kept forever.
Safely Disposing of Documents
Now that you have separated the wheat from the chaff, make sure your personal information does not end up in someone else's hands.
If you don't have a home shredder, or this is too big a job for you to handle at home, contact your local UPS, FedEx or Staples store. Cost for shredding documents runs about $1 per pound, and staples, paper clips and the like usually do not have to be removed.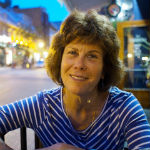 Molly Kavanaugh frequently wrote about Kendal at Oberlin for the Cleveland Plain Dealer, where she was a reporter for 16 years.