Published: January 10, 2020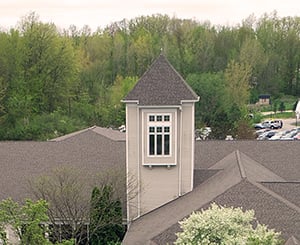 Flower arrangements throughout hallways and other public spaces. Healthy and creative cuisine in the dining rooms. Eclectic art in the three galleries. Entertainment – musical, theatrical, educational – in the auditorium. Daily fitness classes in the indoor pools and exercise rooms.
Everyday, Kendal residents expect all of the above, and more. But a new year means new things at the 26-year-old community and its grounds, buildings and programs. Here are some of the highlights to come in 2020, starting with a topic of interest to people who are considering a move to Kendal.
"Last year was a very good year for Kendal in terms of occupancy so prospective residents have to plan ahead carefully," says Maggie Stark, director of Admissions & Marketing. "The minimum wait is 18 months to two years. The one-bedroom den is the most desirable because it appeals to both couples and singles, but the good news is that's what we have the most of."
The Grounds at Kendal
Four years ago the entire campus – 100+ acres, 1,100 trees and eight ponds - was accredited as a Level 1 Arboretum by Arbnet. The John Bartram Arboretum at Kendal at Oberlin created a Sustainable Urban Forest Management Plan that includes a development of a comprehensive tree catalog and interpretive tree walks.
Now a Master Landscape Plan has been approved by residents and staff and it will bring a variety of changes to the campus over the next decade.
Trees are being analyzed to determine what needs to be replaced and depending on location and cost, will be replaced by new trees as well as a combination of natural plants such as no-grow grasses and wildflowers. Manicured shrubs will also be planted in some places and invasive species removed.
The 300-page plan is a guide, not a concrete plan. "It's a living organism that will change," says Rey Carrion, director of Facility Services.
Two projects indirectly related to landscaping are:
Outdoor lighting. An ad hoc committee was recently formed to pursue certifying Kendal as a "dark sky" community, which means reducing exterior light pollution with energy-efficient lighting. Ohio has only one certified site - Geauga County Observatory Park - and there is no continuing care retirement community on the international list. "I'd love to make Kendal the first," says Terry McGowan, a lighting engineer who moved to Kendal a year ago with his wife.
Parking lots are continually being improved and updated with a mixture of new carports and enclosed garages, depending on demand. Mounded areas are being erected to shield car lights from living areas. "There is a demand for covered parking, so we want to do one parking lot per year," Rey says.
Other Changes on the 2020 Horizon
A redesigned website is scheduled to be launched in the spring that will make it easier for users to navigate. The Cardinal Shop was recently closed and will be incorporated into the health and wellness clinic located across the hall. A small gift shop will be opened in a space to be determined by residents.
Kendal has dozens of resident committees and the list is always changing. A couple of new committees are:
Dining Matters, which will facilitate positive communication between and among residents, dining staff and the community in general;
Pet Matters will become an established part of the community, working with the administration to coordinate the many activities and concerns related to the regulations and care of residents' pets.
And who knows what new activities – fun, educational, artistic - will surface?
Last year residents gathered in Heiser Auditorium to talk about their favorite T-shirt. This year they met to talk about their favorite vacation (in two minutes or less). Last January Judy Riggle and other residents organized a tea party to celebrate the three dozen women newly elected to the 116th House of Representatives. This year's presidential election is likely to inspire an event or two.
Request a tour to get acquainted with our vibrant community, learn about resident life, see our opportunities for lifelong learning and more.
Visit Kendal at Oberlin
---
Looking for a vibrant retirement living community that fits your culture and services you need for your future living?

In the past, Molly Kavanaugh frequently wrote about Kendal at Oberlin for the Cleveland Plain Dealer, where she was a reporter for 16 years. Now we are happy to have her writing for the Kendal at Oberlin Community.