Published: November 7, 2017
We are thankful for health, family, friends and other blessings in our lives, but often we murmur those words to ourselves. Then come the holidays, starting with Thanksgiving, and we find many opportunities and are encouraged to express our gratitude aloud.
Kendal at Oberlin Residents Express Their Gratitude
In this season of giving thanks, Kendal at Oberlin residents were happy to add their voices to the choir.
Gratitude for Their Lifestyles
Speaking of choir, music is at the top of Carol Longsworth's gratitude list. For many years, she was director of music at First Church, United Church of Christ in Oberlin, and directed a chamber concert choir in the area.
Her husband's thankfulness is also linked to his vocation. "I'm grateful for Oberlin College, its history and educational mission," says Bob, a retired professor of English. Since retirement, Bob has returned to Oberlin College to teach and still maintains a study in the library.
A younger Marjorie Porter did not expect the best was yet to be.
"Because of Kendal's warmth and vitality, these are the best years of my life. And yes, I am surprised," says Marjorie Porter, who moved to Oberlin four years ago with her husband, Larry.
Marjorie likes to share her sentiment with friends. "But they don't believe me," she says, adding, "until they come to visit."
Joyce Parker appreciates the creative energy that permeates the entire community. Joyce is a potter and a frequent visitor to the Creative Arts Studio, along with her husband, Don, a watercolorist.
She also enjoys teaching art classes, especially for beginners. She has two workshops focused on holiday giving – one so church friends can make unusual, mixed-media cards for shut-ins and another focusing on miniature clay houses to give as gifts.
She and other residents recently made six dozen miniature bowls, of all different shapes and colors, that were given as a thank-you gift to generous donors to Kendal, a not-for-profit.
Grateful for Family
A move to Kendal two years ago was a mother's dream come true. "Now, I can be with my daughter," says Erika Pilisy. Her daughter, Ann, is manager of the Fox and Fell dining room.
"Our roles have changed. I used to be the boss; now, she bosses me around," laughs Erika, adding, "We make a point to laugh as much as we can."
Jill Wettersten, who celebrated her 50th wedding anniversary this year, is grateful to be able to give and receive love.
"I think love makes the world go around. Kendal at Oberlin tries to be an oasis of love and welcoming in this world of uncertainty, which is why I'm glad I'm here," says Jill, who moved to Kendal two years ago with her husband, Vern.
Thankfulness for Health
The array of health and fitness opportunities make Mary Behm grateful. She takes yoga, tai chi and strength training classes and is being trained on the machines in the community's state-of-the art Exercise Equipment Room.
She also enjoys playing table tennis. "I had to get my game up so I can play with my 11-year-old grandson," she says.
Practicing Gratitude Year-Round
Like these Kendal residents, we all express thankfulness in ways other than words. From a smile and hug to writing a letter or running an errand for a dear friend, we show our gratitude in ways big and small.
Brother David Steindl-Rast and the other folks at A Network for Grateful Living offer resources to help us cultivate gratitude.
Suggestions include:
Each day, commit to looking directly into the face of another and simply smile without words.
One day a month, use only a flashlight to move through the darkness to truly appreciate the gift of light.
Write down three things at the end of the day that describe how you left the day better than you found it.
Take a weekly gratitude walk, noticing all the natural and human-made wonders that give you a sense of "awe."
Each day, the Network poses a question to help you deepen your commitment to being grateful.
As for the people who work at Kendal at Oberlin, we're all grateful for the opportunity to get to know residents who are committed to making this world a better place. If you'd like to learn more about our community, fill out this form to get a brochure.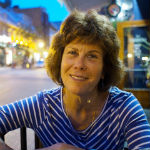 In the past, Molly Kavanaugh frequently wrote about Kendal at Oberlin for the Cleveland Plain Dealer, where she was a reporter for 16 years. Now we are happy to have her writing for the Kendal at Oberlin Community.