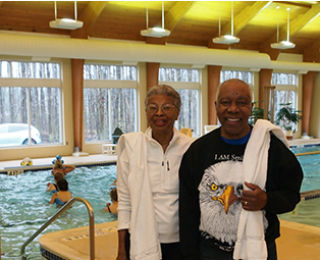 It's a well-known fact that exercising as you age provides tremendous health benefits. However, many older adults can find it difficult to remain consistently active due to sore and/or stiff joints or muscles. There's good news, though: there are exercises out there that are low-impact that keep you moving with minimal aggravation. You just need to dive into water exercise!
6 Benefits of Water Exercise
Exercising in water allows you to strengthen your muscles with gentle resistance. Whether you are simply swimming a few laps or taking a full-fledged aerobics class, there are many benefits of getting in the water for your workout.
1. Improved heart health. The resistance from the water gets your heart rate up while you burn calories, reducing your risk for cardiac diseases. Swimming or jogging in the water are excellent options to improve your heart health. These exercises may also help you lose weight, which can alleviate stress on your heart (and your whole body!).
2. Arthritis benefits. Water-based exercises allow people with arthritic joints to exercise without further aggravation. The Centers for Disease Control (CDC) found that those with rheumatoid arthritis have more improvement and decreased pain with water therapy compared to other activities.
3. Low injury risk. Water provides somewhat of a cushion as you work out. There is a lower risk of injuring yourself if you are exercising in water than if you are exercising on concrete.
4. Relaxing effect. Water seems to have a calming effect that can help people get rid of any depression or anxiety they may be experiencing. Workouts in the water can be as good for the mind and soul as they are for the body.
5. Increased strength. As we age, it's natural to lose muscle mass. However, working out in the water can help you with that. The resistance that the water creates allows us to build our muscles back up. This also improves endurance and reduces the risk of falls.
6. Many options. There are many water exercises to choose from and they can be implemented into any workout style. Whether you prefer exercising in a group or exercising alone, there are programs to fit your needs. Kendal at Oberlin residents or Kendal at Home members can enjoy the controlled movements of water tai chi and yoga at the Kendal Fitness Center Pool.
As always, when trying any new workout regimen, it's best to talk to your doctor before getting started. Also, be sure to take it slow in the beginning and increase the intensity of your workouts as your strength improves.

What is your favorite reason to participate in water exercise? Share in the comments below!