Published: February 21, 2020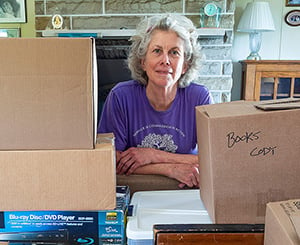 As we think about moving to a new home to enjoy growing older, many of us let our stuff dictate the size of our house, condo or apartment.
Before you head down that road, stop and take a look at your stuff. Do you have extra chairs and tables you never or rarely use? Ditto for bookcases and cabinets full of dishes, knickknacks and books? Double ditto for attics and basements lined with storage bins stuffed with old clothes, duplicate photos, class reports, etc.?
Do you really want to pay for extra square footage just to store stuff you don't use?
Let's talk about finding the right size for your new home.
"Right sizing is about giving you the spaces you need and you'll enjoy living in, without putting money into the things you won't," says architect Wayne Visbeen.
How to be Smart about Rightsizing
When we think of space in a house, we usually divide it in two – living space and storage space. Your current home might have a dining room and spare bedroom, but do you use those rooms (except to basically store stuff we don't use)?
As you think about a new home, keep in mind that rooms can do double-duty. A family room can be an office, a spare bedroom can be a reading room, and so on. Furniture can have multiple uses too – a futon couch is an extra bed, a storage ottoman is a spot for linens.
Now back to the stuff. As Japanese cleaning consultant Marie Kondo says, the best criteria for choosing what to keep and what to discard is to hold the object in your hand and ask – does it spark joy? "Keep only those things that speak to your heart. Then take the plunge and discard all the rest," she writes in "The Life-Changing Magic of Tidying Up."
Here are her 4 basic steps for rightsizing:
Declutter by category not by room. Collect all the books in your house, or all the jackets, dishes, linens, etc. and put them together in one big pile. Keep only the items that are truly meaningful to you, that speak to the heart. If there are duplicate items, then choose the one you like best and toss or donate the extra one.
Begin with items of lower sentimental value. Deciding what to keep will go much smoother if you begin with categories that are easier to make decisions about. You'll hone your skills as you move to more difficult categories. Save the items with strong attachment, like photographs and mementos, for last.
Keep your goal in mind. Whether it's a less cluttered living space or a new, smaller home, visualize where you are headed.
Focus on what you want to keep, not what you want to get rid of. The former can bring those sparks of joy Marie talks about. The latter is likely to make you tense and irritable.
Clothing Counts Too
When it comes to stuff, clothing for most of us is both our friend and foe. Our closets (and guest closets), drawers, boxes under the bed and in the attic are full of clothes.
And we have sound reasons for stockpiling.
The pile of jeans? For when I lose (or gain) 5 pounds.
Five pairs of gym shorts? When I start running again or working out.
T-shirts from college? I don't want to lose the memories.
Assorted scarves and ties? I might need a pink/purple/pumpkin-colored accessory someday, (though I haven't yet because I never wear those colors.)
And on and on it goes.
"Can you answer yes to 'Do I love it?' 'Do I need it' or 'Will I use it?' If not, then out it goes, it doesn't matter that 'I only wore it once,' 'It's still in good condition' or 'It was expensive,'" according to AARP's Downsizing the Family Home: What to Keep, What to Let Go by Marni Jameson.
The Bottom Line
Take some time to really think about how much living and storage space you use on a regular basis. You might find that a smaller cottage or condo suits your day-to-day needs – and your finances – quite well.
"We all know no matter how big your house is, you never feel like you have enough storage," says Joseph Atalla, of Berkeley Building Company. "When you have a small footprint, you have to be smart about how you can create more of that storage."
So be smart when looking for the right size of your new home.
The Do's and Don'ts of Downsizing Guide
---
Getting Ready to Move? Time to Downsize Your Belongings?Don't know where to start? Our guide can help!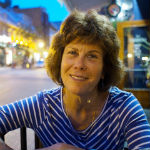 In the past, Molly Kavanaugh frequently wrote about Kendal at Oberlin for the Cleveland Plain Dealer, where she was a reporter for 16 years. Now we are happy to have her writing for the Kendal at Oberlin Community.