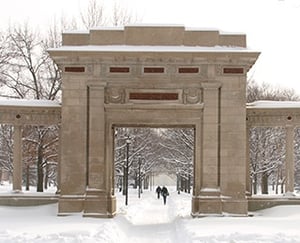 I am a native Buckeye and have lived in Ohio almost my entire life. Yet, I still find new places to explore and old favorites worth a second or — in the case of Lake Erie — 100th visit.
And since Ohio is blessed (usually) with four distinct seasons, the atmosphere and energy of our locales ebb and flow.
As the holidays and winter months approach, let's take a look at Northern Ohio places to explore for day and overnight trips.
A Small City on a Great Lake
During the summer, Vermilion, Ohio docks are full of boaters and its streets lined with colorful flower baskets and beach-goers. But the downtown shops and restaurants are a year-round destination, drawing visitors for holiday shopping and festive gatherings.
Special winter events include:
Docking of the Christmas Tree Ship at 10:30 a.m. on Saturday, Dec. 1st at McGarvey's Landing, an annual tradition beloved by young and old;

Light Up Vermilion, on Thursday, Dec. 6th, from 5:00 p.m. to 8:00 p.m. In addition to lights and shopping, the Vermilion Music Association's Annual Christmas Concert rings out at 7:00 p.m. in Ritter Public Library;

Ice Fair on Saturday, Feb. 2. From 11:00 a.m. to 7:00 p.m. The streets are lined with ice sculptures and ice carving demonstrations.
The city has several places to stay overnight, including the Old Vermilion Jailhouse Bed and Breakfast. Its description:
Built in 1910, this jailhouse was beautifully recreated with the upscale clientele in mind. Recalling the charm of yesterday, the Jailhouse retains the original jail bars and layout. The interior details are fashioned in the style of a mythical dream castle based in an ancient European-style. With its luxurious décor and faux marble floors, you will feel like royalty.
A Small City with a Great College
Ask Oberlin, Ohio residents, including those who call Kendal at Oberlin home, and they're likely to tell you the city has it all: The vibrant liberal arts Oberlin College and its Conservatory of Music, museums and art venues, eclectic shops and eateries, movie theater and other entertainment.
This time of year is especially colorful with downtown and Tappan Square decorations. On Dec. 15 the Oberlin Choristers presents its traditional holiday concert at 7:30 p.m. at Finney Chapel.
The Songs for the Season features its three most advanced choirs "whose voices will ring from the historic Finney Chapel rafters. Literature will include familiar carols as well as new songs that will diversify your holiday music experience. This memorable evening will close with our beloved tradition, Night of Silence."
It's a good idea to make your visit to Oberlin an overnight so you can enjoy a delicious dinner and a hearty breakfast, available at a number of restaurants and cafes. In addition to B&Bs, you can stay at:
The Hotel at Oberlin, one of the most environmentally sustainable hotels in the country. It overlooks Tappan Square and features the 1833 Restaurant, with "seasonally inspired menus showcasing locally sourced ingredients and regional artisan products," open for breakfast, lunch and dinner and weekday "hours of happiness."
A Small City with a Great American Birthplace
Thomas Edison was born on Feb. 11, 1847, in a little Greek Revival home that his father built into the side of a hill overlooking the Milan Canal Basin. The canal is gone, but Edison's home remains standing in Milan, Ohio and is open as a museum and national historic landmark. The home is filled with furniture and mementos from the Edison family, Edison's early inventions and rare photographs.
During your visit, you might also run into Percy the Peacock, who unofficially became a resident of the neighborhood a year ago.
In addition to its normal hours, the Edison Birthplace Museum will also be open for the Saturday, Dec. 1 "Homes for the Holidays," a 1 p.m. to 6 p.m. tour of historic Milan homes to benefit the Milan-Berlin Friends of the Library. (Tickets are $12 in advance and $15 day of the tour.)
Also on the tour are two B&Bs — Angel Welcome and White Dog — (the village also has a third, Milan Inn-Tiques) so you can make Milan an overnight destination. The downtown has shops and restaurants and pleasant residential streets to walk on a brisk winter evening.
Two State Parks on a Great Lake
Maumee Bay State Park in Northwest Ohio and Geneva State Park in Northeast Ohio are both great getaways for couples and families, young and old. Both lakefront parks offer lodges (with indoor pool), restaurants, cabins and hiking and walking trails.
During a stay at Maumee, you can also easily drive to:
Geneva State Park is located in Ashtabula County, home to dozens of museums, wineries and covered bridges. The county is Ohio's Covered Bridge Capital, with 19 covered bridges, including the shortest (18 feet) and longest (613 feet) ones in the country.
A Big City on a Great Lake
Located 35 miles from Oberlin, Cleveland is a thriving major city. It has nationally recognized museums, restaurants and hotels, a vibrant nightlife, major sporting events and more.
Usually on the must-see list of visitors is the Rock & Roll Hall of Fame, which is "like taking a peek into your favorite musician's closet. Not only does our permanent collection contain thousands of one-of-a-kind items — ranging from musical instruments and song lyrics to quirky stage props and colorful costumes — but we're also always borrowing cool memorabilia and artifacts from artists and collectors for our ongoing and temporary exhibits. In addition to these items, the Rock Hall's exhibits feature film, video, interactive kiosks, reading material and, of course, plenty of music."
There is so much to see that many people like to visit on Wednesdays when the museum is open from 10 a.m. to 9 p.m.
The Cleveland Museum of Art is also on that list. This winter museum-goers can see a special exhibit of Georgia O'Keefe.
"The Georgia O'Keeffe: Living Modern offers a unique look into the fascinating connections between the paintings, personal style, and public persona of one of America's most iconic artists. Throughout her 70-year career, O'Keeffe defied convention and forged a fiercely independent identity that was integral to her art. Showcasing several of her paintings alongside her garments — many shown here for the first time — and photographic portraits of her as a subject, the exhibition reveals O'Keeffe's determination to be strikingly modern not only in her art but in her life."
The exhibit runs from Nov. 23 to March 3.
"Glow," the Cleveland Botanical Garden's annual winter extravaganza, runs Nov. 23 through Jan. 5. Events include a gingerbread house display, holiday music, decorated trees and Garden Express rides.
For outdoor fun check out the Cleveland Foundation Ice Rink in Public Square, open until Feb. 28. Skating is $10 and includes skate rentals ($7 if you have skates).
Or hop aboard Lolly The Trolley's holiday lights tour. This year the Silver Bells tour heads into Tremont and rides by the famous house from "A Christmas Story" movie, then heads downtown for a tour of lighted exhibits. All tours leave at 7 p.m. from the Powerhouse at Nautica and reservations are required.
Planning Your Trip to Oberlin, Ohio:
What to Do This Winter
---
Explore Oberlin's hidden gems and get free travel itineraries to plan the perfect trip this winter with our free guide.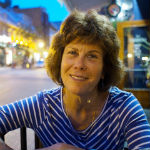 In the past, Molly Kavanaugh frequently wrote about Kendal at Oberlin for the Cleveland Plain Dealer, where she was a reporter for 16 years. Now we are happy to have her writing for the Kendal at Oberlin Community.