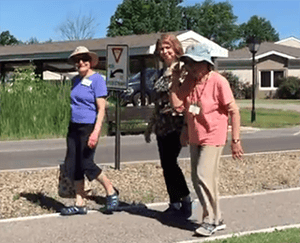 Every summer Kendal at Oberlin residents and staff combine fun with fitness for a weeklong celebration of creativity, camaraderie and non-competitiveness.
This year's Fun Fitness Week, the 14th annual, was June 11 to June 15. Activities ranged from B (basketball and bowling) to W (walks and Wii). In all, there were about two dozen opportunities to have fun. The most popular event was baggo, also known as cornhole, which drew 56 participants, followed by dog fun, which brought 52 people, some but not all with a four-legged friend.
A handful of events, such as lap swims and perimeter walks, were not scheduled, but completed at the person's convenience.
This year about 300 residents, staff, children from the Kendal Early Learning Center and their parents participated in at least one event, though many people did one or more each day.
During Fun Fitness Week scores are not recorded, and no one cares about a person's ability, which makes for lots of laughter for both participants and viewers.
"Fun fitness is about doing fitness activities, but part of good health is to get out and do something different – out of the ordinary – to mix with people you don't normally see or interact with," explained Kathy Caldwell, who chaired the event and either participated in or observed every activity.
"I'm exhausted," said Kathy on the last day.
Name That Tune
A perennial favorite is a game that involves "Name That." In years past participants tried to guess the names of resident dogs, birds and voice and silhouette recognition of residents and staff.
This was the second year for Name That Tune, to the piano accompaniment of resident Marian Lott. She played mostly older songs, such as "Because," once a popular wedding song, "Rhapsody in Blue," "Ave Maria," and "The Old Refrain," and sang a few melodies.
"I'm 94 years old and you'll have to put up with my 94-year-old voice," Marian told participants.
Marian was a professional pianist, teaching at several colleges and often giving faculty recitals. When she moved to Kendal 11 years ago she brought along her Grand Baldwin, which she plays almost every day. She attends as many concerts as she can at the Oberlin College Conservatory of Music.
"The conservatory is a big attraction for many of us," she said, adding, "there's a lot of music lovers at Kendal."
One of the participants was Tina Graf. "Marian was wonderful, and it was very entertaining," she said, even though some of the songs were unfamiliar to Tina, who is 65.
Intergenerational Fun
Children from the Early Learning Center joined in too. A new activity this summer was kite flying, held at the end of the day so parents could participate too.
Resident Dan Reiber bought kite-making kits, and after the children decorated the kites, they let them fly over Flower Hill.
"The kites kept migrating to one of the trees, so we had a lot of tangled kites," says Saun Howard. Saun and Danna Mitchell, both wellness specialists in the Fitness Center, helped to coordinate the event.
Unfortunately, the late afternoon time conflicted with dinner time for many of the 'big kids" (i.e. Kendal residents), so next year might mean a second kite flying activity, Kathy says.
Three dozen kids of all ages showed up for the water balloon toss.
"It was super fun because you passed it and then you passed it again. Then when you caught it you had to take a step back until it popped. It was refreshing to have a water balloon pop cause it was hot outside," 8-year-old Phoebe says.
Indoor and Outdoor Observation Walks
Fun Fitness also includes lifelong learning. Just look at the observation walk handouts.
The indoor walk includes lots of history and trivia.
For instance:
The pendulum clock on the wall next to the library's windows was given to Kendal by Max Morgan and his wife, Muriel. It was mail ordered from Sears and Roebuck around 1930. Max would love for you to ask him how much you think that Sears charged for this clock. That's his favorite trivia question. It is called a "banjo clock" because of its shape. It was made by the Ingraham Company in what city and state? (The answer is Bristol, Connecticut).
The outdoor walk that meanders among resident cottages provided a glimpse of the eclectic interests and activities of residents. Among decorations participants were told to look for were: a Tibetan prayer flag, a parade of elephants, a stained-glass iris, a permanently frustrated Dutch boy and Michigan State memorabilia.
And, of course, the walk is a chance to enjoy seeing all the attractive gardens, both private and public. "What about a weed pulling event?" joked Anne Helm, avid gardener and member of the Kendal's John Bartram Arboretum.
The walk took participants by the Triangle Pond Yacht Club Boat House, where members store their radio-controlled sailboats. Radio-controlled sailing was also an event, with many observers. New resident Jim Walsh was not among them. "I couldn't find the right pond," he says. (Kendal has eight named ponds and wetlands).
Free Fit Fare
Anyone who participated in at least one Fun Fitness activity got to enjoy a complimentary luncheon on Friday, held after the CommUnity Walk.
Providing healthy food is always a focus of Chef Scott Stonestreet, but he kicks it up a bit for the Fun Fitness luncheon. This year's entry was such a hit we wanted to share with our readers.
Peach Basil Grain Salad
8 oz. 5-grain blend

4 oz. sweet potato, diced

1/4 cup fresh flat leaf parsley

2 T. fresh basil, chopped

4 oz. diced peaches sliced

2 T. pecan pieces large candied

3 oz. dressing peach basil

2 T. crème fraiche

Garnish with bull's blood microgreens
Dressing recipe
1/3 cup white balsamic vinegar

1 garlic clove, minced

2 tablespoons brown sugar

1/4 teaspoon freshly ground pepper

1/8 teaspoon salt

2 tablespoons olive oil

1 large peach, chopped

1 1/2 tablespoons chopped fresh basil
Directions
In a medium bowl add the first 6 ingredients. Toss grain salad with the dressing.

Plating: In a serving bowl paint the crème fraiche on one side of the bowl using all 2 T. Fill bowl with dressed grain salad and garnish with a pinch of bull's blood microgreens

Serving: Scoop salad taking some of the crème fraiche along with the grain salad.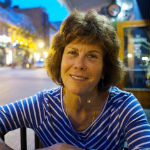 In the past, Molly Kavanaugh frequently wrote about Kendal at Oberlin for the Cleveland Plain Dealer, where she was a reporter for 16 years. Now we are happy to have her writing for the Kendal at Oberlin Community.