Published: September 17, 2020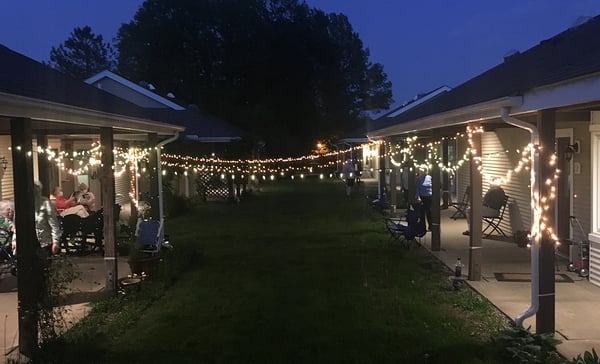 A community can be a lot of things. A neighborhood. A group of like-minded individuals. People who share a common commitment or investment. A life plan community is all that and more, along with the social supports such a community can provide during a pandemic.
"A hidden health risk of the COVID-19 pandemic struck older adults with a vengeance — social isolation. They have been told to remain home to reduce risk of exposure. Sheltering-in-place has meant less contact with family, friends, and the places where they socialized, volunteered, and remained engaged," writes Lenard Kaye, a professor of social work and director of the Center on Aging at the University of Maine.
Like many life plan or Continuing Care Retirement Communities, Kendal at Oberlin has had to limit access to its campus because older adults are more at risk of getting seriously sick and dying from COVID-19. But because the campus is comprised of 300+ vibrant and creative men and women who work closely with its committed and caring staff, social isolation has been curtailed.
Says Betsy Mirel, who moved to Kendal two years ago with her husband, "In the beginning of the pandemic there was a sense of loss. Our whole routine had turned into confetti. But I can't think of any better place to be than Kendal."
Laser Focus on the Changing Landscape
From wearing masks to shopping safely for groceries, many older adults have had to navigate the ever-changing guidelines from our political and medical leaders on their own. Not Kendal residents.
Since early May, Kendal's New Normal Planning committee has been meeting on Zoom. At first the group, comprised of eight residents and six staff members, met twice a week. Now they meet every other week.
The committee has tackled a myriad of issues related to safe practices during a pandemic for a life plan community: Where can residents go off-campus? (It depends, check protocols.) What about campus visitors? (Outside visits OK, protocols.) Can residents use the pool and the auditorium? (Yes, there are protocols) What about playing bridge and table tennis? (Not yet but working on protocols.).
This work parallels a written Phased Reopening Plan that started at Phase 0 (complete quarantine) to a Phase 4 (expected sometime after a vaccine in 2021). As of September, Kendal is in Phase 2.
The committee is advisory, meaning at the end of the day "the administration has to sign off," says Gary Olin, president of the Kendal at Oberlin Residents Association and member of the committee.
CEO Barbara Thomas is also on the committee and applauds the members' commitment.
"I cannot imagine not having this group of staff and resident leaders meeting regularly, brainstorming new ideas for adjusting to the new normal while staying safe and seeking out the latest research to guide our decisions," she says. "Our operational and residential members have frequently reached beyond the group to be sure other resident and staff views are included making it even more valuable to our Kendal community. They bring not only their leadership and distinct expertise, but a serious commitment to treat every decision responsibly."
The other critical task of the committee is making sure residents know about the latest requirements. A "New Normal FAQ" is posted online and updated regularly, and a hard copy is available in the library. Residents can email committee members with questions and concerns – and they do, often attaching newspaper and medical journal articles.
In addition the administration sends out regular email updates containing local, regional and national COVID-19 news along with tips to help shelter in place. These are also posted for family and friends on the Kendal at Oberlin website.
Bubbles and Zoom Gatherings
We've all heard about "bubbles," an idea that originated in New Zealand as a way to increase socialization during a pandemic. In May, the New Normal Planning Committee recommended guidelines for a "two-household" bubble for Kendal residents.
Each household can adopt only one other household;
The two households are exclusive and not interchangeable;
The households can visit and share a meal, but it is recommended that they each bring their own dishes.
The program is optional and participating households must sign a form agreeing to the guidelines. More than 50 residents have created a two-household bubble.
Alone & Sharing was created so the 126 solo residents could talk openly about their experiences and challenges during the pandemic. Groups of five residents met in-person with a facilitator (6 feet apart and wearing face masks) for about an hour. In all, 78 men and women participated. Some continue to meet. Others have been inspired to reach out to residents they wish to know better
As one Alone & Sharing participant said, "Being alone together is better than being alone alone."
Then There's Zoom
Even before the pandemic, Kendal at Oberlin strived for state-of-the-art technology but since COVID, the retirement community has really ramped up its offerings to keep residents safe, informed and engaged.
For years residents have relied on Kendal's cable TV channel WKAO for daily menus, activities and other news. Now residents have two more channels to watch – KOTV and WSCC. Programming, which is not continuous, includes recorded exercise classes, movies and Zoom meetings. New residents are introduced to the community via televised Zoom interviews.
Events of 10 or fewer people have returned to Heiser Auditorium, which had been in the process of updating its audio-visual equipment including TV cameras. In July, six residents read one-act plays, attended by four residents who have recently moved to Kendal, and the event was recorded and shown on cable TV.
The third channel, WSCC, focuses on programming for Stephens Care Center residents, but all residents can tune into any of the three channels. A handful of local church services are shown on Sundays, which has been meaningful for a number of residents.
Like many places, "Zoom has saved our lives," says Bruce Richards, co-chair of the newly formed Joint Committee on Technology.
Instead of gathering in Heiser Auditorium, residents turn to Zoom for meetings, Song Swap, dementia-friendly discussions and special events. Zoom events are also shown on cable TV.
"I'm on the AV committee and the calendar is almost back to what it was pre-COVID," says Joyce Benjamin, resident engagement coordinator and member of the New Normal Committee.
Fun and Engaging Gatherings
Kendal musicians have been meeting outside in Kendal parking lots to play chamber music and residents are finding creative ways to stay fit.
To celebrate his 80th birthday, Jim Walsh walked 80 miles in eight days around the campus. Unable to go on a 5-day, 345-mile bike trip with WomanTours, Charlotte McGowan biked around Kendal's one-mile perimeter 345 times and chronicled her trip on Facebook.
Oberlin College commencement was canceled in May which also meant no Illumination event in Tappan Square. So, Kendal decided to have its own Illumination, using Christmas lights, battery-operated tealights and candles.
"Our hundreds of lights sparkling in the warm evening air, sharing with our neighbors recreated some of the enjoyment of campus Illumination. It felt as festive with the hanging lights (Christmas lights), music (courtesy of neighbors' percussion), mingling crowds (staying 6' apart yet with as animated conversation) and cherry pie with ice cream. It felt a little like Kendal before Covid-19," says resident Mary Behm, OC class of 1966.
Amanda Hooley, life enrichment coordinator for Jameson House, a memory support neighborhood for up to 12 residents, came up with an idea to help residents reach out in a lighthearted way.
"We have one resident who is very good at winking so one night at dinner I asked everyone, 'let me see your wink,'" she says. The winks were across the board and delightful, so Amanda decided to record their winks, along with winks from staff, and put together a video to share with family and friends.
At the beginning of the pandemic, Don Parker wrote a song "COVID You Sly Corona" sung to the tune of "You Are My Sunshine" and at 3 p.m. residents in one of the neighborhoods came out on their patios and sing the upbeat lyrics. Now they gather for stretching exercises and Tai Chi.
When COVID-19 first forced the campus to close in March, Charlotte McGowan organized a socially distant poster brigade to send a message of hope to family and friends.
"We will never return to what we were. There will be a new normal, but we will always keep a sense of what Kendal is," says Charlotte, a member of the New Normal Committee.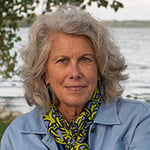 In the past, Molly Kavanaugh frequently wrote about Kendal at Oberlin for the Cleveland Plain Dealer, where she was a reporter for 16 years. Now we are happy to have her writing for the Kendal at Oberlin Community.