Published: April 26, 2023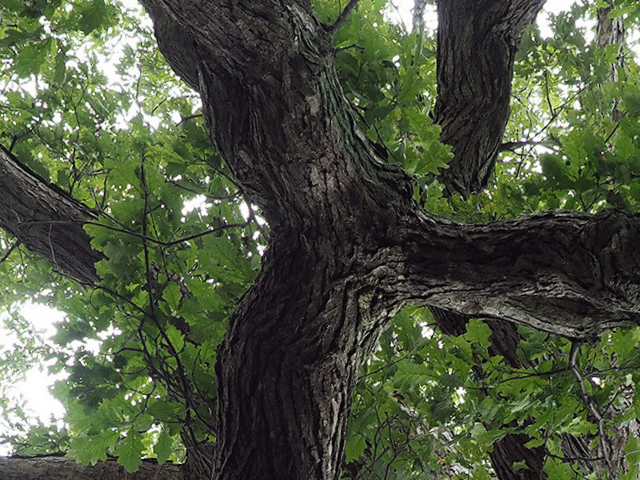 When it comes to trees and all things green, Kendal at Oberlin has a lot to be proud of this Arbor Day! Kendal residents and staff are all for enhancing and preserving plant life on its 110-acre campus.Since its inception 30 years ago the community's focus on preserving its wetland and woodland areas has been unwavering, and that focus was intensified in 2016 when the campus grounds was designated as an accredited arboretum.
What better time than Arbor Day on April 28 to highlight three exciting plant projects underway at Kendal?
1. Swamp White Oak
"Big Lady" is what Rachel Duncan, Horticulturist and Arboretum Curator, fondly calls the oldest tree on Kendal's campus. The Swamp White Oak is 44 inches in diameter and it's old – how old will be determined this summer by an Oberlin College professor skilled in the use of an increment borer.
The Big Lady is called a "legacy tree" because of its size and age, and Kendal's Legacy Circle of Friends, which recognizes those who financially support the nonprofit community, decided this year to branch out, so to speak.
Instead of sponsoring an event to honor donors, the Legacy Circle decided to plant a Swamp White Oak as a symbol of continuing the legacy already started at Kendal. The tree planting ceremony will be held on Arbor Day at 2:30 p.m. Later this year the Horticulture Committee is planning a presentation from a legacy tree expert.
Rachel expects the new tree will thrive. "The tree is native to the area and we have more Swamp White Oaks on campus because Kendal is swampy and wet," she says. As for the original legacy tree, it is in fairly good shape and probably has another 50 years of life left, says Rachel, who would like to draw more attention to this impressive and photogenic tree. It is located in the woods between Lots 3 and 4, and a bench and pathway are nearby. She and others would like to add educational signage and erect a banner about the tree along with the John Bartram Arboretum logo to the Kendal entrance.
2. Wildflower Hill expansion
Wildflower Hill is a popular destination for walkers, dog owners, birders and Full Moon enthusiasts, so Kendal decided to expand it. The base of Wildflower Hill was seeded late last year, which means a colorful sweeping bloom of native wildflowers and grasses around 2025. Once complete, the nearly 3-acre area with a new gazebo should attract even more birds and pollinators along with residents.
"Resident Nina Love coordinated with the Black River Audubon Society to get brand new blue bird boxes added - and old boxes replaced - and they have already been installed. She is already seeing activity at the boxes," Rachel says.
The monthly Kendalight newsletter always includes a list of "Nature Sightings" by residents and staff. The list is diverse, from bald eagles to coyotes, and should become even more so once the Wildflower Hill expansion project is complete, Rachel says.
3. Tree Campus Healthcare® designation
The Arbor Day Foundation recently named Kendal at Oberlin a 2022 Tree Campus® Healthcare institution for its commitment to planting, nurturing, and celebrating trees.
To date, only 35 organizations in the United States are designated a Tree Campus® Healthcare organization. Others in Ohio include the Cleveland Clinic (Cleveland), Cleveland Clinic Akron General (Akron), and The Ohio State University Wexner Medical Center (Columbus).
In order to receive this recognition, Kendal at Oberlin had to meet five standards:
Maintaining a tree advisory committee
Having a facility tree care plan
Completing a community forestry project
Educating the community on the importance of trees
Investing in a campus tree program
This is an annual designation, and one that Kendal plans to continually pursue.
Kendal received another key designation for its grounds in October 2022. The campus was accredited as a Level II Arboretum by ArbNet, the international community of arboreta and other tree-focused institutions.
Check Out Our New Gardening Guide:
---
Gardening is a great activity at all ages. Get helpful tips here!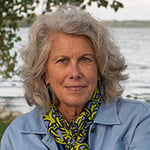 In the past, Molly Kavanaugh frequently wrote about Kendal at Oberlin for the Cleveland Plain Dealer, where she was a reporter for 16 years. Now we are happy to have her writing for the Kendal at Oberlin Community.
About Kendal at Oberlin: Kendal is a nonprofit life plan community serving older adults in northeast Ohio. Located about one mile from Oberlin College and Conservatory, and about a 40 minute drive from downtown Cleveland, Kendal offers a vibrant resident-led lifestyle with access to music, art and lifelong learning.