Published: September 12, 2016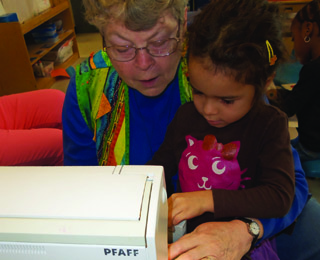 The joys of being a grandparent are pretty much universally accepted and understood, even among those who do not wear such an insignia. Grandchildren also benefit in ways small and big, from "My grandma lets me eat ice cream in bed" to exciting vacations and college funds.
Today, we talk in more general terms about the joys and benefits of intergenerational relationships that include people of all ages and from a variety of backgrounds. And there are ample opportunities for such rich relationships to develop, especially in life plan communities, college towns and urban areas.
"There is magic when you mix experience, wisdom and fresh perspectives," proclaims Generations United, a national organization that focuses on improving the lives of children, youth and older adults through intergenerational strategies.
The Benefits
The first widespread intergenerational program was developed in 1963. Called the Foster Grandparent Program, low-income older adults were paired with special needs children to help ease the isolation and poverty experienced by both.
The program's success led to more programs, and now the benefits of intergenerational relationships for both young and old are widely recognized.
Benefits for older adults who regularly interact with the young include:
Improved physical health: They burn more calories, experience fewer falls and are less reliant on canes.
Improved mental health: They perform better on memory tests, and those with dementia experience more positive effects than in non-intergenerational activities.
Improved emotional health: Feelings of isolation and depression decrease and self-worth and happiness increases.
Self-esteem also increases for children, along with improved behavior.
A Big Brothers Big Sisters study compared children who were paired with a mentor to those who were placed on a waiting list.
Researchers found that after 18 months of spending time with their Big Brother or Sister, the children were:
46% less likely to begin using illegal drugs;
27% less likely to begin using alcohol;
52% less likely to skip school;
37% less likely to skip a class;
33% less likely to hit someone.
The community benefits too.
According to Grantmakers in Aging, intergenerational programs give a community:
Enhanced awareness and appreciation of cultural heritage and traditions;
Increased collaboration between local organizations;
More vibrant and cohesive communities;
Greater community support for school and youth programs
Intergenerational Opportunities for Older Adults
In The Gift of Years, Joan Chittister writes about the importance of agelessness to those who are older.
"Children give us a lifeline to the present and the future that is denied to us if we sit alone in an independent-living unit. They don't play checkers much anymore, but they can teach us all about video games. They might not sing lullabies, but they know the words to every song on the radio. They tell us what the new language means. They keep us in touch with a warm and breathing world. They keep us warm and breathing, too," she writes.
Joan Chittister is a member of the Benedictine Sisters of Erie, which operates the Neighborhood Art House for at-risk children in Erie, PA. Along with providing children with literary, visual and performing arts opportunities, the youngsters develop relationships with the volunteer men and women, of all ages and backgrounds, through reading and other programs.
Want to get involved with the younger generations?
Generations United maintains a directory of intergenerational programs, but it is not comprehensive. A good way to find a local program is to contact community organizations in your area that work with children and ask about volunteer opportunities. Depending on what age you are looking for, contact libraries, schools and colleges, senior centers, hospitals, churches, homeless shelters, daycare and after-school programs.
If you can't find a program, maybe you can help an organization start an intergenerational program. What a gift that could be for so many young and old in your community.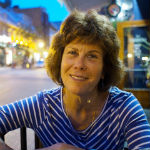 In the past, Molly Kavanaugh frequently wrote about Kendal at Oberlin for the Cleveland Plain Dealer, where she was a reporter for 16 years. Now we are happy to have her writing for the Kendal at Oberlin Community.