Published: August 24, 2022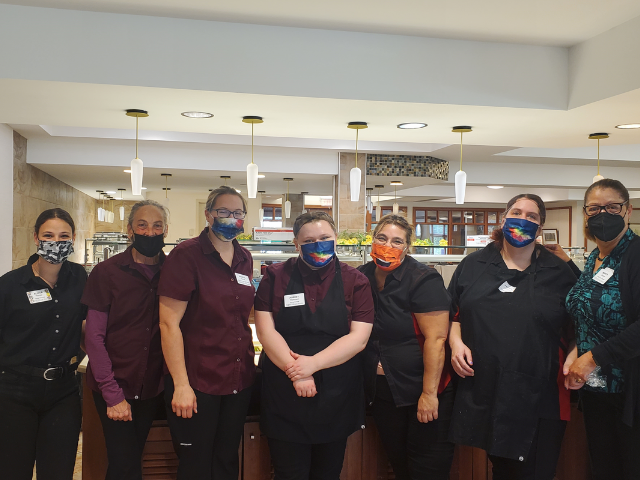 Kendal at Oberlin, and Kendal Corporation's other affiliates are independent and not part of, or sponsored by any religious or social institution,
but they were founded and continue to grow with intentional regard for the principles of the Religious Society of Friends, also known as Quakers.
Throughout 2022 we will explore Kendal "Values and Practices" and how they guide community life at Kendal at Oberlin.
Kendal residents will tell you that Kendal at Oberlin is a good place to live, and one of the main reasons for their praise is that Kendal is also a good place to work. Hiring and retaining talented, engaged and committed staff has been front and center since the community opened its doors in 1993, living out its value of "fostering a high quality work experience for staff."
CEO Barbara Thomas, who recently celebrated her 30th anniversary at Kendal, shared this story in Kendal's monthly newspaper: "Recently a staff member wrote 'it's been a long time that I've worked at a place where I truly feel my work is needed and appreciated and makes a difference for the people I'm serving.' I have no doubt that employee gives 110% every day and stands behind her work proudly. I see staff every day, in every department doing their jobs under difficult circumstances. They care so much about our residents and want to do well by them."
Homegrown tomatoes and other Kendal benefits
Everyone prefers homegrown tomatoes, which is why Kendal likes to promote employees from within the community, enrolling them in the Kendal Academy to learn new or advanced job knowledge skills such as State Tested Nursing Assistant Training. This development program encourages employees to stay with Kendal long-term, not only because they desire our value-based culture, but also because they can build their careers and earnings.
Kendal also has a College Tuition Bonus Program. This program allows high school students working at Kendal to make a commitment of 10 weekly working hours to receive monthly credits of $100 towards funds for college or for other post-high-school learning institutions. Maximum credits earned for each working student in one calendar year is $1,200.
Along with medical, dental and vision insurance, paid time off and retirement plans, Kendal benefits include:
On-site nationally accredited preschool
Financial Assistance for educational programs with Kendal Academy and other schools
Fitness center with pool and workout equipment room
On-site bank
Winter storm days (Employees can bring their young school-aged children when schools close due to severe winter weather)
On-site weight watchers program
Kendal continues to look for ways to strengthen its commitment as a "a caring and competitive employer," as outlined in one of its seven goals in its Strategic Plan 2022-2026.
An existing difficulty in recruiting and retaining employees in the senior living field reached new levels as the COVID-19 pandemic spurred wage competition for many entry level jobs. To continue as a model life plan community, Kendal must be an employer of choice by offering competitive wages, refining and expanding its recruitment and relationship-building efforts, helping employees to advance and grow, and fostering a community-wide culture that values care and respect," the report states.
Core value behaviors for staff
Staff members are introduced to Kendal's 14 core value behaviors at orientation:
Commitment to Residents

Communication

Continuous Learning and Education

Teamwork

Valuing Diversity

Creativity & Innovation

Decision Making

Employee Ownership

Ethical Behavior & Integrity

Planning & Organizing

Professional Manner

Quality

Results Orientation

Safety & Environmental Awareness
In WeCare Connect, a job satisfaction survey program currently used by Kendal, responses by staff were higher than the benchmarks in areas of Teamwork, Feeling Safe at Work and Welcoming at Work.
After 23 years in Dining Services Monica Fuquay knows firsthand what makes working at Kendal so special. "Being with residents teaches me so much," she says. "I love to serve, and see how much they love what they eat. I love my job every day."
Kendal Career: More Than a Job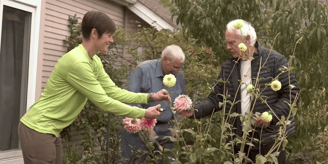 Rewarding way to grow creatively and intellectually.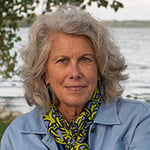 In the past, Molly Kavanaugh frequently wrote about Kendal at Oberlin for the Cleveland Plain Dealer, where she was a reporter for 16 years. Now we are happy to have her writing for the Kendal at Oberlin Community.
About Kendal at Oberlin: Kendal is a nonprofit life plan community serving older adults in northeast Ohio. Located about one mile from Oberlin College and Conservatory, and about a 40 minute drive from downtown Cleveland, Kendal offers a vibrant resident-led lifestyle with access to music, art and lifelong learning.