Published: August 19, 2019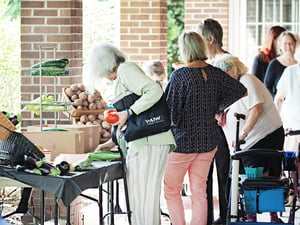 Just like harvest season, the Oberlin Farmers Market ebbs and flows too.
The market began 20 years ago in Tappan Square and several moves later is now located in front of the Oberlin Public Library, every Saturday from May through October, 9 a.m. to 1 p.m. In November the market moves indoors to the Oberlin Early Childhood Center.
Vendors have come and gone, too, as the regional farmers market scene continues to expand and lure vendors away. This season, about a dozen vendors have set up shop in Oberlin, selling fresh fruits and vegetables, frozen farm-raised beef, homemade pies, local honey, flowers, and more.
And the entertainment has changed too. There are no puppet-making or bee beard displays this summer, but an eclectic mix of musicians is always on hand. For a few years shoppers could use a credit card; now it's cash only.
But the market's dual mission continues. It provides a venue to buy fresh food and build community.


Learn more about other events, activities and attractions in Oberlin >>


A Place to Sell Northeast Ohio's Harvest
"They have the best white corn anywhere," says Roy Ebihara as he finishes shopping at the Sapp Family Farm stand one Saturday in August. Sapp, based in Pittsfield, also sells honey, maple syrup, and in-season fruits and vegetables.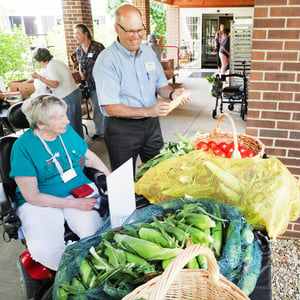 So does Pine Ridge Farm, which will end its growing season selling pumpkins, gourds and winter squash. "We have been here since 2014, and 2019 is our best year yet," proprietor Lavern Burkholder says.
Another Amish vendor is Sunny Meadow Meats (formerly J & R Meats), which sells frozen, hormone-free beef, pork, chicken and lamb, plus eggs and dog bones.
Sunny Meadows is the only vendor selling meat, but several sell sweets.
Joe Schlott began selling homemade apple pies on his front porch in Westlake 15 years ago. Now his business, Gray House Pies, operates out of a Westlake shop and at area markets. His menu of cream and fruit pies varies, depending on the season. Alas for rhubarb lovers, the season is over for rhubarb and strawberry-rhubarb pie.
"It's like politics – people are either purists, rhubarb only, or strawberry-rhubarb," Joe says. (What about the "Rhubarb? No way!" third party?)
Mission: Soup & Sweets was founded by Becky Rink to help address the food needs in Northeast Ohio. The soups and sweets are homemade, hearty and affordable, and profits go toward feeding food-insecure residents. Becky's goal is to eventually have a storefront, but for now is selling frozen soup, cobbler, cookies and other pastries at farmers markets (besides Oberlin's, she's a fixture at markets in Tremont, Strongsville and Old Brooklyn).


A new guidebook to Cleveland's thriving restaurant scene >>


A Place to Bring People Together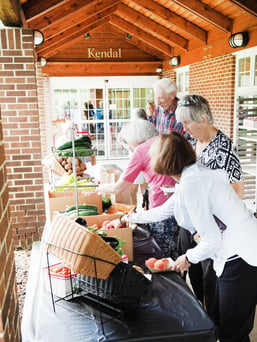 "The folks who come here are socializing. The farmers market is a community activity for a lot of people," says Shelby Warrens, who is both a vendor (Sapp Family Farm) and market board member.
This is the fourth year for Sapp Family Farm, which means Shelby has gotten to know many shoppers by name. People bring dogs and children, sometimes both, often arriving by foot or bike. No one seems in a rush to leave. Shoppers linger to listen to music and talk with friends, maybe make new ones.
Along with puppet-making, other community-building events over the years have included free bike repairs and a salsa contest. "We try to have a balance and we're always looking for other vendors," says John Gates, market board member.
One perennial gathering spot is the Santa Elena Project of Accompaniment, or SEPA, booth.
The non-profit was founded in 1997 to support human rights work in Guatemalan Maya communities.
SEPA sells various items at the market, including baked goods, woven goods and jewelry. "About a third of our donations come from the farmers market," says John, a SEPA board member himself.
SEPA also raises money from its annual dinner and dessert auction, held in February at First Church in Oberlin; calendar sales; and a handful of local B&B's, who donate lodging sales. Funds are used for student scholarships (education often ends after 6th grade), teacher salaries and other educational projects in Guatemala.
Oberlin, Ohio - a Great Place to Live
The Oberlin Farmers Market is just one reason Oberlin, Ohio, is a vibrant community with opportunities for learning, personal growth, and close proximity to city amenities.
Read our "Why Oberlin?" guide to learn more about:
Kendal at Oberlin's relationship with Oberlin College.
Cultural attractions like the Frank Lloyd Wright House and music conservatory.
Community-focused activities and events.


In the past, Molly Kavanaugh frequently wrote about Kendal at Oberlin for the Cleveland Plain Dealer, where she was a reporter for 16 years. Now we are happy to have her writing for the Kendal at Oberlin Community.