Published: May 14, 2021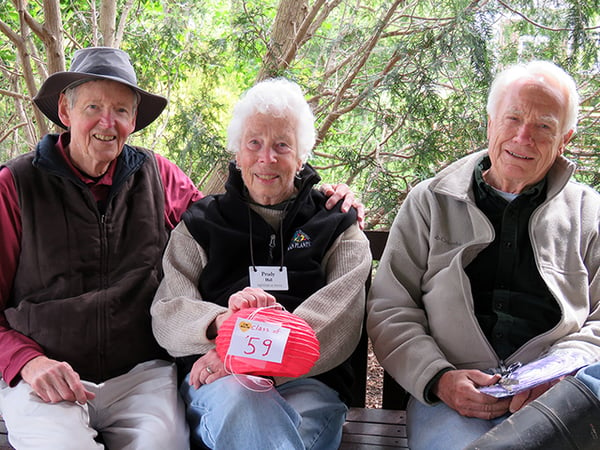 Over the years Larry Mirel's busy legal career in Washington D.C. kept him from returning to his alma mater, Oberlin College, for the Class of 1957 reunions.
When Larry retired and moved to Kendal at Oberlin in 2018 he became 1957 class president ("Every year we elect a president, how I got to be, it's beyond me.") and started planning the 65th reunion for May 2021.
(Oberlin College reunions are held in clusters of three classes and this year the 65th cluster is classes 1955, 1956 and 1957).
Last year, the college canceled reunion. But this year reunions are on, though the May 17-23 reunion week is entirely virtual.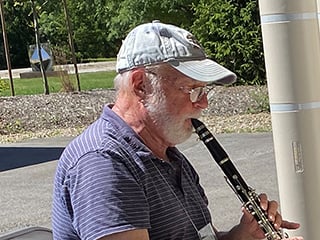 "That is really too bad," Larry wrote to his classmates (about 270 of them) in a letter announcing the reunion. "I would have liked to have seen some of you on campus and perhaps given you a personal tour of Kendal at Oberlin. But there is a silver lining, and it is significant. This year wherever you are and however much or little time you have, you will be able to join in the events of Commencement weekend by simply clicking on a link. You will not have to make the trip to campus and there will be no cost to your participation. You will have no excuse not to attend and I expect we will have many more of our classmates than usual. I hope you will prove me right."
Virtual Reunion Captures Oberlin College Spirit
Larry grew up in New Haven, Connecticut and was looking for a college that was small, liberal arts and coed with a strong music department – he played clarinet (and still does).
"All of those pointed to Oberlin College, it's civil rights activities clinched it for me," said Larry, who first visited the campus after deciding to attend.
During his college years Larry played in the Oberlin Orchestra and heard Dr. Martin Luther King, Jr. speak at the First Church.
Fast forward to 2021, the 85-year-old Kendal resident and other alumni organizers along with the OC Alumni Association have put together reunion activities that reflect many of OC's enduring values.
Larry and another 1957 alum, Dr. Johnnetta Cole, former president of Spellman College and former director of the National Museum of African Art, are presenting a panel discussion entitled "Voting Rights and Voter Suppression: Today's Key Civil Rights Issue."
Another panel discussion, "Pandemics: past, present and future" will be presented by Dr. June Osborn, MD, a leading researcher during the AIDS epidemic, also a 1957 graduate.
Want to Experience OC Fun?
How many pianos can one world-renowned conservatory fit on a computer screen? Visit the Warner Concert Hall Live Webcast homepage on Monday, May 17 at 7:30 p.m. to find out.
For the first time ever, the annual Grand Piano Extravaganza will be presented via livestream from the piano-packed stage of Warner Concert Hall. The program, which kicks off reunion week, features live performances by piano faculty and staff, as well as a virtual performance of Beethoven's 32 Variations in C Minor, WoO 80 by graduating piano students.
Another OC tradition, the Tappan Square Illumination, will be virtual. Students, alumni and OC supporters are encouraged to submit a photo of themselves with a lantern or other source of light for the virtual illumination May 23 at 7 p.m.
While not part of the reunion activities, Larry is encouraging his former classmates and others to check out a 20-minute virtual concert on YouTube by the Oberlin Arts and Sciences Orchestra, in which a number of residents from Kendal regularly play.
"The Beethoven Choral Fantasy piece alone involved more than 200 musicians, including a piano soloist, a string quartet, two full orchestras, six vocal soloists and a 70 voice choir, most of whom were recorded separately on different days and locations," Larry wrote in his alumni letter.
Kendal's connection to Oberlin College is strong. About 40% of residents have a college connection – alumni, faculty or staff – and the retirement community typically offers tours and open houses during Commencement weekend, which is when the reunions are traditionally held.
But this year is different. The 2021 OC commencement is in-person this Friday, May 14 and its two separate ceremonies will be live-streamed at 9 a.m. and 2 p.m. You can be sure many Kendal residents were watching.
Why Oberlin?
A Guide to Dining, Shopping, and Attractions
---
Discover a few of the restaurants, shops, and one-of-a-kind experiences you can only find in Oberlin!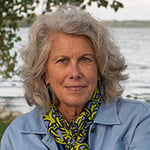 In the past, Molly Kavanaugh frequently wrote about Kendal at Oberlin for the Cleveland Plain Dealer, where she was a reporter for 16 years. Now we are happy to have her writing for the Kendal at Oberlin Community.
About Kendal at Oberlin: Kendal is a nonprofit life plan community serving older adults in northeast Ohio. Located about one mile from Oberlin College and Conservatory, and about a 40 minute drive from downtown Cleveland, Kendal offers a vibrant resident-led lifestyle with access to music, art and lifelong learning.