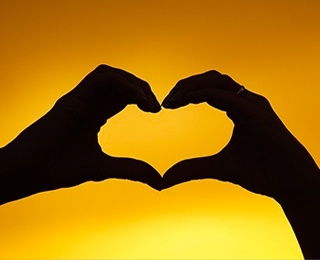 Loneliness can be bad for our health. We need meaningful relationships to thrive, no matter our age. Research focused on older adults has found that the lack of close connections can lead to poor physical and mental health and premature death.
"It's not the quantity but the quality of your relationships that matters," said Dr. Carla M. Perissinotto, a geriatrician who led a 2012 study at the University of California, San Francisco, that examined aging and loneliness among 1,600 men and women over age 60. The study found that in the six-year follow-up period, more than half of the self-identified lonely people had difficulty with basic housekeeping and personal tasks, and almost half had a greater risk of dying earlier than older adults who felt more connected to others.
Many older adults have close relationships with their adult children and grandchildren as well as friends, both old and new. Many develop intergenerational relationships, often with children of relatives and friends or through mentoring and other volunteer programs.
And, of course, many older men and women have a soulmate, a spouse or partner to share their daily life. Some are celebrating their 50th or 60th anniversary together, while others are recently wed or starting a new relationship.
Finding Love
Some older adults find love through online dating websites, according to a 2016 Pew Research Center study. Twelve percent of Americans between ages 55 and 64 used an online dating website or app in 2016, double the 2013 ratio.
Others find love next door, meeting each other while living at a retirement community. In celebration of Valentine's Day, JoDee Palmer, admissions assistant at Kendal at Oberlin, decided to highlight several couples who met at Kendal in a display outside the Marketing/Admissions office. Here are their stories:
An Oberlin College Reunion Leads to Marriage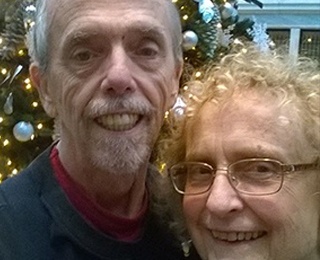 Harvey Culbert and Louise Luckenbill were 1958 classmates at Oberlin College, but did not know each other very well during college – Harvey's major was physics and Louise's was zoology. In 2008, at their 50th class reunion, Louise and Harvey talked, and he shared that his wife, Alice (also Class of '58), had died of cancer at Kendal the year before. Louise's consoling hug at the lunch table triggered an urge in Harvey to get to know Louise better. She was receptive to "love and romance," as Harvey put it.
Later that year, they visited each other; Louise was living in Woods Hole on Cape Cod and Harvey at Kendal. They visited Yellowstone over the holidays with lots of questions. Could they get along together? Room together? Cross-country ski together? Enjoy science and music together?
The answer was "yes", they discovered, and they were married during the Quaker Meeting on Cape Cod in November 2009. They now spend their winters at Kendal and summers on Cape Cod. They still take trips together, now often on Amtrak, plus they're still skiing.
A Couple Connects through a Kendal Committee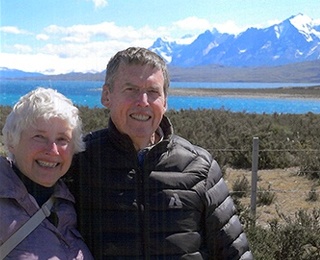 David Evans and Louise Shoemaker, both widowed and living at Kendal, met while working together on a Kendal Play Readers production. "Both of us were ready for a relationship after years of attending to our ailing spouses. Friendship quickly became love as we realized what an incredible thing we had together," they say.
For now, they have decided to keep separate cottages, saying they "enjoy our space as well as our togetherness." They also love to travel: They're pictured here in Patagonia, Chile.
"For us, the second time around has been amazingly good. We are very happy together and very thankful, not only for this wonderful opportunity, but for good health to make the most of it," Dave and Louise explain.
Bird Watcher Meets Middle Ages Scholar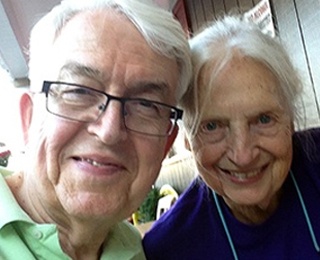 It all started innocently. In 2016, Grover Zinn and Nina Love attended a play, followed by dinner until midnight and two piano concerts – all in one week. "Suddenly, it was clear there might be a reason to spend more time together, and it's turned into a mighty interesting journey," according to Grover and Nina.
They are getting to know each other's extended family and friends at Kendal, in Oberlin and around the country and finding out what they already know or need to learn about each other.
At home, they enjoy eating breakfast over the morning puzzles and having long conversations.
"Above all, we are wildly enjoying this new life shared with each turn in the road. And who knows – Grover may become a bird watcher yet, and Nina may learn a teeny wee bit about the Middle Ages. Max, the Cocker Spaniel, seems to think we're a cool couple and is lapping up double the attention," the couple says.
Young Employees Find Love at Kendal Too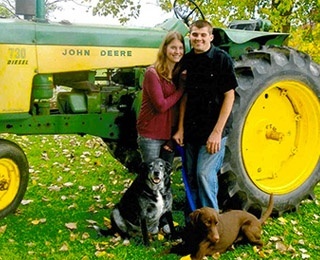 Jonah Becker and Rachel Zurcher first met in elementary school, then reconnected at Kendal. Rachel started working at Kendal in June 2009, Jonah two years later.
"While working together and spending time together and with friends encouraging us to be a couple, we took our friendship to the next level. On the last day of the Lorain County Fair of 2012, we officially became a couple," Rachel and Jonah explain.
The couple, both in their 20s, love spending time with their "furry, four-legged, 5-year-old son" taking night walks by Lake Erie, traveling to Nashville, Las Vegas and other destinations. "We are looking forward to a much-needed six-day cruise with Jonah's family to the Caribbean this coming May," Rachel says.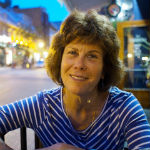 Molly Kavanaugh frequently wrote about Kendal at Oberlin for the Cleveland Plain Dealer, where she was a reporter for 16 years.