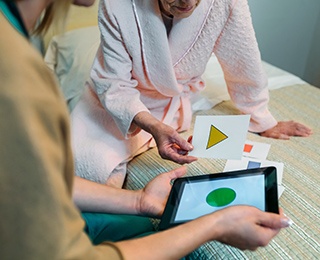 There are currently estimated to be over 46 million people worldwide living with dementia, and by 2050 the number of people affected is set to rise to over 131 million.
Alzheimer's Disease International has designated September as World Alzheimer's Month to promote awareness, advocacy and education around the different brain disorders (there are more than 100, with Alzheimer's the most common) that affect memory, thinking, behavior and emotion.
This is also the time of year when the Alzheimer's Association's "Walk to End Alzheimer's" is held in hundreds of communities throughout the United States.
The Oberlin walk is Sept. 22, and as in previous years, Kendal at Oberlin is raising money and recruiting residents and staff members to join in the walk.
Dementia advocacy, though, is year-round at Kendal.
Book Club and Ongoing Discussion Group
It's understandable why many older adults might not want to talk about cognitive decline, given that one in 10 people age 65 and older has Alzheimer's dementia.
But residents and staff at Kendal at Oberlin have taken a proactive approach. They have started a series of book clubs to promote a better understanding of and support for living with the challenges of cognitive changes.
"I think dementia particularly threatens our community, given that we have so many residents who are professors and highly educated. We hope the book clubs will help to start a campus-wide dialogue on how to continue relationships with residents living with dementia," says resident Elizabeth Hole, chair of the Conversations Working Group.
___________________________________________________________________
Hear an interview with Elizabeth Hole on Kendal at Oberlin's Podcast 5: Dementia Education
___________________________________________________________________
Elizabeth wrote about Kendal's experience with the book clubs for the Dementia Action Alliance website. Here is an excerpt from her article entitled "Building a Staff and Resident Partnership around Dementia:"
"After wide reading, we selected two books on dementia. We chose Dancing with Dementia by Christine Bryden because Christine has dementia and writes about what it feels like to live with it. We were very pleased to find that the participants developed a very personal understanding of Christine's life with dementia.
Staff and residents liked the book because 'it felt like real life.' One of the care partners said, 'I am more patient with those living with dementia, and I don't avoid them, when before I did.'
We also selected Dementia Beyond Disease: Enhancing Well-Being by G. Allen Power because it presents a philosophy of dementia care based on supporting the sense of well-being for those living with it. For Dr. Power, the elements of well-being are identity, connectedness, security, autonomy, meaning, and growth building to a sense of joy.
We were pleased to find that these staff/resident groups built a more mutual understanding of our philosophy of dementia care. These book groups could not have happened without the creativity, hard work and the determination of staff and residents to work together and create a community of mutual respect, caring and support for all of us and especially for those living with dementia."
Tips culled from the books for family and friends:
Make a short list of things we should do each day, such as brush teeth;
Don't wear us out with lots of activities, but find one or two things that we really like to do;
Don't interrupt our thread of thought, but let us interrupt you when an idea comes into our head;
Try to avoid direct questions, speak clearly and slowly.
Book club members have talked about other ways to promote communication with residents living with dementia. For instance, keep dinner gatherings small (two to four diners) and use photos and other visual aids to encourage reminiscing.
Kendal residents also started a monthly dementia-friendly discussion group, with a focus on examining ways to converse with residents living with dementia and to ensure Kendal is a dementia-friendly community.
A new feature in the monthly Kendalight newsletter is "Stay Connected," which offers tips on how to keep in touch with friends and neighbors experiencing dementia challenges.
For example:
"I'm starting to have significant problems with my memory. I know sometimes I don't remember your name. Please don't take it personally. I still know you and need you as a friend. Just tell me your name and remind me how you know me."
A Memory Enhancement Course for Residents
"How to Keep Your Memory Sharp," an eight-week memory enhancement course designed for residents noticing minor changes in memory functioning, began this summer at Kendal. About two dozen residents enrolled, and another two dozen are signed up for the next session that begins the end of September.
The course was developed by Megan Caracciolo, a Penn State senior majoring in health policy and administration who interned at Kendal this summer, with assistance from Kendals' Creative Arts Therapy Director Michele Tarsitano-Amato and resident Lal Arora, a retired geriatric physician.
During class, Lal encourages students to take notes. "I'm lying to myself if I think I can remember without notes," is his mantra. The best way to take notes is to keep them all in one notebook, not on scraps of paper, and use highlighters to emphasize key points, he says.
Plus, focus, focus, focus. "When here, focus on what is being said. Multitasking is an enemy of memory enhancement," he says.
Lal is teaching the next session with Jessica Moore, Administrator in Training and Creative Arts Therapy Assistant, and an Oberlin College student.
Kendal's New Memory Support Home
The 12-bedroom Jameson House opened this year, offering residents with mild to moderate cognitive changes a supportive, warm and creative "small house" environment.
Special features include:
12 private bedrooms with European-style showers and a window overlooking an enclosed courtyard:
a spa with beauty station and whirlpool bath:
a Great Room featuring a fireplace hearth and country kitchen, where family-style meals will be served;
floor-to-ceiling south windows with a built-in bench overlooking a wooded wetland for birdwatching and relaxing;
a library quiet room for reading, contemplation and private family visits;
individual workspaces for art, puzzles and other hobbies and activities;
a multi-purpose room for exercises, movies, music, lectures and the likes.
The house also has many special designs that offer comfort, safety and curiosity for people with memory challenges. Residents can safely walk anywhere inside and out because the house is laid out along an enclosed circular path with an outdoor courtyard in the middle. The courtyard has a sensory garden, featuring a water fountain, herb garden and dining area.
Plants include a "purposeful fern" that sheds on the floor and provides an enjoyable task for some of the residents. Doing laundry and folding clothes in a large, well-lit laundry room is another task for interested residents.
"I love how Kendal's philosophy of 'Together, transforming the experience of aging®' encourages the Jameson House to support each resident in living their most resilient life," says Amanda Hooley, Life Enrichment Coordinator.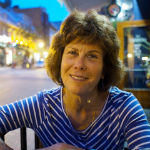 In the past, Molly Kavanaugh frequently wrote about Kendal at Oberlin for the Cleveland Plain Dealer, where she was a reporter for 16 years. Now we are happy to have her writing for the Kendal at Oberlin Community.