Megan Caracciolo was looking for a meaningful internship that would further her college studies in gerontology.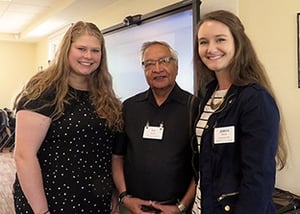 Retired geriatric physician Lal Arora was looking for a meaningful opportunity to use his expertise.
The two joined forces this summer and the result is a meaningful intergenerational collaboration that created a memory enhancement course for Kendal at Oberlin residents.
Working with the philosophy that "the brain
is a muscle, if you want to see improvement, you must put forth the effort," Megan and Lal developed an eight-week course designed to educate residents about memory functions and give them tools they can easily use in everyday situations, such as remembering names and finding items.
About two dozen residents are taking the course this summer, and three dozen have already signed up for the course in September. The course, subtitled "How to Keep Your Memory Sharp," is designed for residents noticing minor changes in memory functioning.
How Megan and Lal Met
Megan is a Penn State senior majoring in health policy and administration, with a minor in gerontology and human development.
"I found my niche," she says about working with older adults. This summer the Quaker-affiliated Friends Services for the Aging offered her an internship at Kendal, working with Creative Arts Therapy Director Michele Tarsitano-Amato to develop a memory enhancement course.
Lal, who moved to Kendal in 2014, offered to help by explaining to students some of the science behind memory functions.
"What makes things memorable is that they are meaningful, significant and colorful," he often tells the students, quoting science writer Joshua Foer. He also emphasizes that a sense of purpose is an important component of a healthy lifestyle for older adults and that purpose in life can help prevent cognitive decline as we age.
Megan, Lal and Michele developed the course, with Megan spending a lot of time doing research and finding interactive class exercises, homework and helpful websites for residents. Megan left Kendal in mid-July and Jessica Moore, an administrator-in-training at Kendal, is now teaching the class with Lal.
The Basics of the Class
The weekly one-hour class focuses on various memory functions, such as strengthening verbal memory, "chunking" numbers (for instance, chunking a 10-digit phone number into three parts) and tips for remembering names and where things are (like where you parked the car).
Lal encourages students to take notes. "I'm lying to myself if I think I can remember without notes," is his mantra. The best way to take notes is to keep them all in one notebook, not on scraps of paper, and use highlighters to emphasize key points, he says.
Plus, focus, focus, focus. "When here, focus on what is being said. Multitasking is an enemy of memory enhancement," he says.
In one class, the focus was on using acronyms as a tool for remembering a list of five to seven words, such as names or grocery items. Two popular acronyms are HOMES, for the Great Lakes (Huron, Ontario, Michigan, Erie, Superior), and Roy G. Biv, the sequence of colors that make up a rainbow (red, orange, yellow, green, blue, indigo, violet).
Students also did exercises to help keep the brain in shape. For instance, the verbal relation between:
hammer and finger is nail;
tree and car is trunk;
ship and cards is deck;
dog and tree is bark.
__________________________________________________________________
Interested in brain health? You may also like this blog: Diet Considerations for a Healthy MIND.
___________________________________________________________________
Being an Intern at Kendal Comes with a Perk
Kendal at Oberlin purchased a duplex conveniently located to the retirement community. Dubbed the "North Pleasant Connection" because of its location on North Pleasant Street, student interns are given free housing (the duplex has four bedrooms) and meals in exchange for 15 weekly service hours (30 hours during the summer). The residency program began last summer.
Megan said living in the house also meant "free laundry. It's great not have to look for couch quarters for laundry," she says.
But even better, was the opportunity to work with Lal, Michele and other Kendal staff members and to interact with the residents.
"I have always been very intrigued about aging and the medical terminology/science behind it, and this was the perfect opportunity for me to get a real 'feel' for this field. Lal took me under his wing and trusted me to create the majority of this course and he has backed me up the whole way through. My relationship with him has been interesting because I look to him as a geriatrician who has helped me develop the memory enhancement course, but he is an Independent Living resident himself, so it is a new dynamic," she says.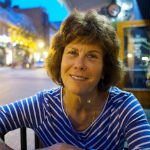 In the past, Molly Kavanaugh frequently wrote about Kendal at Oberlin for the Cleveland Plain Dealer, where she was a reporter for 16 years. Now we are happy to have her writing for the Kendal at Oberlin Community.