Published: September 14, 2022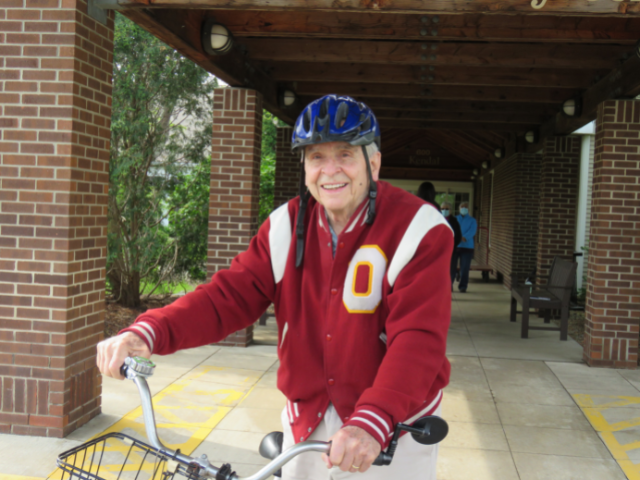 Kendal is home to more than 300 men and women in their 60s and well beyond. They come from near (Oberlin) and far (Hawaii, Canada and elsewhere). The residents share many common values, such as sustainability and lifelong learning, and many have ties to Oberlin College.
But each resident has his or her own unique story, and throughout the year we'll be sharing some of their stories with you.
Today, meet George Andrews.
George Andrews' connection to and affinity for Oberlin College runs deep.
His family is a seventh generation Oberlin College family, starting with his great-great-grandmother, who was a member of the class of 1841 and the 13th woman to graduate from Oberlin.
George graduated in 1954, and returned as mathematics professor in 1962. During his teaching tenure he found time to keep his hand in sports. He worked closely with the athletics department as an NCAA faculty representative, and at times was the play-by-play announcer for the football team and timer at numerous track and swimming meets throughout the years.
After retiring from teaching in 1997 he returned as Interim Director of Athletics for 1 ½ years. "It has been said I flunked retirement," he jokes.
Along the way George received the Alumni Medal, the highest honor that the Alumni Association awards, and this spring was inducted into the Oberlin College John W. Heisman Club Hall of Honor, citing among other things that "his legacy continues to live on annually with the naming of the Andrews Family Award winners at the athletic department's year-end awards ceremony."
"I felt quite privileged to get that honor," George says.
George remains a big booster and is often in attendance at college games and meets. (When he was in college he played football, volleyball, basketball, squash and track.) Fall football games give George a chance to wear his letter jacket – he still has his 1954 letter sweater but prefers wearing the jacket he received during his Athletic Director tenure.
"When I go to those sporting events I'm enjoying myself," he says, and gets to know some of the coaches and student athletes.
His personal favorite sport, though, is riding his bike.
"I ride my bike five miles every day around the Kendal circular lap before breakfast," he says. When wet weather gets in his way, he rides his indoor stationary bike.
Summers are for swimming in the St. Lawrence River in New York where his family has had a cottage for more than 100 years. The Andrews family now has three cottages on the property and they gathered this July to celebrate George's 90th birthday.
The couple's Kendal connection
George and his wife "Pete" moved to Kendal in 2009. George was asked to join the board three years before moving to Kendal because they learned of his actuarial experience, he says.
The couple was also familiar with Kendal, home to many retired Oberlin College professors including math professor Sam Goldberg. Plus, George's aunt lived at Kendal from 1994 to 2000 and they got to know many residents and staff.
Today the couple likes to attend lectures and concerts at the college.
Obies at Kendal

---
Why not consider returning to the place you chose for your college years?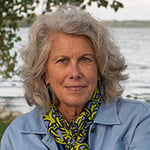 In the past, Molly Kavanaugh frequently wrote about Kendal at Oberlin for the Cleveland Plain Dealer, where she was a reporter for 16 years. Now we are happy to have her writing for the Kendal at Oberlin Community.
About Kendal at Oberlin: Kendal is a nonprofit life plan community serving older adults in northeast Ohio. Located about one mile from Oberlin College and Conservatory, and about a 40 minute drive from downtown Cleveland, Kendal offers a vibrant resident-led lifestyle with access to music, art and lifelong learning.