Published: May 2, 2018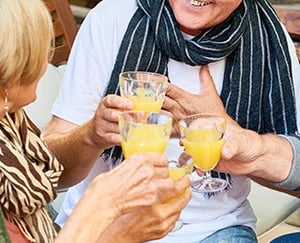 In a few weeks, Dwight Call will see firsthand what all the fuss is about. The Oberlin College 1968 graduate is attending his 50th college reunion.
"This will be my first reunion. I've never been to a high school reunion," says Call, who moved to Kendal in 2013.
He has a good idea of what to expect, given that he lives in a community with dozens of other residents who graduated from Oberlin, many who are avid reunion-goers.
But first, you need to know how reunions work at Oberlin College: Reunions are not held during fall Homecoming but coincide with Commencement, which is held on the fourth Monday in May after a weekend of festivities. This year, commencement falls on Memorial Day, May 28.
Second, except for the 25th and 50th reunions, reunions are held in clusters of three years. So, for instance, while George Andrews' 65th reunion is actually next year, the 1954 graduate will celebrate it this year with the classes of 1952 and 1953.
Not a problem for this Kendal resident, as he goes to all the reunions anyway. "I go down to the alumni office several times to see the schedule and look for former students," says the retired mathematics professor.
While there is much going on throughout the campus, the city and Kendal get into the act too.
Kendal holds an open house starting Friday, May 25th at 1 p.m., and continuing through Monday. May 28th at 4:30 p.m. Many returning alumni also visit Kendal on Sunday for brunch. (Reservations required, call 440-775-9801)
In fact, several Kendal residents got their first look at Kendal when they returned to Oberlin for their college reunion.
Boston resident Dianne Haley had seen Kendal ads in The New Yorker and Alumni magazine, but first visited the community for a quick tour during a reunion. She moved to Kendal in 2016, just in time for her 50th.
"They made me chairman of the whole thing," she says, adding "It was a nice time, but I was worried about everything going smoothly."
Seventh Generation Oberlin College Family
George Andrew's great-great-grandmother was a member of the class of 1841 and the 13th woman to graduate from Oberlin. This year his two granddaughters will graduate from Oberlin.
So, given his family connections and 35-year teaching career, it's understandable why George enjoys "reunioning."
"One commencement is just as enjoyable as the next because you know almost everyone, mathematically speaking," George says.
No matter the year, certain reunion events are a given:
Illumination on Tappan Square, featuring hundreds of colorful Japanese lanterns strung across the green on Sunday night
Steel Drum Band performance following the illumination
Grand Piano Extravaganza featuring conservatory piano faculty members and graduating seniors on a stage packed with pianos
And a monetary class "gift" (all alumni are encouraged to participate)
Each reunion class also organizes performances, lectures, panel discussions and other activities featuring its alumni.
Other Kendal Residents in the 65th Cluster Reunion
"We had some very talented instrumentalists from the conservatory in our class and one year they gave a recital," recalls Thelma Morris, who like George is a member of the class of 1954.
This year Thelma is helping to schedule hosts for the 65th cluster reunion headquarters, located in the Lucy Stone (Oberlin College Class of 1847) room in The Hotel at Oberlin. She expects it to be a busy spot.
"This year alumni said, 'We need more time to just sit around and talk,'" she says, adding, "and to take a nap."
As it has in years past, the group will hold a memorial service for deceased members, this year led by John Elder, also a Kendal resident.
A dinner emceed by Kendal resident Jim Walsh, a retired sociology professor and city prosecutor, will be held after the service. Jim is tracking down the alumni's long-ago college applications for what will certainly be an entertaining event.
Thelma has attended many reunions. Before moving to Kendal, she lived near Cleveland and would book a room in the dorms with other alumni.
"It's always good seeing how people have mellowed and grown and changed," she says.
John and Anne Elder met during their first year at Oberlin College and were married a year after graduation, in 1954.
The tuition fee is high, John jokes, because it includes finding a spouse. (Currently, Kendal has about half-dozen couples who are both Oberlin graduates.)
Having the reunion during commencement makes for a busy, and sometimes chaotic time, John says. "But it saves on transportation because many alumni have children and grandchildren graduating," he says.
50th Reunion is a Big One
Regardless of location, attending one's 50th college reunion is a milestone. For Harvey Culbert and Louise Luckenbill, it was also another "m" – marriage.
Harvey, widowed and living at Kendal, was greeted by his former classmate Louise at their 50th reunion in 2008. Something clicked and the two began emailing, then visited and took a trip together. They married the followed year, moved to Kendal and continued their travels until Harvey's death earlier this year.
Like most colleges, Oberlin treats its former students returning for their 50th with a bit of VIP. At Oberlin, the Half-Century Club luncheon honors all alumni who have celebrated their 50th reunion and welcomes its newest members, this year the 1968 graduates. The current president of the 50th is the Commencement Grand Marshal.
"It's apparently a big one. I'm looking forward to it," Dwight says. His two former roommates - one from Pittsburgh, the other from Guatemala – will be there. It's also their first.
So far on the men's schedule is dinner with their former religion professor, Ed Long, also a Kendal resident, and a visit to the Oberlin Farmers Market to see the SEPA folks, who raise money to support human rights efforts in Guatemala.
Events being planned by the class of 1968 include:
A service project at the Oberlin Public Library
A hootenanny and talent show
A choral singalong dedicated to racial justice and in memory of Dr. Martin Luther King, Jr. and Robert Kennedy, both who were assassinated in 1968.
Designated reunions stop at the 65th cluster, though "all alumni are invited to come back every year," says Meena Ghaziasgar, director of alumni relations.
Occasionally alumni in the 70th cluster shows up, and a gathering is planned. This year, the 70th alumni cluster is having a virtual reunion via Skype. Don and Mary Louise VanDyke, class of 1947, and some other Kendal residents will be there in person, talking with former classmates across the country.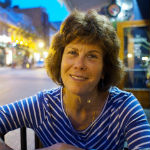 In the past, Molly Kavanaugh frequently wrote about Kendal at Oberlin for the Cleveland Plain Dealer, where she was a reporter for 16 years. Now we are happy to have her writing for the Kendal at Oberlin Community.